Rate Now
Share Your Experience
Have you seen Dr. David Chen?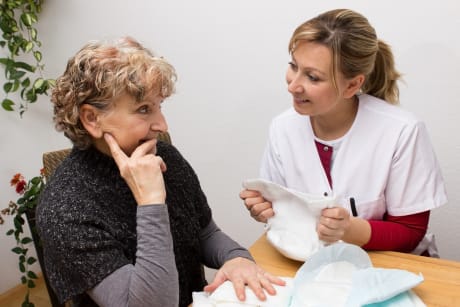 Urinary Incontinence
Learn about the symptoms and causes of urinary incontinence or urge incontinence.
Quality Rating
Highly Satisfied
28 Ratings with 15 Comments
5.0 Rating
May 20th, 2017
5.0 Rating
May 18th, 2017
5.0 Rating
May 13th, 2017
Wonderful Doctor
Dr. Chen performed a robotic-assisted, prostatectomy on me after I was diagnosed with prostate cancer in 2014. After the surgery I did not experience any problems with incontinence. The pain from the surgery was surprisingly tolerable and I did not suffer any permanent loss of function. I just had my third year checkup and am cancer-free thanks to Dr. Chen's great work.
5.0 Rating
March 25th, 2017
Prostate Cancer Treatment
I have been a patient of Dr. Chen's since 2015, when he operated on me for prostate cancer. Dr. Chen has been very involved in my care, encourages your questions and answers them in a professional and caring manner. He maintains an open dialogue - I have been able to call Dr. Chen and ask questions during my recovery and have found him to be most patient and available. During my post surgery visits, Dr. Chen continues to be open, frank and provides options to any topic discussed and I have never felt rushed during office visits.
4.0 Rating
October 22nd, 2016
Mr
5.0 Rating
September 1st, 2016
A physician with both ethics and knowledge
End of 2005, a cytologic diagnosis showed that, there were Positive Malignant cells in my urine. I then went to a top cancer hospital for a biopsy. Nothing was found in my bladder. Since then, I had a cyctoscopy on my bladder every 6 months, and, always, nothing was found in my bladder. Also, always, almost all the cytologic diagnosis showed that there was "Atypical Cells Present" in my urine. Not until early 2014 that my then doctor found, for the first time, at a routine cystoscopy, that there was a red semi-circle around the distal end of my urethra, which was never carefully surveyed in all my previous cyctoscopies done by him before. He then hurriedly arranged a biopsy for me a few days later. Only then I was told that the biopsy would be done in the forms of "frozen sections", i.e. my private part would be kept being cut off section by section and examined until it was sure that no more cancer cells remained in my private part. I refused to take this kind of "biopsy" and left that hospital. After that, I spent several months to look for a good doctor to take care of me. An intern in a renowned cancer hospital that is far away from my then residence suggested Doctor David Chen of Fox Chase to me. I went to see Doctor Chen. I found that he was very knowledgeable of my disease. He was very patient and took time to explain to me my disease and ways to treat it. I found that he was the doctor I was looking for. He then did a biopsy for me. A tiny specimen was taken away from my urethra for diagnosis. It turned out that my cancer was "non-invasive high-grade papillary urethral carcinoma." I asked him to allow me a watchful wait. He granted my request. Early this year (2016), it was found that my cancer was getting more protruding. He then ordered a surgery. The surgery was very successful. Only a short section of my urethra was taken away. My private part is basically kept intact. A few days later, the catheter was taken away, and I could urinate standing. I had a cystoscopy recently, and nothing was found in my urethra. I feel lucky to have found Dr. Chen, who is an expert in genitourinary cancer, and with both ethics and knowledge. I will recommend him without reservation to anyone who has a need of his expertise. Also, his support team is marvelous, and in particular, Sue Burke, who is very warm and professional.
5.0 Rating
July 28th, 2016
Prostate Cancer
What is memorable about Dr Chen is that he talked me out of an operation to remove my prostate. I went to him when I was diagnosed with prostate cancer. It was discovered when I couldn't urinate an had to use a Foley Catheter. I wad told that I would have to deal with the prostate cancer, either thru surgery or Chemo, or other means. When I went to Dr Chen, he told me that I had a mild case of prostate cancer and that I should not take any action at that time but wait and watch. He did do an operation called a TURP which opened up channel thru my prostate and enabled me to urinate. That minor operation was so successful that I had no more problems with urination and should have that operation years earlier.
4.0 Rating
March 30th, 2016
5.0 Rating
May 12th, 2015
Fox Chase is the Best
5.0 Rating
March 30th, 2015
5.0 Rating
August 13th, 2014
Mr.
5.0 Rating
July 15th, 2013
Accurate diagnosis, accurate surgery
Dr. Chen has an excellent bedside manner that inspired confidence when I went in for what he suspected correctly was a cancerous tumor. His leadership in planning follow-up over the last several years at Fox Chase Cancer Center ensured that i did not have to undergo any unnecessary treatments once the tumor was removed. I am grateful to him and to his wonderful staff for their excellent treatment.