Rate Now
Share Your Experience
Have you seen Dr. Dennis Crawford?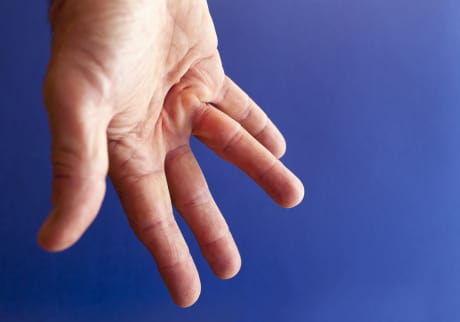 Dupuytren's Contracture
Dupuytren's contracture is a thickening of the tissue beneath the skin of the palm of your hand
50 Ratings with 19 Comments
5.0 Rating
July 25th, 2017
5.0 Rating
March 31st, 2016
Dr. Crawford is an excellent surgeon.
I saw Dr. Crawford back in 2007 when I had to walk up the stairs one step at a time because my right knee was so bad. He did an awesome job, and I hadn't had any problems with that knee until I hurt it last year when my wife and I moved. It has finally gotten to where I need to have a Dr. look at it, and I would not hesitate in having Dr. Crawford look at it, and perform surgery if needed. I can't understand how his ratings are this low, other than I saw something about people complaining about his bedside manner. Do you need someone to hold your hand at the bed, or do you want a great surgeon? Me, I want a great surgeon, and I also really liked Dr. Crawford, too...I had no issues whatsoever with him.
5.0 Rating
December 9th, 2015
Best Knee Doctor in Portland
Dr. Crawford saved me from a life of pain. After seeing several knee doctors, that would not operate on me because of my young age (38) he is the only one that offered a solution TTO surgery. My first knee is done and I am going in for my second knee next week. Bless you Dr. Crawford for fixing me when others would not.
5.0 Rating
October 2nd, 2015
I had multiple surgeries with Dr. Crawford due to extensive damage to my shoulders, due to my military surgery. He was very personable and understanding to my needs of wanting to be able to live without pain. Yes, all the pain did not go away but through the surgeries, I have better range of motion and less pain in my shoulders.
5.0 Rating
September 6th, 2015
You want this guy to fix you
Dr. Crawford is one of Portland's best orthopedic surgeons. I find it interesting that most of the criticism on this site deals first with this physician's bedside manner. Personally, when I look for a doctor, I focus on their skills, not whether or not I'm going to put him on my christmas list. I'm a professional in the health industry myself, and this MD comes highly regarded and respected among his peers. If you find yourself needing a knee or shoulder repair, you probably can't do much better than this doc. Save the "bedside manner" for your friends and family.
1.0 Rating
June 9th, 2015
2.3 Rating
April 21st, 2014
Good technique + poor people skills + overconfidence = recipe for disaster
Dr Crawford is a very good surgeon. But overconfidence in his skill and his inability to listen to listen to and take patients concerns seriously are his definite downfalls. He did a surgery on my shoulder that I didn't need because he was confident in his read of a CT scan (of my previously operated on x3 shoulder) and said I didn't need the MRI I was asking for to feel confident with the diagnosis before going to surgery. Overall, my shoulder did fine, but when I was referred to him for a knee injury I opted to go elsewhere.
5.0 Rating
October 16th, 2013
1.0 Rating
September 17th, 2013
Crippled for life
5.0 Rating
February 9th, 2013
Lateral Dislocation of the Knee, Rebuilt Ligaments
Bone doctor wasn't sure I'd ever walk again after full lateral dislocation of the knee, tibial plateau fracture, ruptured ACL, PCL and torn MCL. He sent me to Dr. Crawford who rebuilt my knee! I am so grateful! Dr. Crawford isn't the most personable doctor - but who cares when he's an excellent surgeon. After the the third visit I felt like we broke through his shyness and it improved our relationship. He recommended a cadaver rebuild of the ligaments. I took his recommendation and am so happy I did. I would recommend Dr. Crawford to anyone who has a difficult joint issue requiring a re-build.
1.0 Rating
March 10th, 2012
shouldn't work with people