Rate Now
Share Your Experience
Have you seen Dr. Dennis Gormley?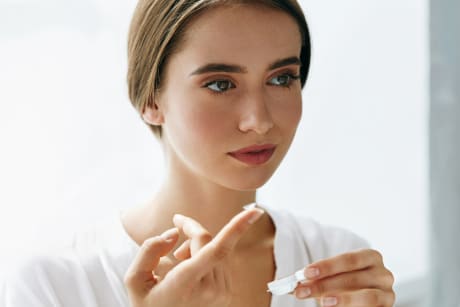 Contact Lens Care
A complete overview of what you need to know about your contact lenses.
18 Ratings with 11 Comments
5.0 Rating
July 28th, 2017
1.0 Rating
December 21st, 2016
missed a retinal tear
After I presented the reason for my visit, Dr Gormley examined me and, finding nothing wrong, suggested I return in two weeks. He seemed put off by my questions and was sarcastic and condescending. The next day, I ran in to a friend who suggested I see her ophthalmologist, Dr. Vincent Goivannazo. He immediately diagnosed a retinal tear, telling me that one look at my eyes without instruments was enough for him to know that the retina was torn. He did a laser repair on the spot. How can an ophthalmologist do a retinal exam and miss a tear? Do not trust Dr Gormley
5.0 Rating
September 21st, 2016
confident
1.0 Rating
October 1st, 2015
1.0 Rating
February 19th, 2015
Go to Dr Mostafavi or Dr Kung instead.
My son had a 720am appt. After 3 1/2 hours he final finished up. This doctor is a stuck up, rude, condescending and unpleasant. He said he " was kind enough" to speak to me about my son's condition. I told him kindness has nothing to do with it- it's your job and my insurance is paying you to tell me what is going on. He is very upset if you question his ego. Go somewhere else his office is dirty, old and most of the staff have the same smart aleck attitude he has. We waited over 3 and a half hours for drops and a few tests that took literally 1-2 minutes to do. He and the office/staff mismanages time.
1.0 Rating
July 5th, 2014
Permanent Damage To My Mother's Vision
He did permanent damage to my mother's eye that made her 98% blind in that eye. When he used the laser he burned part of the eye. I wanted her to sue because she can no longer, read, sew, knit, see the TV or anything else for that matter. She is old fashioned and didn't want to sue. Another doctor is trying to save what little she has left in the eye, but all he can do is stop it from getting worse and the treatments are painful. TIME FOR THIS MAN TO RETIRE BEFORE HE DOES MORE DAMAGE TO OTHER PATIENTS. Now, years later my mother says she wishes she sued but it is too late. I hate him.
2.3 Rating
August 16th, 2012
Condescending
2.3 Rating
August 6th, 2012
Cataract Surgery
The waiting room is dirty, a long wait, staff was rude however Dr Gormley got the diagnosis correct and the surgery was successful despite a nurse bumping the table while he was doing a stitch.Two years later the stitches in both eyes are coming out the cloudiness has reappeared and when he removed a partial stitch and said I couldn't see. He said your vision is 20/20. I have since had my eyes checked because they are worse than before the cataract surgery.
5.0 Rating
October 9th, 2011
Mrs. Toby Horowitz
I have just had cataract surgery last week performed by Dr. Gormley and found him to be an excellent surgeon. He did a thorough examination and saw a cataract in my right eye that two other opthomologists didn't see even though I insisted to each of them that I could barely see out of that eye. I was in and out of the hospital in 3 hours. His staff was courteous and extremely efficient. My vision couldn't be better thanks to Dr. Gormley to whom I am so grateful.
2.3 Rating
July 14th, 2011
3.7 Rating
March 16th, 2010
tried to make appt. for new patient....
5.0 Rating
August 30th, 2017