Rate Now
Share Your Experience
Have you seen Dr. Dennis Mcgowan?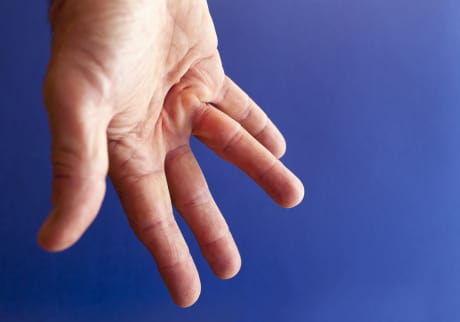 Dupuytren's Contracture
Dupuytren's contracture is a thickening of the tissue beneath the skin of the palm of your hand
53 Ratings with 10 Comments
5.0 Rating
August 28th, 2016
Greatest Doctor!!!!!
5.0 Rating
June 22nd, 2016
He has been the only doctor who was honest and unafraid to tell the insurance entities the true nature and severity of his patient's condition.
1.0 Rating
January 5th, 2016
RN, 30 years experience
He was unavailable to talk with us regarding my son's condition until 3 am the following morning. He had been in a motorcycle accident that day with multiple fractures of the ankle and heel. Thought that was just a fluke and waited all day the next day to see him and see how he thought things were going, my sons heel was oozing large amounts of blood from the bulky dressing he had on and his toes were getting black. Never saw him that day and I stayed until 10 pm. He came in during the night again, 3 am and had our son in surgery the next morning at 7 am. Had our son sign a surgery consent and he was receiving IV dilaudid. My son doesn't remember any of his stay there. I could go on and on about the unprofessional behavior I saw but ended up demanding they transfer him which he also made very unpleasant and confusing. Sent my son to another hospital and he was receiving a blood transfusion within a hour of his arrival. Saw 3 Dr's in the first hour of arriving. Never felt so relieved. There is some questionable practices of care going on out there.
1.0 Rating
April 9th, 2015
BAD NEWS!
1.0 Rating
April 9th, 2015
back alley quack and fraud
This cruel joke of a doctor is incompetent and negligent to say the least. I would give negative stars if I could. A 10 year old boy scout would have done a better job. The office was dirty and debris all over the floor. It looked like he had just set up shop in an abandoned building. If I would not have seen "orthopedic spine" on the building, I would not have guessed it to be a doctor's office. We had driven my mother 3 hours to be at the appt. (She is in a rural nursing facility). We were informed that our wait was going to be at least 45 to 60 minutes. ( even though we were there on time for our 3:00. So I called some contacts in the area that had lived there over 30 years and they told me he had a good reputation when he was in with some other orthopedics a few years back, but that he had left the area for a few years and was now back. My 85 year old mother had fallen and broke her humerus (upper arm). He saw her in the ER at Kearney Good Samaritan Hospital and reported that he had put a splint on her arm and to follow up with him in 3 weeks. He had sent her back to the nursing facility before my brother or I could get down to Kearney. I live 12 hours away and my brother 1 hour away from my mother. When I came up to take her to the follow-up appt (which was a joke dealing with his office) I saw his idea of a splint - nothing more than gauze wrapped with an ace bandage around her arm. There was no stabilizing factor at all. My mom's arm was bulging on the side with defined bruising where the bones were trying to protrude. I asked him why her arm was bulging that way (I already knew) and he replied as he touched my arm and said softly " because she got hurt". I informed him that first you will stop talking to me in a condescending manner and second you are going to explain to me why my mother's arm is bulging that way. I told him that I wanted to see her x-rays. He stated that he could not show them to me because they were on a cd and he did not have a computer to pull them up. He then proceeded with his condescending manner to explain that the equipment he had was to read radiology film and the cd doesn't work with them. I kept insisting to see her xrays and kept insisting that he was going to explain to me why her arm was bulging. He started to walk out of the room and I told him that he was going to stand there and answers my questions. He told me he would answer my questions if I shut my mouth. Then he said what is your questions. I reiterated again " I want to know WHY my mom's arm is bulging like that, if the bones are set. Did you even look at her x-rays? " He said that he had seen them and the straightness of them was "adequate". So I continued to insist that I wanted to see her xrays. And I kept insisting, until he finally realized that I was not going to go away until I had answers. Finally he said "well let's go look at her xrays". I followed him out of the room to a computer just outside of the room. As suspected the bone was at a 30+degree angle causing the bulge. I simply stated" that is your perception of adeqate?". He said that is adequate, but we will get a fracture cast for her. He then told me we would have to take her to another office about 5 miles away to get that cast put on and then back to him so he could check it. I insisted we were not taking her anywhere without something on my mother's arm for the travel. He went and got a cheap bandage to create a cuff and collar to help provide temporary support. We took our mother to the business where they put her in a fracture cast. We did not bother to go back to have mcGowan check it. I do not try to judge a book by its cover, but in this case....this so called dr was exactly as he presents....TRASH FILLED WITH MEDICARE/ MEDCAID FRAUD. We were able to get my mother in to see a REAL orthopedic doctor and surgeon the next day and she is doing better without the bulge in her arm.
5.0 Rating
October 5th, 2012
Great doctor and surgeoncellent surgeon, will only use him with ortho problems
5.0 Rating
December 28th, 2011
just got lucky
5.0 Rating
October 26th, 2011
Well Worth the Wait!
Dr. McGowan has treated me since 2000 and he is by far one of the BEST Surgeons/ Orthopedic doctors around! He gets down to the heart of the matter to ensure proper treatment. His manner is kind, understanding and he is so smart! There have been times when my wait was long but it is well worth the wait to see him. He is very thorough and treats his patients like human beings!
5.0 Rating
January 24th, 2010
3.0 Rating
September 1st, 2017
3.0 Rating
September 1st, 2017
Nearby Doctors

Dr. Dennis Mcgowan is similar to the following 3 Doctors near Kearney, NE.