Rate Now
Share Your Experience
Have you seen Dr. Dexter Page?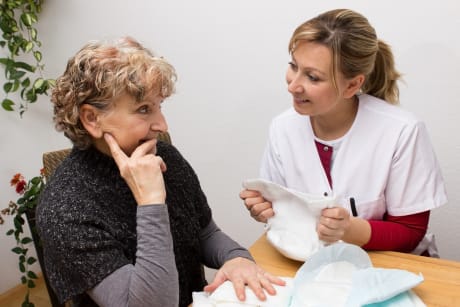 Urinary Incontinence
Learn about the symptoms and causes of urinary incontinence or urge incontinence.
23 Ratings with 14 Comments
5.0 Rating
July 7th, 2016
Great and Accurate
1.0 Rating
June 1st, 2015
horrible front office staff riverdale location
The doctors there are great. Its always a delay! The front staff always mess up my appointment time in dates i have attend the riverdale. I have had to call the peachtree location just to be called to the back at the time on my card. I feel there are very unprofessional in could conduct the office duties better... But as i said once you get to the back after a 50 minutes delay the doctors are lovely. I wish i could go to a different location but this office is my local office...
3.7 Rating
February 14th, 2014
Wait time is absolutely ridiculous and unacceptable.
Although the Dr. I see is knowledgable, the particular office I go to in Riverdale is ALWAYS behind schedule. I have to wait at least 45 minutes every single time I go. They act like my time is not important and then, when I do get in for my ultrasound, the tech rushes through and makes me feel like I am a bother to her because the office is so far behind. If I knew then, what I know now, I would NEVER EVER have agreed to be seen at Atlanta Perinatal Associates. Their other offices are just like this (from other reviews I have read). I don't have time to be sitting around all day waiting in a Dr's office because that office doesn't have adequate staffing.
1.0 Rating
August 31st, 2013
Wrong diagnosis
I was sent to Dr. Page for a second opinion. I have a condition called Arthrogryposis and was pregnant with a child who appeared to have the same thing. He let his sonographer tell me that my son had broken bones...broken ribs, femurs, wrists, everything -- and he agreed with her. Then he told me my son had Osteogenesis Imperfecta (despite the amnio coming back normal) and nothing related to what I had and basically said I should "terminate and try again." He also told me my son would never live through birth and that my body was all that was keeping him alive. He then asked me why I would have a child to be born to suffer and die anyway. Let me assure you, Dr. Page, my son DID have Arthrogryposis, did not have broken bones nor did he have Osteogenesis Imperfecta as you MISDIAGNOSED, and he is now a happy, healthy 15 year old boy. Yeah, the baby you said would never survive is now in 10th grade. Glad I had the last say and not you.
1.0 Rating
April 27th, 2012
Slow
5.0 Rating
March 13th, 2011
Caring and Accurate
Dr. Dexter Page saved my baby. I had gone in for a routine ultrasound assessment when my baby was found to have an abnormal heart pattern. He calmly, and correctly described to me the cause and likely outcome as well as treatment considerations before I left his office. Just as important, he reassured me of the safe options to treat my baby's heart conditions, and also coordinated obtaining a pediatric cardiology assessment. I really don't think another physician could have handed this stressful situation for my any better. For me there is not other option.
5.0 Rating
July 4th, 2010
Saved my baby
What more do I need to add, except GREAT physician. Will refer all my friends to see him.Me and my family thank you.
1.0 Rating
May 12th, 2010
this doctor mislead me big time
I was referred to Dr. Brad Bootstaylor's office. When I arrived at the hospital they told me he was located in suite 1275. I checked in at suite 1275 and informed the staff I was there for Dr. Bootstaylor. They asked me to take a seat and I waited for 2 hours and then I saw a Dr. Page instead. I didn't understand a word he said. Later that day Dr. Bootstaylor's office called and asked me what happened. I explained to them and they rescheduled me. They informed me that Dr. Bootstaylor is located in suite 1165 at See Baby and not in suite 1275. I was happy to find out I was at the wrong office, but I was very upset that Dr. Page and his office mislead me. I have informed my OBGYN doctor of what these guys did and will file a complaint with the medical board. My visit to See Baby was awesome! I would definitely give Dr. Bootstaylor 2 thumbs up!
1.0 Rating
May 12th, 2010
Terrible Bed Side Manner
1.0 Rating
May 11th, 2010
Worst doctor I've ever experienced!
5.0 Rating
October 24th, 2009
Excellent
1.0 Rating
September 11th, 2009
Nearby Doctors

Dr. Dexter Page is similar to the following 3 Doctors near Atlanta, GA.