Rate Now
Share Your Experience
Have you seen Dr. Donna Hemphill?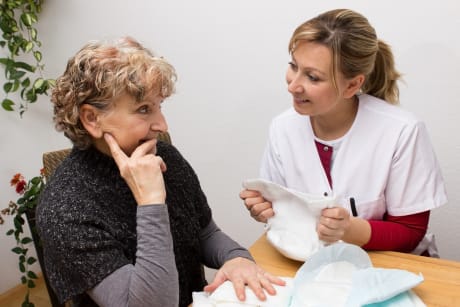 Urinary Incontinence
Learn about the symptoms and causes of urinary incontinence or urge incontinence.
29 Ratings with 9 Comments
3.0 Rating
August 2nd, 2016
1.0 Rating
October 8th, 2014
No thank you
Where to begin...I saw her with my first pregnancy which was uneventful she ended up having me induced at 40 + 6 due to low amniotic fluid. She sent me to be induced broke my water said she would be back to check on me and never came back. Another doctor delivered my baby and she had to be auctioned out. We both developed fevers and had to stay for 2 nights due to this. I did end up going back for my next pregnancy which was a huge mistake. She ordered an ultrasound to find out how far along I was I said I know how far along I am and she said well shhh. Looking back I see now she was probably just lining her pockets. I ended up with gestational diabetes and couldn't control my numbers with diet alone. Dr. Hemphill wasn't impressed and yelled at me one appointment. And said now she has to refer me to high risk doctors and my baby has a 20% greater chance of being stillborn, which I've had two prior miscarriages so that hurt. She walked out of the room without a bye have a nice day or anything. I called to try to change doctors after that and the receptionist seemed to know off the bat which doctor it was without me saying so. Unfortunately nobody wanted me at 32 weeks. I went to my 6 week post partum check up and refused birth control. I'm breastfeeding and only using condoms as contraceptives. She said so I will see you again with another pregnancy then. Terrible bed side manner. I will never ever set foot in her office again. I too thought it was just out personalities that clashes but now I know that's not the case.
5.0 Rating
October 25th, 2011
Life saver
5.0 Rating
July 7th, 2011
Great!
Dr. Hemphill is a great doctor! She is very caring and professional. She made my first appointment with her 4 years ago as comfortable as possible. She was the first of 5 doctors to take my pain seriously and diagnose endometriosis. She was excellent throughout my first pregnancy. I would recommend her to anyone looking for a doctor who will make you comfortable and give you direct information. I hope she stays in the area for a long time!
1.0 Rating
February 17th, 2011
Dr. Hemphill does not care!!
Dr. Hemphill was my obgyn for my first pregnancy. She was quick with appointments and didnt seem to take the time to answer my questions. I thought her personality was just different than mine but otherwise she was ok. I continued to see her for a few years and when I started having troubles getting pregnant again she told me to wait a year which I did. On the 1 year mark I called her office to make an appointment to see her and it was cancelled through the mail because she said I wasnt due for an annual. I finally got in to see her she ran a few tests and never called me with results. The nurse who read them to me when I called told me everything was perfect and she was going to try Clomid. I called about 7 times during one week because of pain on my left side. The nurse said everytime I called that the doctor says thats normal and just a side affect of the drugs which it wasnt come to find out! I switched doctors recently because of all of this. My new doctor has told me my husbands semen analysis was a cause of concern. I specifically called DR HEMPHILL to ask for the results TWICE!! They were given to me wrong TWICE!!! Weve been waiting years now at this point to get pregnant and this all could have been prevented had DR HEMPHILL cared enough! I wouldnt wish her on my worst enemy!
5.0 Rating
August 4th, 2010
Best doctor I've ever had! Dr. Hemphill took care of me while I had both of my babies... She saved my life and both of my babies' lives. I love Dr. Hemphill!
1.0 Rating
November 27th, 2009
She performed a c section on me, which I ended up developing a hernia from. When I went for a post operation appointment, I found that I had a hernia. She was very rude about the situation, telling me that hernias are not her area of practice. The hernia was caused by the surgery, so she at least know something about hernias before cutting people open. Would not recommend her or Aurora hospital.
2.3 Rating
September 28th, 2009
My first appointment with her was cancelled with a letter in the mail, my second was cancelled when I checked in to see her because she had left prior yet no one contacted me to tell me not to show up, and my third was with her nurse because she left the office again. After finally metting my doctor I would not recommend her to my worst enemy. I have left my last two appointments in tears. She does not give direct answers to questions, and the wait to see her is ridiculous.
5.0 Rating
July 20th, 2009
A caring doctor!
4.0 Rating
July 31st, 2017
5.0 Rating
June 13th, 2017
4.0 Rating
January 31st, 2017
Nearby Doctors

Dr. Donna Hemphill is similar to the following 3 Doctors near Chicago, IL.