Rate Now
Share Your Experience
Have you seen Dr. Doreen Abadco?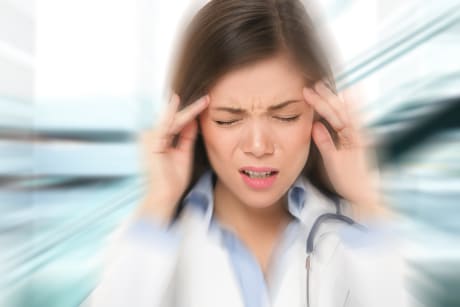 Migraine
Get the facts about migraine headaches, including the different types of migraine and migraine triggers.
24 Ratings with 12 Comments
4.0 Rating
August 25th, 2017
Caring
1.0 Rating
August 1st, 2017
5.0 Rating
April 27th, 2017
Very satified w Dr Abadco...had severe back pain...hospitalized twoce....physical therapy therapy for 15 years...Rheumatoid Arthritis hit...pain became unbearable...Referred to neurosurgeon...he wanted to do surgery right away....went to another neurosurgeon...he did an MRI...had many Tarliv cysts i my spinal canal...unusual..so..he did not reccomend surgery since it would take 2 surgeries to remove 1 cyst...Medical science was not able to help me at this time....maybe in 15 years from now...so I was sent to a Rehab Dr who gave up on me...so he sent me to Dr Abadco...Cortisone shots first...and she added a pain patch plus anti depressant med...I have had a good almost pain free life since then...it has been 20 years now...i am so grateful to her...
1.0 Rating
April 10th, 2015
1.0 Rating
April 17th, 2014
Bully
Dr. Abadco is a bully and takes advantage of sick and desperate people. I attempted to accompany my family member as their advocate. As soon as she walked into the room, she immediately became hostile and demanded to know why I was present. After advising her that I was a family member and advocate she demanded to see my identification. She was irrational and verbally abusive to both me and my family member.. She revealed that the DEA (Drug Enforcement Agency) had been to her pain medication clinic previously and she had to be sure of my identity. She wanted to know how I was related to the patient and threatened not to see my family member who was in agonizing pain. The police were called to the office and her behavior will be reported to the Department of Health. This rating system will not allow me zero stars so I selected 1 star.
1.0 Rating
September 6th, 2012
Doctor Closemind
I've been seeing her for almost four years only be cause its almost impossible to find another pain managment doc, especially where i live. I live in excruciating pain(back injury with leg pain). I thought she was caring at first but now I'm on pins and needles because she is either in a bad mood, judgmental and closeminded. I asked her to order a MRI bc of a recent fall and she fussed me like a child and said i wanted a surgery and got angry bc i declined herrepitious pleas to do a epidural which didnt work after a couple months attempts. She put me on Fentanyl and has blown me off for years when i told her about the severe side effects( musc spasms in neck
5.0 Rating
June 12th, 2012
She is very blunt, but she is a great doctor. She has helped my very much for several years. I recommend her to patients who need help.
3.7 Rating
April 1st, 2011
getting prescription
3.7 Rating
March 10th, 2011
1.0 Rating
December 10th, 2010
Pain Doctor: Dr. D. Abadco
1.0 Rating
March 13th, 2010
This is the WORST doctor I've ever paid money to.
She is very judgmental and insulting on a personal level. I was made to feel like I'm trash because I'm a tobacco user and I have tattoos. Neither of these things about me were the reasons I made an appointment in the first place. I have pain, severe pain and she doesn't care or listen to what I said. She prescribed medicine that made me so sick to the point that I couldn't go to work, then in response told me to just lower the dose from 2 a day to 1 a day. That's sensible. Have me throwing up 12 hours a day instead of 24. Now that I have discharged myself, I can't get medication filled that will actually work because of the medicine she prescribed me. The pharmacy thinks I still have the one she prescribed me and won't fill a new different one, ALTHOUGH I returned this awful medicine to her and no longer have it in my possession. I have no willingness to recommend.