Rate Now
Share Your Experience
Have you seen Dr. Dwight Tyndall?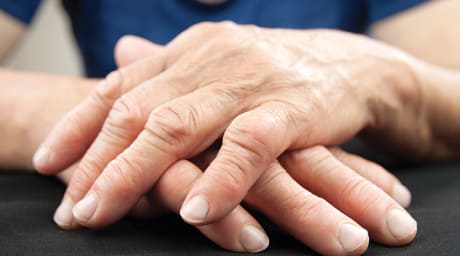 Osteoarthritis
Get the facts about osteoarthritis, including the symptoms and doctors who treat it.
Quality Rating
Highly Satisfied
65 Ratings with 25 Comments
5.0 Rating
March 3rd, 2017
No more pain
I've suffered with back pain for years. When I thought I couldn't stand it anymore in 2010 , I saw a doctor who told me I had degenerative disc disease, and there was nothing that could be done about it. By 2016, I couldn't stand more than a couple of minutes, and couldn't walk more than a block without having to sit and wait for the pain to lessen before I could move again. After seeing Dr. Tyndall, I had the same diagnosis but a much more positive prognosis. He suggested therapy first, which didn't help, so 2 weeks ago I had an L5/S1 fusion, which also freed the nerve(s) that were causing the pain. Hours after surgery I was able to stand longer and walk farther than I have in years. Obviously I still have some post-op discomfort, and I'll be starting therapy next week to recondition my muscles and strengthen my core, but as far as I'm concerned, Dr. Tyndall has made a major improvement in my quality of life.
5.0 Rating
February 22nd, 2017
Very professional and kind staff! Office visits always pleasant and short wait times!
5.0 Rating
February 9th, 2017
Great doctor
5.0 Rating
October 20th, 2016
Surgery
Was very personalable from the first time I meet him! Always concerned about what was going on before and after my surgery. His nurse Kerri is always pleasant and nice to talk to. Had to call her a couple of times, and she had no problem calling me back every time I called! And helped me with all my questions. She took time on her day off to bring my neck brace to the surgery center, because she had to order one because they were out of my size. That just goes to show the Big Hearts they have for their pattention that they take care of and help! Both are Awesome!
5.0 Rating
August 4th, 2016
5.0 Rating
July 28th, 2016
5.0 Rating
July 26th, 2016
Back Pain
I had been suffering from back pain for about three years. I went to Dr. Tyndall and he was able to diagnose what was wrong with my back and offered a solution for my problem. He suggested a Lumbar Fusion. I did my homework and I looked online to educate my self on the procedure. Dr. Tyndall comes highly recommended for helping people with back pain, and the surgery that he performed on me took ALL my back pain away. So I would highly recommend Dr. Tyndall if you are having back issues and you need some help. I'm glad I had the Lumber Fusion, and I am thankful that I was able to find Dr. Tyndall to help me.
5.0 Rating
February 12th, 2016
Exceptional Doctor. I cant say enough good things about Dr. Tyndall and his staff. I would recommend him to anyone.
5.0 Rating
January 19th, 2016
Spine Superhero
Dr. Tyndall has become my hero. He has helped with my chronic back pain and I am forever thankful. He was always willing to listen and encouraged me to contact his staff with any questions. When I did have a question, I never was made to feel like I was a bother and that I truly mattered. This doctor and his staff are worth every penny. So glad I found Dr. Tyndall
3.0 Rating
January 7th, 2016
5.0 Rating
October 2nd, 2015
5.0 Rating
September 22nd, 2015
Dr. Tyndall allowed me to keep my career and maintain my quality of life.
I am a Police Officer in a large community. 10 years ago I had a probable career ending SWAT related injury. L5 S1 spine injury. I went to Dr. Tyndall hoping just for quality of life because I had a new born son. Following a fusion I was able to return to work with no restrictions. About three years ago I was hurt again in a training accident causing a severe spinal neck injury. I was again concerned with being able to perform as a police officer. Dr. Tyndall performed a second surgery, a cervical disk replacement with a Medtronic disk. In a few weeks I returned to unrestricted duty. I am functioning at 100% and feel I am at the top of my game. I have no complications or limitations on what I can do. I am a workout enthusiast and also a runner. Dr. Tyndall is extremely skilled at what he does, and not only allowed me to retain my quality of life, but saved my career twice.