Rate Now
Share Your Experience
Have you seen Dr. Eduardo Garcia?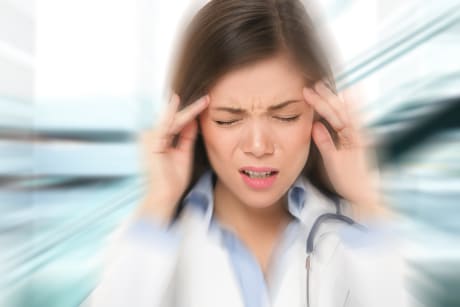 Migraine
Get the facts about migraine headaches, including the different types of migraine and migraine triggers.
36 Ratings with 14 Comments
1.0 Rating
April 27th, 2017
When the tough need to get going, you are left with your pain.
5.0 Rating
June 15th, 2016
5.0 Rating
June 9th, 2016
Run, walk, crawl, wheel in to see this doctor!
Dr. Garcia saved me from the inept treatment of another "Pain Management Doctor". He is extremely knowledgeable and cares greatly about his patients. He doesn't talk "at" you, he talks with you and actually listens to your concerns and engages you in making decisions about your care. He is what everyone wishes their doctor would be! I've just completed a successful test of the Nevro spinal cord stimulator and am very excited about getting some relief after suffering with severe chronic pain for over 12 years. Dr. Garcia's entire staff, especially his PA, Denise Jarbeth, are kind and make you feel like you matter. I highly recommend Dr. Garcia!!! You must submit your medical records for review before your first consult, but it's definitely worth the trouble. You won't regret it.
2.0 Rating
February 27th, 2015
5.0 Rating
November 25th, 2014
Excellent Doctor
1.0 Rating
October 27th, 2014
Awful Experience
Rude staff, especially the office manager. Dr. Garcia is unprofessional, arrogant, and chauvinistic. The staff never returns calls, and although he calls himself a "pain specialist," the only interventions he seems to know of are epidural/steroid injections and writings scrips for pain meds. Save yourself a lot of wasted time and unnecessary frustration, and make the drive to TMC. The physicians there are top notch, professional, and my new dr makes my physical well being his priority, and treats me with the respect I know I deserve.
1.0 Rating
June 10th, 2014
5.0 Rating
April 13th, 2014
1.0 Rating
January 3rd, 2014
Doctor Garcia is not being a "doctor" to the "patient"!
Refuses to listen to you. Your not to question him. The staff does more of his doctor duties then the actually doctor. Talks down to his staff and his patients doesn't care who is present. Thinks he is above everyone and he does not wrong. He will spends more time with older women who are there to see him for his good looks not there for treatment.
5.0 Rating
March 30th, 2013
Kind and Intelligent
I had suffered from pain for years. Previous Drs. tended to ignore me. The staff at Dr Garcias office actually listen to you and make plans to do what is best. They have so many options aside from just pain medication. Definitely up on the latest techniques. Love them! You likely will have to wait a little for your appt but that is because Dr. Garcia and Melinda PA take time to listen, and help, each patient.
1.0 Rating
July 16th, 2012
Not what he seemed
In the beginning about first two visits it seemed like he was really sympathetic to my problem but with each visit thereafter he was more and more insensitive about my issues with pain and how it was affecting my quality of life. The same happened with his assistant, they don't care about what I am going through they just put on initial pretenses to make it seemed as if they cared.
5.0 Rating
July 1st, 2010
More than just a pill pusher