Rate Now
Share Your Experience
Have you seen Dr. Elaine Crosby?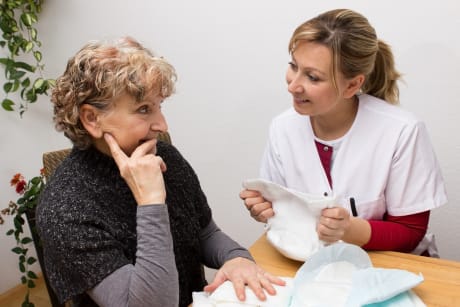 Urinary Incontinence
Learn about the symptoms and causes of urinary incontinence or urge incontinence.
60 Ratings with 14 Comments
5.0 Rating
August 25th, 2016
1.0 Rating
December 23rd, 2015
Worst OB experience
Dr. Elaine Crosby was the worst Doctor I have ever experienced. This is my first pregnancy. The first visit was good, where she talked about things to expect. By 2nd to 5th visit each time her attitude towards me became condescending. She didn't want to hear about my past doctors findings and results. If I was able to get a question in, she answered my questions coldly. Sometimes adding at the end of statements "...and I've told you that twice already." She never remembered anything we talked from last visits. I felt very frustrated by the 5th visit trying to talk about my medical condition with the pregnancy which she would interrupt me all the time. She never asked if I had any questions or concerns. I felt like a paycheck to her. I left her office in tears.
3.0 Rating
April 16th, 2015
5.0 Rating
August 13th, 2013
i recommend
3.7 Rating
April 2nd, 2010
I have suffered for years with problems that other doctors would just brush off as "normal" for me. Dr. Crosby really listened to me and to what I wanted to do for myself. I think what others perceive as curt and rude is really her directness. Personally, I prefer a doctor that just tells me like it is, and this is what Dr. Crosby does. She does not mince words and is very straight forward and efficient. I don't need my doctor to baby me, I just need them to know what they are doing and to get things done- that is Dr. Crosby.
5.0 Rating
March 31st, 2010
1.0 Rating
January 8th, 2010
Dr Crosby and her staff in Kingston are(VERY RUDE AND UN PROFFESIONAL)
A relative of mine had a very bad experience--she was very rude and her staff were very nsty and rude and un caring--I advised my relative to call there insurance company and make a complaint--then call or e mail the AMA about her--this Doctor and staff need a rude awakening to straighten out there rude behavior.
5.0 Rating
November 17th, 2009
5.0 Rating
November 3rd, 2009
she saved my life!
1.0 Rating
September 10th, 2009
woud not recommend her to a dog!!
Years ago she was a good doctor I thought!! Well the past 2 years, she has changed drastically!! I went in for an exam, and when the tests came back the office made an appointment to come in. Scary !!! Well, as I sat in a conference room, I waited there for 45 minutes, as she passed the room several times with not as much as a hello,I will be right with you, nothing!! Ok, she then came in with all kinds of different things to tell me, and was very unclear about them all, including being very abrupt when I did ask what all these mean,(my body) and what I have to do. We had to take some biopsies of my uterus, and some ultra sounds, sonograms, and such. I left there sitting there in the parking lot in tear!!!! When I did the biopsy, and waited..... for the results, she called me finally, and said I am sorry this is not good! Well my heart dropped!! She then said a few minutes later, oh, I am sorry wrong patient! So for all of you women out there I will spare you the heart ache. Do not go to this doctor!! "Awefull" to say the very very least!!!