Rate Now
Share Your Experience
Have you seen Dr. Faith Myers?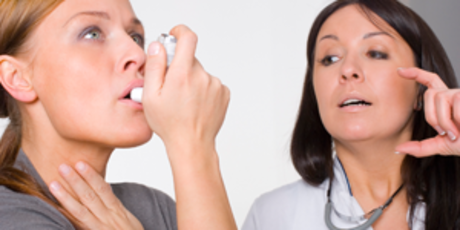 Asthma
More than 22 million Americans of all ages have asthma. Prepare to talk to your doctor about symptoms, diagnosis and treatment options.
21 Ratings with 13 Comments
1.0 Rating
October 16th, 2015
Terrible Staff!!
I have nothing against Faith.She has been my kids doctor for a while. The receptionist on the other hand, Terrible!! My son needed an immunization shot and could not return to school unless he got it. She said there was no way they could see him till the end of the following week. I went to the office to get his shot records. There were no patients in the office. She was still adamant that that they could not see him. I got the records went to CVS Pharmacy. They were very nice. took my insurance and we were out of there in about 15 minutes. We are definitely finding a new doctor.
1.0 Rating
July 12th, 2012
Horrible service, STOP don't go
Rude and ignorant reception service. Dr treats you as if you were at a meat market... Next please..... Rushes through the visit.
1.0 Rating
June 29th, 2012
the worse doctor ever
do not go there. she is the worse doctor ever. she does not care about our kids only money.
5.0 Rating
May 26th, 2011
Dr. Myers is outstanding as are Dr. Dwyer and Crystal. Dr. Myers has helped both my children through difficult medical problems. She listens carefully, is up to date on the latest procedures, and is very helpful in referring you to specialists. She is not one to waste a lot of time with "chit chat" but I'm not looking for that in a doctor. I want someone who is knowledgable and does the right thing for my children.
1.0 Rating
April 11th, 2011
Very unprofessional
We picked Faith Myers when we moved to Lemont. My 3yr old was sick and we called the doctor for an appointment. They were extremely rude to me and said they weren't accepting new patients. I tried to tell them that they were our PCP through the AllKids program and that we had chosen them back in December. They continued to be beligerent, and even hung up on me. We even went in to the doctor's office with the paperwork showing they were our PCP. They just told us to leave and if it was that bad we could take our son to the ER or Urgent Care. They were completely unprofessional. This was in regards to a child's health and they should not be allowed to treat people this way. We obviously requested a new doctor with your program and are very happy with him. My only reason for voicing my complaint is so hopefully this Dr. Myers is monitored and any families that choose her in the future are treated better.
5.0 Rating
December 2nd, 2010
2.3 Rating
November 13th, 2010
5.0 Rating
June 14th, 2010
Do you want comfort in knowing your child is cared for?
3.7 Rating
February 23rd, 2010
Uncaring Staff, Dang Good Dr
Keep notes on PCReceptionist is unconcerned for urgent or routineResident students come first and take notes. Dr. reads notes. Dr comes in, you elaborate but it doesn't appear she is listening. Dr. very confidently gives you answers. I'm unhappy that she doesn't do delayed vaccinations and brushes off behavior problems etc as "kid stuff." But, I have no doubt she's one of the best and stick with her.
5.0 Rating
December 15th, 2009
There isn't a better, more caring, or more dedicated doctor anywhere. We are so blessed to have found her over 7 years ago. She has seen our 3 kids since they were born. She makes the time to answer all our concerns, and for the last several years she has had an assistant that we adore too. Wonderful, wonderful, wonderful.
1.0 Rating
November 9th, 2009
Very unprofessional and disrespectful staff
I wonder if Dr. Myers really knows how disrespectful and unhelpful her receptionist is!!! I am new to the area and looking for a pediatrician and as I was asking some questions, the male receptionist basically said to me that he didnt have time to answer my questions and that I should find another practice to go to!! I am completely appalled.
1.0 Rating
October 15th, 2009