Rate Now
Share Your Experience
Have you seen Dr. Fallon Maylack?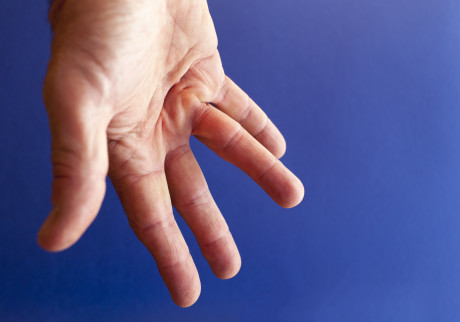 Dupuytren's Contracture
Dupuytren's contracture is a thickening of the tissue beneath the skin of the palm of your hand
46 Ratings with 18 Comments
2.0 Rating
September 6th, 2017
NEVER get a partial knee replacement
I had a partial done in 2013. I was told that I didn't need a full replacement since the arthritis was only on the left side. So I thought great. Little did I know that with a partial they cut bone away to make way for the partial knee device. From the day of the surgery I had pain on the right side of my knee. I told Dr. Maylack about this and he said that's just part of the healing. So I wait and waited and it never went away. I went to a different orthopedic doctor that said the arthritis has moved to the right side but that didn't make sense since I had the pain immediately after surgery. So I put up with this for 3 years and went to see a different Orthopedic doctor and he said I needed a full knee replacement. So October of 2016 I had a total knee replacement just to have the same pain on the left side. This Orthopedic surgeon looked further into it and said it was my IT Band which runs from your hip down to just below the knee. So my thoughts go to did I really need a total knee replacement if Dr. Maylack and the 2nd Orthopedic doctor would have just looked further into why the pain was actually there. I was also told by a physical therapist that a person should NEVER get a partial that you'll only end up with a full down the road. When you finally get the full replacement there are other complications. It's called a "revision". They call it that because with a full you actually have a new knee totally. With a "revision" they have to build up where the bone was taken out to do the partial. This causes difficulty in bending your knee to a better degree that you would get with a full. I also had nerve damage causing a dropped foot because when they pull out the partial they have to open the incision up wide enough to take it out. The dropped foot went away but I have nerve damage that I'm hoping will come back over a course of time. It's been almost a year and I still have a numb foot that continues throughout the ankle and up the side of the leg. I'm so frustrated with the past 3 years I just wanted to do something to keep anyone else from going through what I've gone through. I HIGHLY suggest to NEVER get a partial knee replacement.
5.0 Rating
July 13th, 2017
God Sent
5.0 Rating
November 3rd, 2016
He is the best
5.0 Rating
August 31st, 2016
He is the best
5.0 Rating
May 10th, 2016
Best Orthopedic in St. Louis
1.0 Rating
July 10th, 2015
2.0 Rating
March 17th, 2015
Dr M did my 1st knee replant. With minimal conversation. I thought maybe he was just a quiet person. But after reading these review I understand fully it just his disconcernment with his patients. I have no problem with the procedure, but on the post visit I had some concerns and his answer was does it hurt less then before then ok you're better. Next! I knew that I needed both knee's replaced and after Beverly not following up on calls. But terribly disappointed that the day before surgery at 4:30 pm, I rcv a call saying my insurance plan isn't accepted. Why didn't they verify it on day one. I made it clear that I had New insurance.
5.0 Rating
December 15th, 2014
1.0 Rating
June 28th, 2014
No, you don't have arthritis. I didn't see any. Get some new glasses, Doc!!!
Now I will continue with my nightmare. The meniscus repair took a year to stop hurting. The second one has never stopped hurting. 4 cortisone shots later and finally telling me, by looking at his results from a year prior and an X-ray from 2 months prior. I see nothing wrong with your leg. We will do a ct scan. If nothing shows we will just cast your leg and let it rest. So I took my results of the ct scan and went to Washington university Orthopedic He said let no one do any more scopes on your leg first of all. It won't help. Your knee is bone on bone from arthritis. I have to have a knee replacement. Thank maylack for all of the unnecessary pain and misdiagnosis.
5.0 Rating
April 4th, 2013
Patient
5.0 Rating
January 19th, 2012
Dr. Maylack
Nearby Doctors

Dr. Fallon Maylack is similar to the following 3 Doctors near Bridgeton, MO.