Rate Now
Share Your Experience
Have you seen Dr. Fawaz Haddad?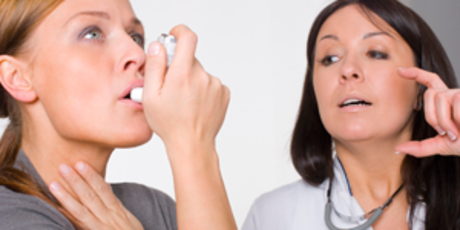 Asthma
More than 22 million Americans of all ages have asthma. Prepare to talk to your doctor about symptoms, diagnosis and treatment options.
61 Ratings with 20 Comments
5.0 Rating
August 30th, 2016
1.0 Rating
April 19th, 2016
I'm very disappointed After 12 years 3 kids later we will be finding a new pediatrician. I cannot believe how I was treated yesterday. I was on my way to Hurley. Actually at the light on the corner. I call Haddad's office for insurance info. I left in such a hurry. The nurses convinced me to come to the office and avoid the wait at the e.r. hesitant I jumped on the highway to haddad. He treated me as if I was ignorant. He pulls glass out of my sons leg. Then loudly say and I quote"JESUS CHRIST, HE NEEDS TO GO TO HOSPITAL!" I became immediately upset. His words and I was at Hurley!! I've never been spoken to like that in my life by a professional
5.0 Rating
December 3rd, 2015
Great!!!!
5.0 Rating
July 6th, 2015
There for us!
My son had stitches before he turned two. He was great with our son from his first visit! As multicultural parents, he has been very kind to us, respectful of ort differences and has accommodated to our specific needs as parents. My son has been blessed to have great health, he's five, and has had minimal need of his intervention, but whenever we needed to see Dr. Had dad, he and the entire staff have met our expectations.
5.0 Rating
May 3rd, 2015
Grrrrreat Doctor and friendly staff!!!!
5.0 Rating
March 17th, 2015
1.0 Rating
January 12th, 2015
Lawsuit waiting to happen
I can not believe this doctor has not been sued yet. He makes mistakes, overprescribes antibiotics and is downright rude to parents and the children. He wrote the wrong prescription 4 times for my son! He only does the rapid strep test in the office and never sends one to the lab. He will either give you antibiotics, or tell you your child is having an allergic reaction to something, for any and ALL rashes, and prescribe steroids. You will never receive a REAL diagnosis. He should not be allowed to practice medicine. It should be a red flag as to how many patients he bills per day!
5.0 Rating
November 30th, 2014
Highly recommend
I have been taking my 3 kids to Dr Haddad for 9 years. From our experience he has always been gererous with his time and is very thorough. He seems to always have the child's best interest at heart. He has been very conservative with prescribing medications for illnesses and follow up care for injuries. Highly recommend.
1.0 Rating
November 2nd, 2014
Dr. Haddad saw my daughter for 6 years, his demeanor has changed over the past year. I was made to feel on several occasions that I was inconveniencing him and his staff because I questions. It took several visits with a diagnosis of Strep throat to get a referral to an ENT. I had to say isn't enough, enough something needs to be done about the chronic illness not just antibiotics. The office has you sign a paper that you will call him before taking your child somewhere else, the final straw was when I called he was very rude, and when I brought her in he was even more rude. Does not explain anything well and gets annoyed if you have questions. I would NOT recommend Dr. Haddad!!!
1.0 Rating
October 2nd, 2014
Horrible
His office is a production line like many have commented about. You are lucky to get more than a minute with the doctor. He dismisses your concerns and has walked out of the office while I am in mid sentence. He over prescribes antibiotics, and only goes through the motions of examining your child. He told me my son's ears were fine, and finally after I begged for a referral to and ENT, his ears were full of wax, he had adenoid problems and allergies that the ENT could tell from looking in his nose!! Dr. Haddad is very judgmental and downright rude. He is not even nice to the kids, and barks at them to sit up on the table. When I told him I was applying for some benefits for my child, and needed a correct diagnosis in the charts, he told me to go get a job! Needless to say that was our last time to his office. He knows nothing about our family, nor would EVER take the time to know anything. It is all about the money and billable appointments for him.
1.0 Rating
January 30th, 2014
On call? Yeah right
All peditritians are on call for there patents. This one will have you sign a paper agreeing that if youre going to take your child to urgent care to call him first. My 2 year old was crying in pain from severe diarrhea. I was going to take her in. I called him first (11:30pm) and tell him "My 2 year old is screaming in pain from severe diarrhea that's she's had for the past 3 hours and I'm wanting to take her in." He said "this is not a emergency. Call me tomorrow!" And hung up. Needless to say I couldn't attempt to drive her screaming the way she was and though, well maybe he's right. We all had a rough night. When she woke up at 10am her overnight diaper was dry (last change was at 2am). Scared she was dehydrated i ran to the store for pedialite. I'm glad this is all over but this pc of work didn't help, guide or ask any questions. Left me to figure things out on my own. I'm glad she wasn't lethargic from being dehydrated or worse. I will NEVER go back nor recommend this doc. He needs his license revoked
5.0 Rating
December 13th, 2013
Amazing Pediatrician
A great, caring doctor who takes the time to work with both the patient and the parents. He has always taken as much time as was needed to discuss my concerns with me, examine my child, and make the appropriate health decision. Beyond that, his office staff is great, and his affiliation with Genesys Regional Medical Center is a good choice as they are a great hospital. Beyond that, the fact that he offers same day appointments for sick children, and is basically always available by phone 24/7 as needed for emergencies, is not only unprecedented in the industry, but an amazing feature of his practice. I would recommend him to anyone looking for the BEST pediatrician in the area bar none.