Rate Now
Share Your Experience
Have you seen Dr. Francis Mcdonnell?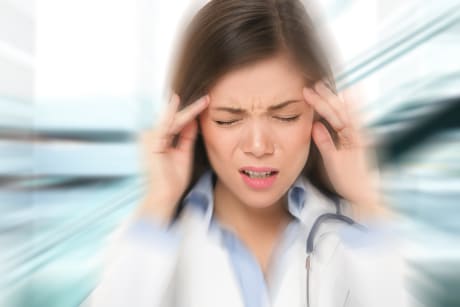 Migraine
Get the facts about migraine headaches, including the different types of migraine and migraine triggers.
26 Ratings with 8 Comments
1.0 Rating
April 16th, 2016
First do no harm
Because of recent FDA rulings on and reclassification of pain meds, doctors are forced to refrain from prescribing much needed medication to patients who aren't addicts but who are genuinely in need. Some pain situations can be addressed by injections, but not all. Some issues can be resolved thru physical therapy, but not all. When both those approaches lead to no pain relief, but rather to ever increasing pain,it's insulting to the intelligence of the patient to continue to tell them physical therapy will EVENTUALLY HELP, when the opposite is true. Then comes the begging for pain medication, which is insulting, because it's given in small increments as to be nearly ineffective. I've never been a smoker, drinker, done drugs of any kind, but beg I had to. I've been they PT before and been highly successful. Not this time. Needless to say, this practice is composed of professionals who feel a diagnosis of "physical therapy fixes everything" does nothing more than give the doctor/np a out when injections don't work. Then it's the patient's fault when there is no recovery, because he wasn't aggressive enough in therapy. I do not recommend this doctor. He does a manual exam on first visit, and does not take time to get to know the patient, nor does he care what the patient says. Nobody needs pain medication, he can't be wrong. And PT will eventually fix everything, even if it increases the pain exponentially. Dr McDonnell has seriously injured other patients and caused them to live in increasing pain. He's been successfully sued for injuring a patient. My suggestion is you see another physician if you need to be heard by a physician.
5.0 Rating
April 5th, 2016
Dr. McDonnell is very knowledgeable, professional and above all listens to the patient. I have never been examined as well as I was with my first visit by any specialist or primary care physician I've seen in the past. He diagnosed a long standing issue which numerous physicians had missed and I received tremendous relief with the first procedure. I like the comprehensive approach this clinic uses in taking care of patients. I would recommend Dr. McDonnell to all my friends and family, he is a great physician.
5.0 Rating
January 22nd, 2016
5.0 Rating
March 7th, 2014
A new journey began today.`
I would like to begin by saying I have never had a doctor as blunt as Dr. McDonnell. He showed me my future. And I truly did not like what I saw. So some major changes to make. I am very concerned about the fact that my meds were cut down and out. Also I am concerned about whether or not the physical therapy can do more damage. I have several issues it my back. And through out my body. But I am keeping an open mind despite being in serious pain right now. Wait time was a little long but was ok I was new patient.
1.0 Rating
February 5th, 2013
Patient
Dr McDonald was always on me about my weight. (179) he was constantly telling me to loose weight and even put me on Phen Phen. My neurosurgeon told me absolutely no exercising until we got my back situated out. So because I couldn't loose weight, he drops me as a patient. His mannerism is very curt, does not spend time with u and doesn't believe u r having the pain u have! I do not recommend him for anything!!!
5.0 Rating
May 17th, 2011
5.0 Rating
May 1st, 2011
dr mcdonnel is an excellent, caring physician. I have had back problems for a long time, with his medical knowledge and caring Iam doing much better I thank God for his and his staff's knowledge and caring!!!
1.0 Rating
July 9th, 2010
5.0 Rating
August 7th, 2017
5.0 Rating
February 8th, 2017
5.0 Rating
April 12th, 2016
4.0 Rating
September 2nd, 2015