Rate Now
Share Your Experience
Have you seen Dr. Frank Battaglia?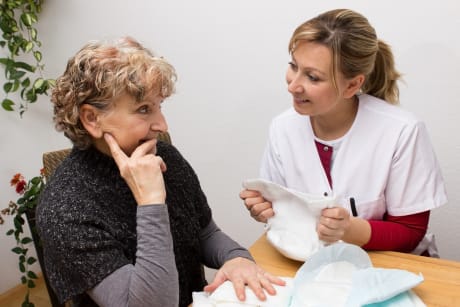 Urinary Incontinence
Learn about the symptoms and causes of urinary incontinence or urge incontinence.
Quality Rating
Highly Satisfied
43 Ratings with 17 Comments
5.0 Rating
February 15th, 2013
a wonderful doctor
I have been going to Dr. B for 10 years. He is an incredible doctor. He is funny, talks to me the whole time, and makes me feel comfortable during an uncomfortable exam. Some of these reviews are ridiculous. Yes, he is very sarcastic, but that is part of his charm. He has always answered all of my questions and let me voice concerns with no problems. He is not the typical doctor with no personality, but he makes my visit more comfortable and laid back.
5.0 Rating
July 25th, 2012
Wonderful doctor
I have been going to Dr. B for 20 years! After my first child was born he helped to save my life! My original doctor failed to diagnose post partum eclampsia. I ended up in ICU and almost did not make it. I have had 5 miscarriages and he was always kind and never discouraged me from having another child. He sent me to Baylor for genetic testing and ended up doing many more tests to, determine the problem. I finally did have a second child and I know it came out well due to his care. Last year I had a problem with a breast leaking. Most doctors would have said let's wait and see since your mammogram is good but thank goodness he didn't. I had a papiloma in my duct that could have turned into cancer. He has been great with my daughter. She has had some problems. He has been gentle, kind and supportive with her. He is great and I would recommend him to anyone.
5.0 Rating
June 13th, 2012
Awesome Doctor!!!
1.0 Rating
April 17th, 2012
the world's mos pompous doctor
Don't waste your time. Battaglia is arrogant and ignorant and with a dirty outdated office right out of a bad 80s western. He doesn't care about patients is dishonest, steals from insurances and if you argie or he doesnt like you he will refuse to see you. He also licks his lips when examining, quite uncomfortable. Don't waste your time or money with. Him, seen better care for patients at a free clinic
1.0 Rating
April 10th, 2012
The most arrogant doctor in Houston
The office looks like it came out of the 80's, has terrible country music, and he's a proud man about his cd that has no sells. I saw bugs and roaches, and the office is not even in a hospital, it's in some office building, so you can hear meetings going on while he's down there looking at your business. He elongates tests and such, so something that's supposed to be only 3 visits tops, he makes them 10. If you're in the hospital, he won't care. His staff is rude except for the receptionist, and he takes out anger on patients, yelling and insulting on the phone. Whatever you do, stay away from him, unstable mentally would be my guess, and not worth the time and money. I'm currently trying to get him kicked out of my insurance plan for his behavior and his offices.
1.0 Rating
August 10th, 2011
Sad!
Dr.B was very arrogant!! I had low progesterone for the first time and it was my fourth pregnancy so it scared me! Plus I had just had a miscarriage right before!! So I was already nervous!! I voiced my concern about it!! He just kind of laughed it off and told me to stay off the Internet! I don't really know how to express if you are wanting a dr that shows empathy, and cares for each one of his patience this is not the dr!! I have lived in many states and have had two other children and have NEVER had such a bad experience with a dr!!
1.0 Rating
May 31st, 2011
Don't disagree with him..he will dismiss you as a patient!
I went in for my 28 week appointment with a few ideas/questions on a natural un-medicated childbirth. I asked Dr. B about his thoughts and experiences with moms using a doula. He immediately told me that he does NOT work with doulas and never will and that I need to find a new doctor. I then asked him about his c-section rate. He said that they don't keep track of that sort of information. His last words before he slammed the door, "Good luck finding a new doctor this late in your pregnancy." When I stopped by the next day to get a copy of my medical records he had a "letter of dismissal" waiting for me saying that he was no longer my doctor. No worries though - I found a wonderful doctor in no time that is willing to work with me on my wishes to have a natural labor and childbirth.
5.0 Rating
March 16th, 2011
Saved us
5.0 Rating
January 28th, 2011
Awesome Doctor
5.0 Rating
December 18th, 2010
Number 1 choice
I switched to Dr. Battaglia after a bad experience with a previous Dr. The most important thing about this office is I feel as though I am important. had a very complicated pregnancy and I never had to remind him of a diagnosis...Everyone in the office knew me by name...If you are looking for a personal experience with your OB Dr. Battaglia is the man to go see.
2.3 Rating
October 18th, 2010
Inconsideration and Impaitent
He is a rusher and he doesn't spend enough time answering questions. You see more of the nurse than the doctor. I do not want anyone to suffer as I have. He doesn't do his own ultrasounds and you only get one. I do not even know the sex of my baby. I was in pain at 32 wks and he said go home and drink water. At 34 weeks I was still in pain and he didn't even acknowledge me about it. I switched immediately after he told me that there will be no doctor that will take me this late. He is inconsiderate. He also switched hospitals and wouldn't tell me why. I tought that was quit supicious. He also has no bedside manners, very rough and impatient. The only thing that is good about going there is his staff they are the sweetest.
Nearby Doctors

Dr. Frank Battaglia is similar to the following 3 Doctors near Houston, TX.