Rate Now
Share Your Experience
Have you seen Dr. Frederick Cummings?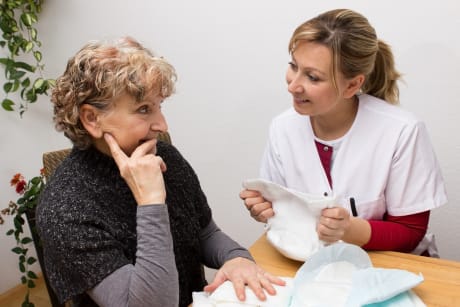 Urinary Incontinence
Learn about the symptoms and causes of urinary incontinence or urge incontinence.
Quality Rating
Highly Satisfied
53 Ratings with 14 Comments
3.0 Rating
May 12th, 2017
Patient Care
I am a patient on Dr. Cummings in the Denton office. I called his office on Tuesday explaining that I am in a lot of pain and need to see him for pain mgt. The first nurse Karen was really pleasant and appt me for Wed. morning however, I am a Program Director and forgot that my instructor wasn't coming work that morning and I had to cover for her. I called back the same day Tuesday around 4:45pm and explain the situation and begged to take the last appt for the day and a different nurse. Judy or Jody answer and was extremely RUDE to me on the phone. She basically yelled at me and told me that she couldn't do anything for me and I will have to see the nurse practitioner on Friday at 3:30. Well that nurse called on yesterday and told me that they couldn't see me because her doctor doesn't schudule surgeries. I explain to her that my appt is for pain mgt and I was aware. The nurse explain that she didn't see any notes about my asking to no BEGGING to be the last patient for the day on Wednesday. So, the nurse called me back on this morning and explained how Dr. Cummings was surprised that I didn't make the appt on Wed. and he couldn't see me today because I can't get off work until 1 today. So, the suggestion was to go to the hospital and let them see me. This is ridiculous that I am being punished for having to work and earn a living and now I have to go a make a BIGGER bill to be taken care of. THIS OFFICE DOES NOT CARE ABOUT THEIR PATIENTS!!!!! THEY NEED TO HIRE PPL THAT REALLY CARE ABOUT THE PATIENTS AND WANT TO HELP THEM NOT TURN THEM DOWN. I WILL BE ACTIVELY SEARCHING FOR ANOTHER OFFICE THAT WILL TAKE CARE OF MY NEEDS.
5.0 Rating
July 7th, 2016
5.0 Rating
July 5th, 2016
2.0 Rating
April 7th, 2016
Charged twice for same exam.
Dr. Cummings did an exam on one morning and suggested I have a sonogram, and speak with me after about the results. After I had the sonogram, he didn't have time to see me and his staff asked me to come back the next day for the results. I went back the very next day. Dr. Cummings thanked me for coming all the way back to the office since he was unable to go over the results with me the prior day. The most disappointing thing was that all he wanted to discuss is hysterectomy. I asked him if there were any other options, and even though I found later that taking hormone therapy is an option, he told me that surgery was the only option. To be clear, there is no cancer, just irregular bleeding. I felt he was too anxious to do surgery and that was all he wanted to talk about. The conversation only lasted less than 5 minutes and when I left, I was charged a whole new exam fee. The same price as I had already paid the day prior. I paid and after called their billing department to try and work it out, but they said that even though it wasn't my fault I had to come back the next day, they charged me a whole new exam fee for his time. In my opinion, his time was useless anyway, as all he wants to do is surgery. Very disappointed in this doctor. I think he may be nearing retirement and is just burned out.
5.0 Rating
March 7th, 2016
5.0 Rating
January 26th, 2016
Really Helps and Cares.
Dr. Cummings saw me under emergency conditions. He was super even though I was in pain. Then set up surgery the next day. He came to check on me 2 times a day. Always wanting to know what is going on and how I'm doing. Love how when he comes in the first thing is he smiles and then shakes my hand and then sits down and ask how I'm doing. Then why did I come in for the visit then talks to you about what he thinks I should do. Very super caring Dr. Love Love Love I'm sticking with him.
5.0 Rating
December 7th, 2015
5.0 Rating
January 19th, 2015
True VBAC support
I had Dr. Cummings' full support for my VBAC and I'm not sure what results if have gotten with other providers. At that time his office was very busy with women clamouring for VBAC support and evidenced based care thus why I rated lower on office area stuff and follow up. HOWEVER, when the time came for my birth, he was the best I could ask for. Patient, respectful, kind, knowledgeable, and skilled. I'd highly recommend him.
5.0 Rating
January 13th, 2015
5.0 Rating
August 25th, 2014
The best!!
Dr. Cummings and his partners are the best! They are the only group that will REALLY let you VBAC! I thought I would be in trouble if Dr. C himself couldnt make it - but I was in labor long enough that both of his other partners took care of me, and they really let me have the time and the freedom to have a successful VBAC! I thought they were all great!
1.0 Rating
January 6th, 2012
1.0 Rating
October 18th, 2011
Horrible doctor, for the sake of your baby, stay away
This OB seemed to have a lot of office issues, but he seemed nice. He had great bedside manner so I stuck it out. I was planning a vbac and he was known for vbacs. What I did not realize is, he does not like to actually do his job. So, when I went in to labor on a weekend that he was not on call on, I was screwed. He refused to see me which left me thrown to the street with no OB and in excrutiating pain from labor on a Saturday night. I had to find a different hospital and be treated by the oncall OB there because Dr. Cummings bailed on me in the middle of labor.
Nearby Doctors

Dr. Frederick Cummings is similar to the following 3 Doctors near Denton, TX.