Rate Now
Share Your Experience
Have you seen Dr. Gary Levengood?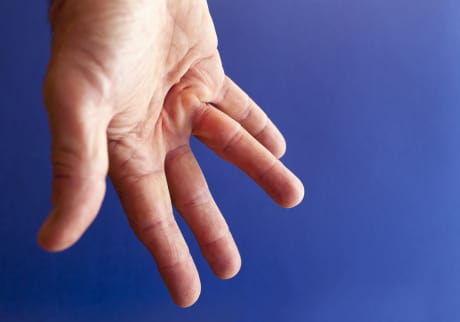 Dupuytren's Contracture
Dupuytren's contracture is a thickening of the tissue beneath the skin of the palm of your hand
46 Ratings with 27 Comments
1.0 Rating
January 26th, 2017
5.0 Rating
September 2nd, 2016
Grea Doctor
1.0 Rating
June 30th, 2016
Go elsewhere!
2.0 Rating
January 6th, 2016
Never again
I saw Dr. Leven good for a torn meniscus. I ended up having the surgery to repair it. He said that he was confident that he could fix the problem. Well, I am here to tell you that he did not. I ended up having just as much knee pain as before the surgery. PLUS I still needed cortisone shots and he recommended tThat I have other shots as well. When I asked him what they were called, he never did tell me the name. Just told me not to worry about it. Well, when my lower leg swelled up and I called the office , they told me to come in, and so I did. He didnt even have the nerve to come and talk to me. I only saw his PA. Very unprofessional! As I look back, I realize that I couldn't even tell you what he looks like because he never looked at me when he was speaking to me. He never faced me. His bedside manner is atrocious at best. Plus, he never fixed my knee problem! I don't get why some people like this man. I have met many people who would never go back to him, myself included.
4.0 Rating
April 22nd, 2015
Great surgical outcome !!!!!!!
Dr. Levengood performed surgeries for a right, then 2 years later, left Rotator cuff major tear. I am still in awe of the virtual painlessness of this last experience. I am still doing phys. therapy and progressing well. Life is better thanks to Dr. and staff even though wait times for appointments are awful at times.
5.0 Rating
April 8th, 2013
Patient/Practice Manager for Primary Care
1.0 Rating
October 1st, 2012
First impressions....no second chances.
Was not impressed as I thought I would be, especially having saving an article in Vigor from Summer 2011. Did not spend but about 3 minutes, no examination, brought an entourage of people in the room, ask a few questions and ordered an MRI for what I knew was Arthritis bouncing off my back. He might be a good Doctor, but I will not give him another chance. First impressions count. The Girl making appts. for the MRI, her face might crack if she were to smile. Did not feel comfortable at all with this office.I felt the Doctor has enough patients that I was just another one on an assembly line.just my opinion. You might find that he is the right Doctor for you.
3.7 Rating
August 2nd, 2012
Felt unimportant
The staff was friendly and somewhat professional,Dr. Levengood may be voted as best but I feel that is by the ones that maybe he take up time with. I waited in the office for almost 2hrs,when I get back to the back I waited some more.Had xrays an injection and was not fully explained to why,what to expect and most of all was it going to help.Not really sure of my diagnosis.Came back for a followup waited again for about 1 and half hour waited again for him to come in and ask a question move my hip around and say followup in 6months.I realize I should have persued some answers before I left but,I was so disappointed until nothing really hit me til after i left that he had done absolutely nothing to amke me feel better. He makes big money being a specialist I feel he should take up more time with explaining and being concern.
5.0 Rating
March 4th, 2012
Cudos to staff and Dr. L.
I had a shoulder pain that I was concerned about. A friend recommended Dr. Gary Levengood. His staff was great from the person answering the phone to the trainer who showed me some exercises. Doctor Levengood, checked out my shoulder and felt I only had strained the rotator cuff. He gave me and injection and had his trainer show me some exercises. A week later and I am pain free and back to golf and working out! Great place to go.
5.0 Rating
March 4th, 2012
Anxious Mom
A trip to the ER on a thursday night with my 9 year old to find out he has a broken collar bone and would need surgery and to see your Orthopedic in the morning. We didn't have one so I started calling from my insurance list only to find that they were all full friday and couldn't see us until the next week!!! I made it down the list to Dr. Levengood and told my story AGAIN and the sweet receptionist explained that they would fit us in that morning as an emergency. I was so relieved!!! Dr. Levengood put him in a special collar bone brace, re-xrayed every two weeks until it healed. NO SURGERY!! He said prompt attention and proper treatment can help to avoid surgery in many cases. THANK YOU Dr. Levengood!!!!!You are now at the top of our list.
5.0 Rating
January 28th, 2012
BeYond BEtter
i went to sports med south a few weeks ago for a problem with my elbow that started for no reason. after being seen the same day i made my appt, i realized why my coworker suggested this office. dr. levengood saw me and after telling me my xrays were normal and i had tennis elbow, he explained to me why tennis elbow occurs in ppl that dont play tennis such as myself, and gave me an injection that im sure has cured me. then, one of his staff members educated me further on the problem and showed me how to make sure it doesnt come back with some exercises and use of a brace. their website says their motto is beyond better, and thats exactly how my elbow feels now!! thanks dr. levengood and staff!!
Nearby Doctors

Dr. Gary Levengood is similar to the following 3 Doctors near Lawrenceville, GA.

Dr. Saadiq El-Amin III

Orthopedic Surgery, Orthopedic Surgery of the Spine, General Surgery

Lawrenceville, GA 0 mi