Rate Now
Share Your Experience
Have you seen Dr. Gary Mccarthy?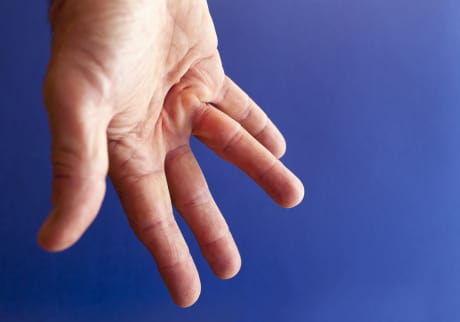 Dupuytren's Contracture
Dupuytren's contracture is a thickening of the tissue beneath the skin of the palm of your hand
25 Ratings with 7 Comments
2.0 Rating
August 4th, 2016
Terrible results from a double surgery
After having both right Keefe and right shoulder operated on at the same time Dr McCarthy failed to fix the problem and left town without notice prior to my one week follow up. Have had to have both operations redone correctly. If you're going to go to this doctor, think twice then run the other way.
1.0 Rating
September 2nd, 2015
Disabled
I endured an awful experience with this pill-pushing doctor. Like the others, he came and went, in a matter of two (2) minutes. During athree (3)month period, he managed to scam my insurance and my poor and naive judgement into performing three (3) surgies on myself. In which, either time did he fix the problem at hand. This so-called M.D., performed one (1) knee. Only to tell me I had a torn ACL, withat being said; I had to be referred to a specialist. The drive was four (4) hours away. The next two ( 2) surgeries have left me rendered disabled and scarred for life. Due my confidence in trusting this so-called M.D. He performed a surgery, in which he was not certified, my hand. DO NOT TRUST DR. Gary McCarthy!!!!!
5.0 Rating
May 3rd, 2012
Where is DR McCarthy? HeHasmoved from Demorest Ga To Westminster SC, according to my information. I can't find a new address for DR. Gary McCarthy
5.0 Rating
April 9th, 2012
exceptional
1.0 Rating
January 4th, 2012
Unbelievable
Will not be going back for follow up...will find another REAL Dr!Didnt spend 2 minutes with me told him my issues...told me I was to young to have bad knees..Im over 40.. Waited from friday till Tuesday after my injury and being referred by ER to see him...then had to pay over 100 dollors up front for him to see me two minutes...Er said I broke fibula in two places at ankle...he puts me in a boot and says I can put pressure on it...
1.0 Rating
September 16th, 2011
Unimpressed. For an ortho office room is tight, too many doors to have to manage and none automated. Wait time for broken bones is dismal - over 1 1/2 hours. Did not review films before entering exam room, forgot to write for prescription, ordered further testing on wrong limb. No, I would not recommend.
5.0 Rating
May 12th, 2011
Really like the Doctor and staff on my first visit. While there was about a 30 min wait in the waiting room which is nothing unusual at any Dr. office once I was in the room everything went smoothly. Since the Dr took time with me to answer all my questions the wait before getting to a room became very minimul compared to other Drs. where I have had to wait 30 min or more in waiting room then another 30 or more in the patient room only to have the Dr. spend about 5 min. with me and rush out. Since this was only my first visit I was very impressed.
5.0 Rating
September 21st, 2017
5.0 Rating
August 24th, 2017
5.0 Rating
August 24th, 2017
5.0 Rating
April 18th, 2017
5.0 Rating
April 18th, 2017