Rate Now
Share Your Experience
Have you seen Dr. Gary Moskovitz?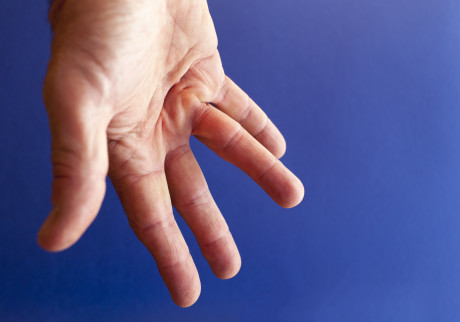 Dupuytren's Contracture
Dupuytren's contracture is a thickening of the tissue beneath the skin of the palm of your hand
22 Ratings with 11 Comments
1.0 Rating
September 25th, 2015
1.0 Rating
April 21st, 2015
Doesn't take insurance, bring $700 for an office visit!!
Called to make a follow up visit after seeing him several years ago. Office staff told me to bring $700 as he did not take insurance! Seriously??!! How does he stay in business? Why no insurance? Maybe because he charges too much and they won't pay or perhaps he's been sued too much and they won't risk him. Either way, there is no way anyone is going to continue care with him. This doctor is all about the cash. There are lots of other great orthopedic guys in the area, so don't waste your time here.
3.0 Rating
February 13th, 2015
5.0 Rating
February 9th, 2014
Patient2013
I had a bad car accident. Being as young as I am, and with the medical knowledge I'm graced with, I knew that I didn't want to go the route of years of ESI's and steriods and pain pills to have the same result of surgery. Although ultimately the option was absolutely mine, I elected a cervical fusion. The process was seemless. My only complaint was post operative pain control could have been handled a wee bit more sensitively. I'm hardly one to take medications, but it was very painful for me. And the process of medical leave paperwork. Clearly some of his staff that he delegates to, does not understand what my job duties were and how imperative this paperwork was. Other than that, scheduling was a cakewalk, followup for any potential abnormalities were addressed promptly and I've had a good result. Unfortunately, due to my very physical job, I still have pain, but I know it is far less than what it would be if I had not elected to have the fusion.
1.0 Rating
September 19th, 2013
Wouldnt recommend to anyone
When I first called his office, they booked my an oppointment 3 months inadvance and claimed they had nothing sooner.then they had no problem booking me week after week. his assist had the nerve to tell me that my general doctor was wrong for telling me that I shouldn't be working with 2 boulging disks in my lumbar. then proceeded to tell me that I shouldn't get surgery and live in pain for the rest of my life. I've been there about 4 times and only got to see that actual see moskovitz once im sorry id like to work for a living and nor live off the government because he doesn't agree what I should do with my life.
1.0 Rating
June 16th, 2013
Would go to another doctor
Rude insensitive staff except for the nice girl at the front desk. Typed my history up yet I had to say it all over again. Had a bad accident many years ago yet they do not treat you with compassion. Medical schools should teach a class in that. Do not like to pay a few hundred for the first visit. They don't take insurance. Waited a long time in a freezing office, did not learn anything or why the pain is back the last few years. Does not discuss pain relief or medications. Overall experience could have been warmer, quicker and more professional. My child learned to look in someone's eyes and explain what is wrong and if or if not surgery is an option in medical classes.. What happened to Drs of yesteryear. Beware. Conservative treatment before this office. Beware of rough therapists also.
1.0 Rating
March 1st, 2013
not good after surgery
5.0 Rating
January 20th, 2012
I recommend him to anyone!!!!
5.0 Rating
April 6th, 2011
George R.
Dr. Moskovitz is by far thee best Doctor i have EVER came across. He makes you feel like you are one of his family and that he is deeply concerned about not just your condition but your very well being. He is VERY professional and caring. He has hired an outstanding staff and I WILL recommend him to anyone I know or meet that has any kind of spine problem. Dr. Mskovitz you are the best, period.
5.0 Rating
January 3rd, 2011
The best sergin
5.0 Rating
March 9th, 2009
Excellent
I'm 21 years old and I had a herniated lumbar disc. I tried all sorts of treatment before I turned to the surgery to correct it amd I wish I wouldn't have waited so long to get the surgery. I feel amazing and I had the surgery done almost a year ago in Clearwater. The office staff was great and so was the staff at the surgery center. I was up and walking carefully the same day as my surgery, the recovery was short, and I have not had any problems since. i would reccomend Dr. Moskovitz to anyone needing spinal surgery.
5.0 Rating
July 26th, 2017
Nearby Doctors

Dr. Gary Moskovitz is similar to the following 3 Doctors near Clearwater, FL.