Rate Now
Share Your Experience
Have you seen Dr. Gary Ritten?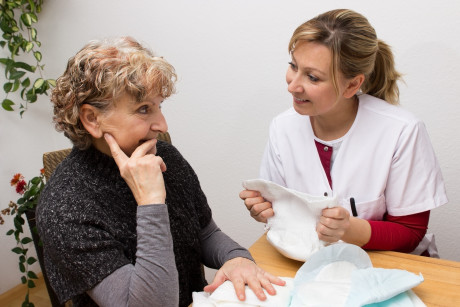 Urinary Incontinence
Learn about the symptoms and causes of urinary incontinence or urge incontinence.
37 Ratings with 13 Comments
1.0 Rating
September 16th, 2016
worst. experience. ever
I have a series of lady part complications and after my OB retired, I was referred to Dr. Ritten. His awards and background were impressive, so I sought his help after bleeding for nearly 2 years after having my daughter. He rushed into me having an ablation. After doing my research, I asked many questions, mainly because I found lots of indications that an ablation was the wrong move for someone with my conditions. He pushed me to have it done anyway saying he had done many procedures with great success. The procedure went "well" and he even showed me pictures of my perfectly burned uterus. Ever since the surgery, I have had nothing but problems. Pain doubling me over, excessive weight and water gain, cysts, you name it. When i made an appointment with him to discuss said problems, he told me I was faking and the ablation had cured me. Now, I have to have a hysterectomy because of the ablation. Thanks Dr. Ritten!
5.0 Rating
January 27th, 2016
Best Ob-Gyn I've Ever Been To
Dr. Ritten came very highly recommended to me and I was not disappointed! He was kind, very thorough, explained everything very clearly and took time to answer all of my questions. He also called me at home to see how I was doing after I was possibly having an ectopic pregnancy. Any negative reviews are either someone who does not understand what is going on with them or in need of coddling and not a very knowledgeable doctor who provides top notch care. I am a nurse with 12 years on ob/gym experience and not only do all the nurses love him but physicians have the upmost respect for his skills and tremendous knowledge. He'll be my doc forever.
5.0 Rating
January 12th, 2016
What happen to him?
1.0 Rating
November 9th, 2015
Dr. Gary Ritten shouldn't have a license!
I feel like he took my baby from me! I found out I was pregnant when I was two months. A week after I started seeing Dr. Ritten, I started bleeding heavily. He scheduled a weekly checkup, and every visit was looking up in my vagina. He would push on my belly really hard to where it would hurt. He injected me with Rhogam. When I was five months pregnant, I lost my son. I truly believe in my heart that he did this. How he "treated" me, made me lose my son. Why after a week of seeing him, I started bleeding really bad. I would stand up and blood gushing out of me. Because of him! I know a handful of women who have been to Dr. Ritten, and have similar stories. He's not a good doctor and doesn't care for his clients like he should. He should have his license taken away. That's all I have to say.
1.0 Rating
July 20th, 2015
bedside manner was horrible and was pretty rude was told he couldn't predict the future when ask how big my son was measuring before birth. was told several times that husband and i were large babies and they run in both sides of our family but he still let me go a week over due and i had several complications
5.0 Rating
April 13th, 2011
Dr Riiten is NUMBER ONE in my opinion and all of my town!
I have recently started to see Dr Ritten. He is the most compassionate and thorough doctor I have ever been to. My friends say he has the best reputation for being new to our area. The community loves him and I've heard nothing but nice things from the nurses! That speaks volumes. What a welcome addition to our community.
5.0 Rating
March 10th, 2011
Wonderful doctor
Dr. Ritten did my third cesarean section. I wasn't scheduled to deliver for another week and had never even met Dr. Ritten. The procedure turned out to be a rather complicated surgery due to scar tissue that had adhered from my previous c-sections. Anyway - my point is, I have never had such a quick and complete healing from a c-section. I was concerned that with this procedure being more complicated that I would be down for a longer period of time and it was the exact opposite. I felt better than I ever had before after a c-section.After my last annual, some issues came up that I didn't even really realize were problems for me. He took quite a bit of time to discuss with me what kind of tests he was ordering and why. He wrote me a prescription and told me what to expect while taking it. He also scheduled a follow up right away.I think Dr. Ritten is a great doctor and I am so glad he was the one to deliver my last child.
5.0 Rating
November 14th, 2010
Where is Dr. Ritten???
5.0 Rating
August 10th, 2009
The Best Doctor I Have Ever Seen
This is the best doctor I have ever seen. I have been his pt for over 7 years and for 7 years he has sent me a reminder card when my annual is due, he sends me a letter with all of my results, pap, mammogram, dexascan and bloodwork for my records and gets me in the same day if I have a problem. He is wonderful, what more could I ask for. He is available by phone 24/7 and calls me back during a busy office day within a few hours. Whoever wrote that comment about being sued and that Dr Ritten is not certified should be investigated and sued for liable and slander. I called the state of michigan physician licensing to ask about that and they checked and said that is not true and asked me where it is written. They said his record is clean. I would expect nothing less. People who know him personally say he is a generous humble guy and I believe them. He is an outstanding obgyn and person, and I would expect nothing less.
5.0 Rating
July 21st, 2009
Not only is Dr. Ritten Board Certified, he is a Fellow of the American College of Obstetrics and Gynecology and a Fellow of the American College of Surgeons. He also has been selected as one of America's Top Obstetricians and Gynecologists, which you can see if you visit his office. If you want to see a qualified physician you should do your research yourself instead of taking someone else's word for it. I think if Dr. Ritten wasn't an excellent physician then he wouldn't be recognized nationally as one of the best.