Rate Now
Share Your Experience
Have you seen Dr. Genoveva Prisacaru?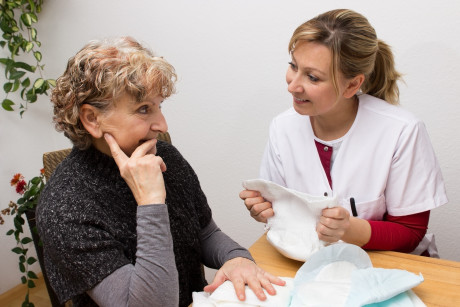 Urinary Incontinence
Learn about the symptoms and causes of urinary incontinence or urge incontinence.
Quality Rating
Highly Satisfied
41 Ratings with 19 Comments
5.0 Rating
May 4th, 2016
About my Hysterectomy
She is still at the top of her game in every way ! Dr.Prisacaru has an absolute passion for her patients and their best interests at heart. She cares for all of them, even if or when they're demanding, difficult, unpleasant, indecisive or if they don't care for themselves. I was one of them. I asked millions of questions and questioned everything, after my surgery I called and paged her at the most impossible hours as I was scarred about every little thing outside the ordinary. My surgery went smooth and exactly as she said it will be, uncomplicated, quick recovery . She personally returned my calls every time. I felt that I was very well taken care of. I would recommend Dr.Prisacaru without any hesitation to every woman, especially for those who need hysterectomy.
5.0 Rating
November 3rd, 2015
It is well worth the wait!
I believe that I was in the office the same day with the patient complaining about the waiting time ( I remember her because she was memorably uncivilized) and I feel that I want to write this review to do some justice to Dr. Prisacaru and her office. I go to her since 2010 when she was working in Kyle. Dr. Prisacaru's practice at "Seven Hills Women's Health" functions in a regimen of a " concierge medicine" , meaning that they see all their established patients same day when they call with emergencies. All the patients are seen by the physician and not by nurse practitioner or physician assistant. This is why sometimes she gets behind. Another thing is that this is a " solo practice". The very first rule of Obstetrics is that babies come when they want to and no one could ever predict the exact time for a delivery so as not to disrupt the office. If you were the patient at the hospital you would want her there for you when you delivered. Office was packed when I arrived for my appointment, and never slowed down. A very busy practice, but also a good sign. Ultra-attentive service, highest quality care, and longstanding relationships are her mission. The wait time I found out is necessary because the doctor will give you all the time you need and deserve without making you feel like you are being rushed. She explains things in a way anyone could understand . She always listened to everything I said and presented me all my options for any given treatment. It is well worth the wait. I am happy that I have found a doctor that makes me feel well taken care of .
1.0 Rating
October 29th, 2015
My experience today was AWEFUL!! There is no other way to explain what happened today! So this "Doctor" had re scheduled my appointment 4 to 5 times and today I finally was able to see her. After waiting in her office for 2HOURS I was approached by the idiot Office Manager who let know that the Doctor could not see me because she had an emergency? REALLY 2 HOURS waiting and you couldn't even let me know before hand. You see the real reason my appointment was cancled was because the Doctor was running really really really behnd overbooking herself (or the office over booking her) and she wasn't going to get a lunch break because appointments started again at 1:00pm and that only gaver her a 15 minute break before she started seeing patients again! Please if you have any common sense don't use this lady and her pathetic excuse for an office!!!!!!!!!!
5.0 Rating
March 18th, 2014
Great care
Let me begin by saying I have been to other OBGYN clinics before, saw the doctor the first visit, and never was able to see them again because of the structure of the office. I chose dr. Prisacaru because she has a small and private clinic where I feel comfortable and always know that if I have an appointment I will be talking with her directly. She allowed me to ask any questions and concerns I had and gave amazing treatment and advice. I had a somewhat chronic issue and she did all the tests and/or labs possible so we could figure out what was going on, and now I'm healed! I'm so thankful I found her and wouldn't trust my feminine health to anyone else!
5.0 Rating
March 13th, 2014
Great Doctor
I have had a Great Experience here!!! First of all the staff is great!, they welcome you with a smile and are very courtious. Dr. Prisacaru is Amazing! She is personalble and i trust her. I have been to several Doctors, but she stands out because I feel at ease with her. She can be serious, yet she can make me laugh. Thats what makes a Great Doctor!!! The is very knowledgable in her practice, and I really appriciate her. I have friends that I am referring to her because she is so awesome. Thanks Dr. Prisacaru and staff!!!!
5.0 Rating
March 12th, 2014
5.0 Rating
July 26th, 2013
I love this doctor! I went in after seeing another doctor for an ovarian cyst. She spent an hour with me. She did a thorough exam - 3 mini exams and spent time to discuss the findings and options. I have seen several gynecologists in my life and have a biology background. She is the most hygienic, polite, well educated and careful doctor I have ever met. I have seen several "good' docs be sloppy about how they wash and glove. She is a pro, a valuable doc in my book. She is deliberate about the way she does exams and care. She really wants to care for her patients and not task it out to an assistant. A rare jewel!
5.0 Rating
May 11th, 2013
Best Doctor Ever!
5.0 Rating
April 24th, 2013
Best GYN Experience
I am an 82 year old female who made a GYN appointment with Dr Prisacaru. First, I was seen promptly at my scheduled time, which I appreciated after being accustomed to long waits in doctor's offices. I found Dr. Prisacaru to be extremely professional while at the same time both friendly and outgoing, which made for a relaxed experience. She was extremely thorough and spent additional time with me going over my medical history. I highly recommend this fine physician.
5.0 Rating
March 22nd, 2013
Absolutely Wonderful
Dr. Prisacaru seems to have a magic touch with her patients. She definitely knows what she's doing and she listens to what I have to say. She's sweet and kind, puts your needs first, and I love visiting her clinic because I feel like I'm in the right hands. I'm very lucky to have her and I will definitely recommend her to others!