Rate Now
Share Your Experience
Have you seen Dr. George Elkanich?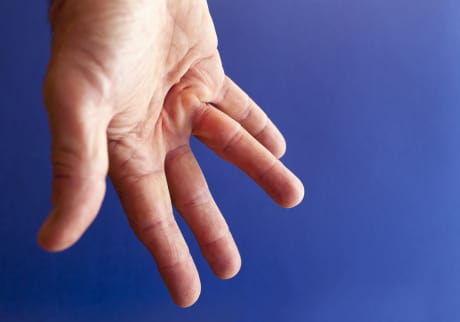 Dupuytren's Contracture
Dupuytren's contracture is a thickening of the tissue beneath the skin of the palm of your hand
Quality Rating
Highly Satisfied
22 Ratings with 9 Comments
5.0 Rating
September 19th, 2017
Best Doctor ever!!!
5.0 Rating
July 12th, 2017
Returned me to significantly better functionality.
In 2012, Dr.Elkanich fused my L-3/4; removed hardware from previous spine fusions at L-4/5 & L-5/S1, done by another surgeon. He did excellent surgery but had a PA do all hospital follow-up to my displeasure. He didn't know about my 2 units of blood infused nor my time in the ICU due to poor communication with the PA. He is very nice but has several awful staff.
5.0 Rating
May 29th, 2017
The office staff is totally awesome they always go above and beyond what I expect! Very friendly and actually care. They help me with my paperwork and needs and help as much as possible. Dr. Elkanich is a totally awesome doctor he listens to my concerns and addresses them if I don't understand he explains it to me so I do understand. He is not in a rush with you he makes sure you understand what is going on and what he suggest for treatment. He tells you real talk doesn't sugar coat it! I would totally recommend him to anyone in need of his specialty as he is one of the best!
5.0 Rating
January 21st, 2016
Very nice doctor
5.0 Rating
May 6th, 2014
Always In Pain
5.0 Rating
May 22nd, 2013
Recommended
I was already seeing Dr. Elkanich for treatment for a back injury due to a gnarly car accident when my carpal tunnel become unbearable. He doesn't technically specialize in hand injuries, but he had performed the procedure numerous times before (it's a pretty routine surgery and certainly less complicated than the spine-related surgeries he usually does) and volunteered to help me out. I'm so glad he did - I woke up in great shape, pretty much immediate relief! Healed nicely too. I really like his office staff and his team at the hospital (Mountainview) was really great too. Office runs well, appointments usually run on or close to on time, and the Dr is a very nice, professional, and smart guy - all things which are pretty hard to find in the Vegas health care industry. Though Dr. Elkanich has been great about directing me towards conservative treatments in hopes of avoiding or at least delaying back surgery, its becoming apparent that surgery is on the horizon, and I'm hoping he'll do this one too.
5.0 Rating
January 12th, 2012
Cervical Discectomy with Fusion
Due to a bulged disc in my neck I was loosing feeling in both hands along with severe tingling and numbness in my arms. After various other treatments failed to provide reliefDr. Elkanich preformed a Cervical Discectomy with Fusion. To my surprise by the time I woke up and was wheeled into my Hospital room I was already experiencing significant relief. I would have never believed that you could wake up from surgery and already have less pain than when you went in! Follow up care has been consistently good with the Dr. checking to make sure everything is healing properly and the fusion is successful.
5.0 Rating
May 20th, 2011
Great communication
1.0 Rating
March 16th, 2009
Surgery
5.0 Rating
July 16th, 2017
5.0 Rating
July 16th, 2017
5.0 Rating
July 12th, 2017