Rate Now
Share Your Experience
Have you seen Dr. Gerard Jeong?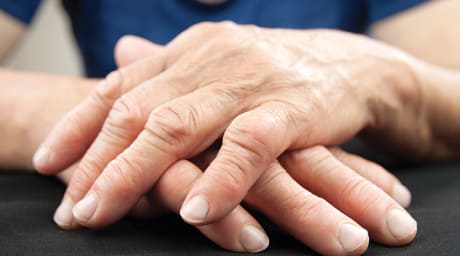 Osteoarthritis
Get the facts about osteoarthritis, including the symptoms and doctors who treat it.
Quality Rating
Highly Satisfied
47 Ratings with 24 Comments
1.0 Rating
May 3rd, 2017
My wife and myself lied to. STAY AWAY!!
We read a great review, so took a chance on him. My wife looked at all negative reviews here & we agreed. The man never went over any reports but said he did. He seems to want to look good at the patient's cost. Why in the world wasn't my wife or myself warned about a spine collapsing. Lay people know that, but not us. I have health problems & at least before she was able to drive, shop, go to the library, etc. I have a terrible immune disease & just had a cancerous mole removed that might be spreading. What he's doing to people is criminal. My wife worked out daily & was happy, no more. We're praying for a healing. Just b/c the x-ray is straight means nothing. He and the other surgeon who cut off too much lamina bone has the Az. Med. Bd. on their side. Don't go by these great reviews. He should have his license taken away. She is in tears so often & it breaks my heart. Read the 1 star reviews, they are all saying the same thing. .
1.0 Rating
May 2nd, 2017
Dishonest, ruined my life for now.
I came to this state of Az. in great shape physically and mentally. I hurt myself yet not one dr. would give me a laminectomy, though all tests showed I needed one. 6 yrs later I was rushed to the ER, the surgeon (on probation for drug use & theft f/ another state) cut off too much lamina bone, causing scoliosis like symptoms. Dr. Jeong reconstructed my spine but also fractured my neck. I hurt but was straight. He denied the screws being too tight or anything wrong, w/out looking and me telling him how the hardware pinched and pushed me over. I asked to have it taken out b/c he said once fused it wasn't needed. WRONG!! He took everything out & I remember nothing. I had sub dermal hematomas & he released me & nothing said. Tucson Ortho. governs themselves as does the Medical Board. I am trying to have someone fix me and I can put my hope in the Lord, not any men I've met. I am a hermit & he told me taking it out had nothing to do with collapsing. Meanwhile, I found a prescription w/a diagnosis of scoliosis/kyphosis written after the removal. Don't trust the big promising reviews. He also typed on reports that he went over everything with me & my husband..NEVER! It said I had nodules in my lungs yet nothing was ever said or done.
5.0 Rating
February 8th, 2017
5.0 Rating
January 18th, 2017
Knows his stuff
5.0 Rating
December 31st, 2016
Thanks, Doc!
1.0 Rating
June 23rd, 2016
Poor paperwork management, poor post op progress management
1. Poor communication with the patient pre-operative, with particular concern about mis-managed paperwork that could have jeopardized the surgery date. 2. Poor communication post-op: Operation debrief did not indicate a blood pressure drop, inadequate materials provided to the patient/care-giver post op (do not include important items such as timelines of recovery, what to do if..), and mis-managed paperwork for parking. 3. Pain management and the side effects of pain management were not addressed. This caused a lack of appetite and discomfort for days, excruciating pain, and a 911 call and emergency extraction of bowel impaction. 4. TOI response time to inquiries seem very long. You must leave a message. Call back can be >24 hours. Never spoke to Dr. Jeong, only to a medical assistant.
3.0 Rating
June 21st, 2016
Post op and in the dark
This review could be miles long, but let's just say that waiting over 24 hours for a return phone call after major spine surgery is NOT ok, and you never talk to Jeong, only his assistant. It seems like the primary focus is how good it looks, not how the patient is recovering. I have had no idea what to expect, no benchmarks or goals set, and have had to go to the ER since my surgery for the one-size-fits-all pain cocktail Jeong prescribed. Pre surgery, the TOI scheduler sent my paperwork to the WRONG PERSON, figured it out but never informed me so I had no idea when my pre op was, or that I had to do pre anesthesia testing. My spine looks great, but I'm not feeling good...yet. It's still early, but overall I don't feel like I've been given nearly enough post op guidance.
1.0 Rating
December 19th, 2015
Don't trust reviews
5.0 Rating
October 16th, 2015
1.0 Rating
May 22nd, 2015
Anyone Home?
He thought he did such a great job yet I never suffered so much in my life in this state. He had my appointments so spread apart and I believe if he took the time to see me, call me and make himself available I would not be in this condition. He never left a number to reach him nor listen to me. Not one doctor in this state has yet shown me any respect and I have been right. Maybe it's pride. The patient suffers.
5.0 Rating
January 4th, 2015
Thank you and grateful
1.0 Rating
December 12th, 2014
Never gave me the time of day and have gotten worse
He had a great review and had nothing to go by so I chose him. I should have known when I never saw him in the hospital and after an 8 1/2 hr. operation, was full of every hardware, I started feeling worse and worse. He had me in every 3 months, all b/c my surgery looked good on the x-rays, yet I hurt more as time went on and developed bone growth all over my back. Never explained why, then said screws? Just read the bone growth could have been from an off brand material that causes excess bone growth and people have been suing the company who makes it and the doctors who were paid off to use it. His staff had no knowledge or compassion. I am in chronic pain and feel stuck. I don't feel he has been honest like another man said, I think it is just to save face. I would not recommend him. He is unavailable and has never called me. I am in deep pain, and he could never answer why. I feel all the hardware and it gets worse in time, not better.
Nearby Doctors

Dr. Gerard Jeong is similar to the following 3 Doctors near Tucson, AZ.