Rate Now
Share Your Experience
Have you seen Dr. Germaine Rowe?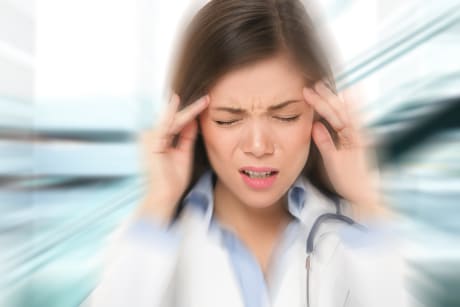 Migraine
Get the facts about migraine headaches, including the different types of migraine and migraine triggers.
19 Ratings with 5 Comments
1.0 Rating
April 26th, 2016
NO RECOMMENDATIONS HERE!
Dr. Rowe and Dr. McHugh have no bedside manners. They don't ask you how you're feeling, what medicines are working, etc... They take your money and that's all they care about. You have to pay for your first set of imaging, and any paperwork you need filled out. It was a horrible experienc. I was left with the same pain if not worse from the day I started seeing them. There are NO RECOMMENDATIONS HERE!
1.0 Rating
July 8th, 2015
1.0 Rating
September 12th, 2013
AWFUL EXPERIENCE
I have nothing good to say about this place. I had to call in about 4 times before they gave me an appointment. They lied the first 3 times about not taking my insurance. Finally when I got one, they scheduled me for 2 weeks from my last doctor visit who was prescribing me pain medication for my neck which has bulging and herniated discs, which come with PLENTY of constant, nagging pain. Once I filled out all the paperwork and talked to the girl that took my vitals, Dr. Rowe came in and basically told me to go F*** myself in so many words. She said my MRI was unimpressive, and too old. She lied and said that they don't prescribe narcotics or the medications I am taking, which I am not supposed to stop taking or I will go into heavy withdrawals and that is an awful feeling. She didn't even offer me anything to help with that!! I'm a clean cut person, I don't abuse pills - I have a legitimate neck injury that just continues to get worse and work as a manual laborer, which is VERY physically demanding, but Dr. Rowe DID NOT CARE AT ALL. I'm sorry Dr. Rowe that my MRI is a year and a half old, but at least I was honest with you and brought all the documentation I could, explaining what medication I need and what works. A new MRI isn't going to tell you anything different!! This is pain management??? YOU DID NOTHING TO HELP ME AND NOW I AM SCREWED AND GOING INTO WITHDRAWAL. You also LIED to me about several things, most importantly that you don't prescribe the drugs I am currently on NOR any narcotic in general (BOTH LIES). I know two other patients that go here and get the SAME EXACT medication I am on, so once again thanks for taking my money to LIE TO ME. SOME DOCTOR YOU ARE - you are a crook, you prescribe the meds to those you feel like it and take the money from those you won't, lie to them, and give them options that WON'T WORK FOR PAIN. An epidural shot DOES NOT LAST and knocks you out for a day. THANKS AGAIN FOR ABSOLUTELY NOTHING AND I HOPE YOU GET BREAST CANCER!! Telling me to get another MRI and to come back to "POSSIBLY" get an epidural shot IS NOT good pain management!!!
1.0 Rating
April 23rd, 2013
One of the worst experiences ever!
This office is like a free clinic. You get to see an incompetent physicians assistant who is totally uninterested in your well being. She barely asks any questions about your health or the type of pain you are experiencing. She doesn't take your vitals and barely looks at you. The entire appointment takes less than 2 minutes. She then prescribes medication when you return for your follow ups you are rushed and if you are still complaining of pain she just increases the dose or adds a potentially dangerous narcotic. This is in addition to the other narcotics she prescribes. I am fortunate that I decided that something seemed wrong and found another physician. You are not allowed to see the dr You only see the dr when you are having a procedure and you are face down on the table and are not even greeted. To make things totally awful, the reports about my condition are written by the physician that knows nothing about me. Both dr Rowe and PA Naomi Alcock are incompetent
1.0 Rating
November 21st, 2012
I don't recommend!!
Dr. Rowe has NO bedside manner at all. She was cold, very rough during the procedure and not nice. She seemed to busy to get to the next person to care at all about the one she was with. Just wanted to get it done. I left in a lot of pain and very upset. I never followed up and the office didn't even seem to think this was strange.
4.0 Rating
August 9th, 2017
1.0 Rating
April 9th, 2017
5.0 Rating
April 8th, 2017
1.0 Rating
October 24th, 2016
2.0 Rating
June 17th, 2016
5.0 Rating
December 31st, 2015
4.0 Rating
September 12th, 2015
Nearby Doctors

Dr. Germaine Rowe is similar to the following 3 Doctors near Staten Island, NY.