Rate Now
Share Your Experience
Have you seen Dr. Ghol Haeri-Gharavi?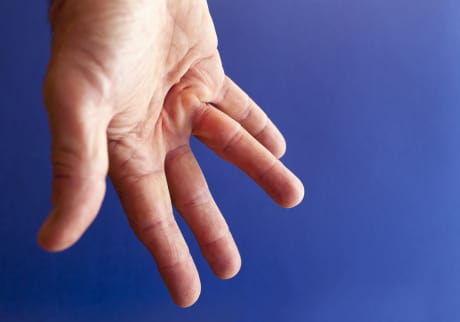 Dupuytren's Contracture
Dupuytren's contracture is a thickening of the tissue beneath the skin of the palm of your hand
29 Ratings with 15 Comments
1.0 Rating
December 22nd, 2016
Do not go to this doctor.
1.0 Rating
February 22nd, 2016
Insurance Doctor!
1.0 Rating
January 4th, 2016
1.0 Rating
October 1st, 2015
Such a horrible office! Dr. Ha'eri is one of a kind & that's not a good thing. He's one of the only providers I've met that does not do patient care. He only asks questions & goes off that. He doesn't check where it hurts or how to improve. He's so arrogant & finds things funny when they are not. Would never in my life recommend this horrible doctor or office.
1.0 Rating
July 3rd, 2015
I was assigned an appointment with this Dr about 18 months ago for workers comp as as a 2nd opinion. I was told I had torn ankle ligaments that had not healed after 6 months and OWCP said it should've healed by then. After waiting over 2 hours to be called in (and having to go outside to move my car because the only parking was 2 hours only), Dr GBH was nice enough. Asked if I had kids, etc. Took off my shoe and sock but He said that wasn't necessary. Said he'd review the case file and make a diagnosis. I then get a letter stating that my OWCP was being cut off because Dr GBH said absolutely nothing was wrong with me. After battling OWCP abd starting a new case on a technicality, I saw a different doctor who immediately diagnosed me with 2 bone spurs, 3 torn ligaments, and peroneal tendinopathy. I am sitting here in a cast right now after having microfracture surgery to repair cartilage damage, repair of the peroneal tendon, and ligament reconstruction. Yet Dr GBH said there was nothing wrong with me. I was told by my Dr that he's deemed some kind of expert so he has final say and gets paid $1000 for the visit. $1000 for not even looking at my ankle! I know working for OWCP that his first priority is getting you back to work but this was outrageous. Avoid it at all costs.
1.0 Rating
April 22nd, 2015
1.0 Rating
April 20th, 2014
Unprofessional, no ethics & an unrighteous old man.
He's hired by OWCP & he make unfair judgment to most claimant. He makes unfair opinion & that's how he makes a living, nasty. He's a shame to the medical community, as old as he is.
1.0 Rating
May 17th, 2013
I had the same experience!!! The staff is so unprofessional, never call you back, loose your records, made me make calls that she should have made, made me wait for more than 2 hours, then the Dr. well lets start with he ordered a test that needed to be worked on a lein bases, the staff was sopposed to be finding me a Dr. so you need to???? or have your Lawyer do it, so then another Dr. tried to sched test did the wrong test acording to Dr Ha'Eri and he took it out on me!!! not the other office for doing the wrong test, nor his staff for not sched it the right way, I was dismissed and told off all in the same apt while they made me wait for 2 1/2hours so DO NOT WASTE YOUR TIME WITH DR.HA,ERI NOR HIS UNPROFESSIONAL STAFF!!!!!!!!!
1.0 Rating
October 30th, 2012
Rude Dr. and Staff,DO NOT GO TO THIS DOCTOR!!!!!
Today was my first appt. with Dr. Ha Eri. From the moment we walked in we were not greeted and he did not have a friendly staff. Not only was staff very rude and uprofessional, but the Dr. was the same exact way!!! I could not get a word in with the Dr. trying to explain, to questions he was asking me. Spoke over me the entire time and asked me questions as if I were the Dr. Receptionist rolled her eyes sevceral times at me, as I was trying to discuss why we were there and regarding our appt. I have never experienced such a horrible visit with any Dr. and will never go back to this office. I Do NOT RECOMMEND THIS Dr. OR OFICE IN PALMDALE TO ANYBODY!! I hope this is read by Dr. Ha'Eri and his staff to show how awful of an office they are running. Doesn't suprise me that the staff was so rude, after seeing that the Dr. was the exact same way.
1.0 Rating
August 23rd, 2012
Watch out!
5.0 Rating
October 16th, 2011
Good experience, would recommend.
Dr. Ha'Eri has a no-nonsense office right on Stockdale Highway. At first I was a little concerned that it wasn't as pretty as other offices I'd seen, but once I saw Dr. Ha'Eri I realized it didn't matter. He checked my elbow, ordered the necessary tests and was completely candid about my prospects for recovery and healing. He didn't promise miracles or anything like that. I didn't feel like I was talking to and idiot. I think we shared the same opinion of people who are pill-poppers. We need more doctors like this.
1.0 Rating
October 11th, 2011
I was referred to Dr.Haeri and he seem's like a nice person, but extremely busy and does not do take the time to evaluate your condition. The wait in his office is 2 hr. wait and he never did a full examination. He was ready to send me on my way home until, I told him I was in a great deal of pain, after the MRI was done, we learned that I had two herniated discs, by then my pain was unbearable. All he gave me was priscriptions for the pain, never offered any advice. He really needs to retire because he is not doing the job of a doctor any longer.
Nearby Doctors

Dr. Ghol Haeri-Gharavi is similar to the following 3 Doctors near Long Beach, CA.