Rate Now
Share Your Experience
Have you seen Dr. Gilbert Goliath?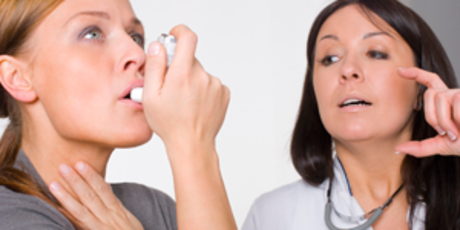 Asthma
More than 22 million Americans of all ages have asthma. Prepare to talk to your doctor about symptoms, diagnosis and treatment options.
Quality Rating
Highly Satisfied
37 Ratings with 15 Comments
5.0 Rating
August 23rd, 2016
Dr Goliath has been all three of my children's only pediatrician. He has been wonderful to them, and very cheerful and happy to them since day one. It's great to have a dr that remembers the entire family by name any place we may see him. We have been on vacation and had to call him, and he always gets back to us asap, and calls in medications for them at the nearest pharmacy to us. Dr Goliath is very cheerful, very intelligent, and I would strongly recommend him to anyone.
5.0 Rating
August 7th, 2015
Best Doctor in West Virginia
Chose Dr. Goliath as my pediatrician when I had my first daughter 12 years ago. He is absolutely an amazing doctor. When she was a baby, he never got annoyed with all of the first Mommy calls and often times, would call back to check on her. Every time she has ever been hospitalized, he checks on her every single day, sometimes twice a day. His nurse practitioner is even better. She saved my daughters life by finding a swollen spleen when Womens and children's ER missed it. So when I had my son 9 and a half years later, it was him who saw him first. I'm not sure what the other parent was talking about. Dr. Goliath would never allow his staff to shame new mothers. He goes above and beyond for his patients and you don't find doctors like him anymore. Hands down the best pediatrician in the State of West Virginia.
5.0 Rating
April 18th, 2012
the best
I have been taking my three kids there for over 6 years (since they were born) and I have recommended him to every pregnant friend or family member since. He is funny, great to include dads, sincere and smart. I tend to be a little uptight about things and he is great at calming me down. He takes your concerns seriously, but doesn't panic unless there is a real need to. At first, I didn't like the idea of seeing a PA also, but Ms. Wanda is wonderful and a true asset to the practice. I understand the concerns about the office staff, but other than some occasional grumpiness, it hasn't really affected our experience. We rarely wait in the waiting room for more than 10 minutes and usually no more than 10-15 back in our room. Dr. G is a great pediatrician!
5.0 Rating
July 29th, 2011
I have taken both of my children to Dr. Goliath since birth and they are now 5 and 7. Dr. Goliath is an amazing doctor and I wouldn't dream of taking my children to anyone else. Ms. Wanda is also amazing and my children love going to see them both. The nurses are great too, especially Ms. Vicki. The receptionists and office managers on the other hand leave a lot to be desired. I don't think that I have ever seen them smile or even pretend to be happy. I've never had trouble getting an appointment however the office wait can be lengthy at times. I believe that is because they will absolutely spend as much time as necessary for each patient. They do not rush to get out of the room and definately will make sure that all of your questions are answered before you leave. They speak to you in terms that you can understand and I have never felt belittled or stupid their. Both Dr. Goliath and Ms. Wanda speak to my children and explain things to them in terms that they can understand as well. I would highly recommend to anyone!!!
5.0 Rating
April 29th, 2011
We love Dr. G!!!
My 4 year old daughter absolutely loves Dr. G and Miss Wanda. They are very caring and I am so thankful that we chose them. I see others commenting re: staff - when my friend recommended Dr. G, she gave me a similar warning regarding the office manager not being very nice; however, I have found that if you do happen to catch one of them on a bad day (very rare, in my opion - and who doesn't have a stressful day from time to time?), responding w/ kindness quickly helps the situation. A very important fact is that the nurses and staff has always been kind to my daughter and any "mood" has never been shown toward her. I would not let these comments deter me from choosing the best choice for my child. I am with the person who said her family would drive 100 miles to see Dr. Goliath!!
2.3 Rating
April 19th, 2011
Staff is very rude, but...
Dr. Goliath is nice, Ms. Wanda (PA) is the bomb. And yes, the front staff is very rude. I wish I could recall the specific names of it, but I don't. Watch out for when you make your appointments, like me, it could happen to you. I made the appt for the kids, at the end of the call I confirmed the date and time of appt, but when I showed up, they didn't have anything...and on top of that this heavy set blond lady was using a "head and eyes" body languaje that it was screeming "sorry for your luck lady" to me. Then, in another situation I had to call to ask a question, and boy they are just "never having a good day" appearantly. I am sorry that Dr. Goliath and Ms. Wanda (PA) don't really have the staff they deserve.
5.0 Rating
July 7th, 2010
Great Dr.!
2.3 Rating
March 24th, 2010
Unprofessional and Rude
5.0 Rating
October 20th, 2009
I wouldn't allow anyone else to see my child!!!!!
My son was born a preemie. Dr. Goliath has taken such good care of Gavin that he was never sick until the age of 2, when he first went to daycare. When he was been sick, Dr. Goliath has been there for Gavin and our family during the day or the middle of the night. I pray he never retires. I know of no doctor that is better. He's extremely cautious in prescribing Rx's. He's beyond excellent!
5.0 Rating
October 16th, 2009
5.0 Rating
September 29th, 2009
A GREAT PEDIATRICIAN
Nearby Doctors

Dr. Gilbert Goliath is similar to the following 3 Doctors near South Charleston, WV.