Rate Now
Share Your Experience
Have you seen Dr. Ginny Merryman?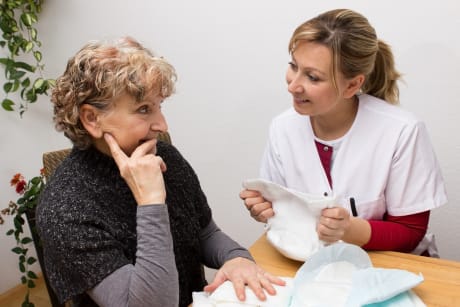 Urinary Incontinence
Learn about the symptoms and causes of urinary incontinence or urge incontinence.
Quality Rating
Highly Satisfied
41 Ratings with 16 Comments
1.0 Rating
June 10th, 2016
4.0 Rating
December 2nd, 2015
Dr. Merryman Visits
I am surprised that I see negative reviews on Dr. Merryman. I have not had surgery or a delivery, but I have been seeing Dr. M for many years for my annual gyn exams. Never has she been rude or abrupt with me. She has always been gentle, caring and efficient. When I had to have a second mammogram, she personally called to offer assurance that it didn't necessarily mean I should be concerned. I was impressed that she personally called me. Her office staff has always been very reliable and prompt in person and over the phone. I recommended Dr. Merryman to my daughter and I would recommend her to anyone.
5.0 Rating
November 7th, 2015
5.0 Rating
December 7th, 2013
1.0 Rating
August 6th, 2013
TERRIBLE EXPERIENCE
Dr. Merryman was extremely rude. My daughter (18) was overwhelmed by the abrupt, inappropriate responses made by Dr. Merryman. Dr. Merryman: Do you orgasm during sexual intercourse? My Daughter: Not always? Dr. Merryman: Then why do you have sex? My Daughter: Is the low dose estrogen birth control medication "less" effective (appropriate question, I believe) Dr. Merryman: Do you think it would be available if it wasn't? 100% UNACCEPTABLE patient care. Thank you Dr. Merryman for the emotional trauma, I'm sure it will stay with my daughter for some time to come.
5.0 Rating
February 6th, 2013
Love her!
Dr Merryman is awesome. She delivered my son this past Sept (via repeat c-section) and I have nothing but wonderful things to say about her. She is knowledgable, friendly and easy to talk to. It is a busy office but worth the drive and wait for me. She'll answer any questions you have but won't stay around and shoot the breeze with you. Again, it's a busy office so if there aren't any issues, you'll be in and out of your appt. GBMC was a wonderful place to deliver. HIGHLY recommended.
5.0 Rating
March 30th, 2011
If you need "warm & fuzzy"- go elsewhere- if you need the best OB/GYN for your body- who will fight for you & get you the best medicare- this is your doctor. I had 2 miscarriages at 38 & 39 and was told to give up. Dr. Merryman figured out the problem and I had a healthy baby at 41- he is 4 & she is still my Dr.
3.7 Rating
March 15th, 2011
Great doctor, bad bedside manner
1.0 Rating
November 22nd, 2010
Rude
I visited Dr. Merryman for an initial visit and was shocked at how rude she was. When I asked if a certain medication was safe during pregnancy, she replied "No, I'd recommend something that would hurt your baby." She was rude a number of other times. While I hear she is good in the delivery room, I do not want to work through my first pregnancy with someone with such poor bedside manners.
5.0 Rating
November 4th, 2010
Barbara Ogden
I never leave reviews, but after reading some of the more negative ones regarding Dr. Merryman, I feel inspired to chime in on what my experience as her patient has been. I've been a patient of hers for 5 years or so and I HIGHLY RECOMMEND her. Her bedside manner is excellent - not only does she meet w/you ahead of time to check in and catch up on the last year but on the one occasion where she was unable to do that w/me (b/c she was delivering a baby) she apologized profusely, completed the exam herself (gently - I've NEVER been so comfortable w/any other doctor, especially of that nature) but she called me at home, on a Sunday afternoon - her day off, just to touch base w/me since she hadn't had the time, prior to my exam, on the day of my appointment. This year before my annual appt. w/her (which is next week), she referred me for my first mammogram. The results came back inconclusive and I was encouraged to have more imaging done. Dr. Merryman (to whom I haven't spoken w/in a year) called me personally to make sure that I had a proper perspective of what I was being asked to do and why. I had the further imaging done and it was recommended to me that I have biopsy conducted. Again, Dr. Merryman called me personally to make sure that I had a proper perspective of the results and of what I was being asked to do and why. If Doctor Merryman weren't the kind, thoughtful, considerate, informative, gentle doctor that she is, I imagine that I'd be a lot less comfortable with what my body is doing and or needs these days and I cant say enough good things about her.
Nearby Doctors

Dr. Ginny Merryman is similar to the following 3 Doctors near Towson, MD.