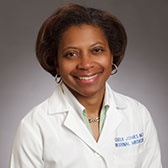 Internist
17 years of experience
Accepting new patients
Brought to you by
Patient Reviews
Overall Rating:

Total Ratings

12

Total Reviews

3
Ratings

| | |
| --- | --- |
| 5 stars | |
| 4 stars | |
| 3 stars | |
| 2 stars | |
| 1 star | |

| | |
| --- | --- |
| Ease of Appointment: | |
| Promptness: | |
| Courteous Staff: | |
| Accurate Diagnosis: | |

| | |
| --- | --- |
| Bedside Manner: | |
| Spends Time with Me: | |
| Follows Up After Visit: | |
| Average Wait: | 23 minutes |
Write a Review
by Randy on
Sep 9th, 2010
I recently went to visit this doctor. It was probably close to the 10th time overall that I have seen her. First, I had to wait nearly a month for the appointment, and then when I did get in to see her, she was in and out of the exam room without listenting to all my questions, or complying with my requests. Not only that, I was in her office to get prescriptions refilled, and she outright changed one of them, without so much as an explanation as to why, or even if it was just an oversight. I tried to call back for clarification (because the triage nurse made me leave. Said the Dr. was seeing other patients). I would definetly NOT recommend this doctor to anyone!Dr. Jones... YOU'RE FIRED!!!
I just went to see the doctor one time several weeks ago and I think I will not go to see her any more. Rush and even do not study my medical report or listen to my problem. The doctor also charge a expensive fee to the insurance company around $300 and doing almost nothing in my simple visit within 30 mins, though my insurance still paid the doctor around $150. I think the service is not deserve the charge.
by Ginger on
Apr 14th, 2009
Dr. Jones is very personable and accommodating.