Rate Now
Share Your Experience
Have you seen Dr. Glenda Goodwin?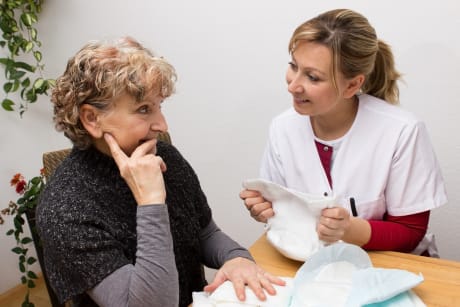 Urinary Incontinence
Learn about the symptoms and causes of urinary incontinence or urge incontinence.
25 Ratings with 15 Comments
2.3 Rating
October 23rd, 2012
I met Dr. Goodwin in 2001 and always loved her and her staff (then). Still love Dr. Goodwin, but seriously thinking of looking for another doctor because her staff does not return calls. It takes me 4-5 calls and have to be demanding to get my needs taken care of. I love the Dr. Goodwin and miss her old staff.
5.0 Rating
July 18th, 2012
she cares and gives u the time you need
The staff set my prenatal appts up for my entire pregnancy ahead of time so I could work around them. She took the time to answer all my questions at every appt. She was super cautious with my case and watched me closely. Most doctors would have overlooked my situation. Because she took precautions my sons heartbeat dips from 160 to 70 were caught during NST's and baseline ultrasounds not even scheduled-Dr Goodwin is excellent. I don't mind waiting knowing its for a good cause; answering someones questions. She's caring, thorough and knowledgeable. I am driving from Folsom to see her with my latest family addition.
2.3 Rating
June 4th, 2012
No one answers the phone
3.7 Rating
March 12th, 2012
Dr Goodwin is Awesome! The Staff is not so much.
I had been with Dr. Goodwin for 5 years. I think she is an excellent physician, with a very caring bedside manner. I liked her a lot which is why I chose to keep her as my OB/GYN even though I lived 30 minutes away. She delivered my first and second child. But due to the bad experiences I had with her office during my second pregnancy (2010), I have not been back. Frankly, I was quite disappointed and puzzled at the change in office policies and staff. The staff was rude and uncaring. There were many times when her office was supposed to call in/send in a prescription for me. My pharmacy never got those requests because the office staff was calling the wrong number. When I tried to call the office staff to correct it, the physician assistant refused to listen to me, insisting she was right. She demanded that I have my pharmacist call them and clarify the mistaken. I had to beg my pharmacist (who was super nice and took pity on a pregnant woman) to call. Then, when processing my disability paperwork, they refused to let me fax or mail in the paperwork for them to sign. I live 30 minutes away and was throwing up several times a day, but the office staff wouldn't accommodate me in any way. After awhile, I got tired of arguing and just did everything they told me to. For half of my appointments (during pregnancy) I saw the nurse practitioner. She was okay, but I had established with Dr. Goodwin and that's who I wanted to see. In the end, I felt like her entire practice had changed and it wasn't the same place that I was comfortable with. I'm so disappointed about that. I still think Dr. Goodwin is a great doctor, but I don't think I'll be back.
2.3 Rating
February 24th, 2012
office staff horrible
Have been with Dr. Goodwin for a while but as most say in the reviews, she needs to get a better staff who know to deal with patients and have some people skills, they are rude. It is impossible to get phone-calls back, there is no way to talk to her, their only answer is to go to the ER. Although she is a good Dr. but due to the staff, seriously looking for another OBGYN who will return phone calls and contact the patients.
1.0 Rating
December 14th, 2011
Worst Staff Ever
3.7 Rating
July 15th, 2011
No Longer My Doctor
Although Dr Goodwin herself was great and i always felt very comfortable for my yearly exams. However her office staff is very rude and has recently re-scheduled my exam 4 times. The first time i understood the reasons they gave me however telling me she doesnt have time for my yearly is not okay with me. Also telling me that 2 months later again is not okay. And then the final time telling me the Dr was going on vacation was not okay. Each time i requested time off work and made arrangements since i dont work or live in the ELk Grove area. Sadly i wont be seeing her anymore however i found a great new Dr!
5.0 Rating
February 10th, 2011
5.0 Rating
December 5th, 2010
Dr. Goodwin saved my life and my baby's life
I was referred to her by my primary doc; I had pregnancy induced hypertension in my 32nd week. I was terrified, sick, and confused. She made sure I was monitored, delivered my baby early due to the seriousness of my condition, and made sure I got appropriate aftercare. My daughter is now 2.5 years old and we are both healthy and happy. I am still with Dr. Goodwin.
3.7 Rating
December 3rd, 2010
Dissapointed
I have gone to Dr Goodwin Since i was 17( im now 21) being the only OBGYN i have ever seen i have always felt extremely comfortable with her and she definately eased my anxiety of going for my first "Paps". However within the last year her front office staff has gotten so bad, last week I got so frustrated I terminated my relationship with the office. The front office,did not call me back 4 different times(after i had called and left messages), they are not very courteous and are horrible at keeping track of their appointments. Sadly her front office is making her office an unpleasant experience.
2.3 Rating
November 2nd, 2010
Not a good place to recieve care
Every single appt I have had with them has been rescheduled or messed up and I am rarely contacted and made aware of the appt. change. My husband has lost hours, because he drives me to them. I have paid money for child care I didnt need, I have sat waiting in the waiting rom for over an hour on most of my appts, and they have even given me other peoples cups to pee is. My first visit, I was told my insuraunce was fine, the had me get undressed and wait for the Dr. for 30 minutes before she came in and started the appt. and then called her out right before she started my pap to then tell her my insuraunce wasnt with the right group. When I got it changed they didnt book me for my appt. for a whole 6 weeks. They dont care about work schedules or other things like that. It's very frusterating. And I was actually told to lose more weight during my pregnancy when I had already lost 17lbs. I am now 34 weeks and not looking foward to starting my weekly appts, if anyone knows who I can contact to report this, please let me know.
5.0 Rating
July 29th, 2010
Best In Town!!!
Ive been with Dr. Goodwin since 2004 and I'm in my mid 50 's. I have seen only female OBGYNs in since 1973.She reminds me of my first OBGYN, Dr. Felicia Stewart. Dr. Goodwin truly understands my menopause anxieties and well as my daughters and granddaughters menstrual and pre-menstrual concernsShes the BEST in town!!!
Nearby Doctors

Dr. Glenda Goodwin is similar to the following 3 Doctors near Sacramento, CA.