Rate Now
Share Your Experience
Have you seen Dr. Gregory Funk?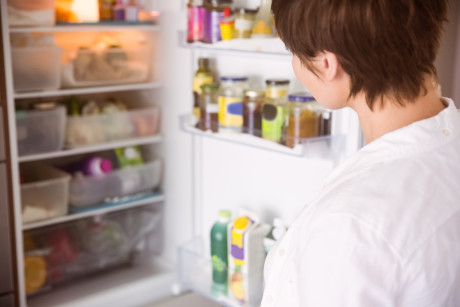 Binge Eating Disorder
Get the facts about binge eating disorder, including symptoms, causes and related conditions.
43 Ratings with 18 Comments
1.0 Rating
May 15th, 2015
NOPE NOPE NOPE
1.0 Rating
March 21st, 2015
Profane language, humiliation and medical ignorance
This doctor either is unbalanced or simply doesn't care who he hurts or offends, thinks he is above the rules. I have been sworn at, told filthy jokes that were racist, sexist and religious. All the while he professes to be a Christian doctor. I have been so embarrassed by his language I have had to bite my lip to stay in the room. I only continued to go to him because of an insurance quirk that tells me who I have to see. Every time I have come to him with a medical issue, he has always somehow turned it around to make the problem be my own fault. If I was having nausea and headaches every morning, it was because I "must have become a secret alcoholic and was having hangovers." (I don't drink.) if I had a severe skin rash, I must have become a meth addict. (I wouldn't know HOW to use meth.) When I was very sick (due to what was later diagnosed by a different doctor as leukemia) this "doctor" told me that I was sick because I SAID I was sick - that I was making it a self fulfilling thing and that there was nothing wrong with me. He refused to do lab work and convinced me I just needed to exercise more and eat healthier. I wasted a valuable 11 months getting sicker and sicker because he told me I was fine and i was just being lazy and stubborn. He has also double billed both me and my insurance company- and has billed for services that were never performed. Not just for me but for many other patients of his I have talked to about this. You will wait at least two hours in the waiting room and then another hour in the exam room. No apologies or explanations. He is in charge and you are his humble supplicant, begging for your necessary medications. Which, by the way, you may or may not get. He likes having and using the power he has over his patients and exercises it with his prescription pad and pen. He likes flattery and if it isn't forthcoming, you will not get the prescriptions he has had you on for years until you have become dependent on them. Then he will jerked them away with no notice because you didn't fawn over him enough. Leaving you to suffer withdrawal from them without mercy or any degree of care. And I an talking about medications for which abrupt cessation can easily be life threatening. I left this state last year or I would not dare to write this honest evaluation, for fear of reprisal. If you are a patient here, get out now before your life is ruined, too.
2.3 Rating
September 23rd, 2014
Although I have only been to Dr. Funk practice twice, I feel I should let future patients know that make sure your day is free. The staff gas no problem keeping patients waiting for over an hour ( my first appointment I waited 3 hours!) when I said something the medical assistant let me know " well he had a procedure take linger in the morning" I asked if it was possible for them to contact the patients that were scheduled to let them know of the wait, so that if they needed to go back to work they could reschedule. It never occurred to this practice that it is extremely inconsiderate to keep people waiting. I hope this review will help any person considering coming to plan on an all day affair !
1.0 Rating
May 20th, 2014
Worst experience ever!
I had an appt at 10:40 I got there early to fill out paperwork. I waited for 2 hours!!! After those 2 hours while waiting in a room to be seen I went to find out what was taking so long. I waited again and then the doctor came in and wanted to know what I was there for and I told him and he had NO empathy for my wait and I politely told him I was disappointed for the long wait and would like a refund of my copay. He DID NOT even say sorry or anything his exact words were "Fine you can have your money back" and handed the front desk my paperwork and said nothing else! Not even the staff apologized!! I could not believe it! I have never been so mistreated at a facility in my entire life. There is no excuse for this and I tend to seek a higher authority in which to complain.
5.0 Rating
January 27th, 2014
Great Doctor
I was hesitant after reading reviews but I had been to every other doctor in town with no help. There was a little bit of a wait (1hr) but only because they had a patient that had apparent heart issues and and ambulance was called--also I didn't have an appt, they took me as a walkin--after hearing other patients talk about how it was well worth the wait to see him I didn't mind waiting..they were right! I had seen 4 other local doctors and continued to have the same symptoms despite medication after medication. After my visit I was 100% better within 1 week--I have not been well for months! The staff was nice and so was the doctor. He spent as much time with me as I needed and I didn't feel rushed or ignored in anyway..I read the other reviews and was hesitant, but I recommend seeing for yourself---Great Doctor!
5.0 Rating
May 19th, 2013
Patient for 27 years
Yes, his waiting times are long sometimes but the care he gives warrants the wait time. He has never diagnosed me incorrectly, he is very careful about that. He also has a very disarming bedside manner and is very comfortable to talk with about anything. I know that if I have to wait (as some people have complained about) it is because he is giving the great care and attention to someone that he gives me. I will wait for Dr. Funk!
5.0 Rating
March 8th, 2013
5.0 Rating
January 30th, 2013
1.0 Rating
October 1st, 2012
Long Wait / Bad Results
There is always a long wait....three to four hour wait! I also had blood work done and the day that i was supposed to get results they called and said that the lab rejected the specimen, in other words they messed up! Three and a half weeks latter, no results and no follow up appointment. I went in for my follow up appointment at 3:45 and ended up walking out at 7:00 without seeing the doctor. Never Again! Now i am spending my lunch breaks trying to get my lab results and a refund for co pay because i never saw a doctor!
1.0 Rating
June 4th, 2012
Cold Staff and Wait Almost 2 Hours
We went in for blood work and did not need an appointment. Heard the nurses laughing and sitting around at a table, ignoring their patients. Asked repeatedly, when is the nurse coming for me. I was told it will be a minute but those minutes turned in to 2 hours. Changing doctors, can't handle the unprofessionalism any longer. Rude!