Rate Now
Share Your Experience
Have you seen Dr. Gregory Gilot?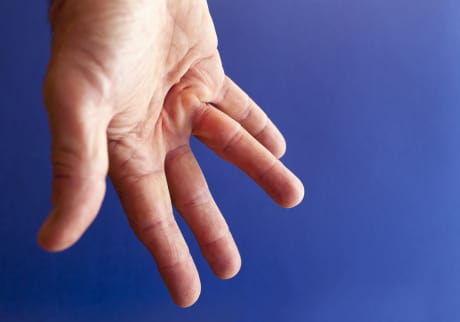 Dupuytren's Contracture
Dupuytren's contracture is a thickening of the tissue beneath the skin of the palm of your hand
28 Ratings with 16 Comments
1.0 Rating
June 19th, 2017
1.0 Rating
August 6th, 2016
5.0 Rating
September 27th, 2014
Best Shoulder surgeon EVER!!
This surgeon did an AMAZING job of successfully replacing my badly damaged and arthritic right shoulder with the latest state of the art internal prosthetic that has a very natural feel to it. If you need this procedure done, look no further. The staff at the Cleveland Clinic were caring, compassionate, professional and AWESOME!! I couldn't be happier.
1.0 Rating
August 14th, 2014
Never Again!!!!!!
I made an appointment at Cleveland because it was highly advertised at all the Florida Panthers games and that it had Great doctors. Well this doctor Gilot was not good. I went in with knee and hip pain. I have seen other doctors about this in the past but wanted a second opinion. The first doctor said I have arthritis in the knee and bursitis in my hip so I had that to go on. When I got to Dr. Gilot's office they told me that he does not do hips. When I made the appointment they told me that he does do hips so I was pretty upset with that. They x-rayed my knee and they I waited for him to come in the room to talk to me about the x-ray. When he came in he told me It's not my knee its my back make an appointment with a spine doctor. He was in the room for 5 whole minutes. Never listened to anything I had to say. Made me feel horrible. How in the world could this be. Who do I believe? Now I have to go and get a 3rd opinion. When he walked out of the room his nurse came in with paper work on exercises I could do to help this problem. I was like what In the world? I'm in pain and you want me to do exercises? Anyway I was rushed out to the front desk to make an appointment for a spine doctor. They looked one up for me. I told them that parkland was closer I would like to go to parkland and the kid that made the appointment made it with the same idiot Dr Gilot. So he also works on backs to. Why didn't he tell me that. What a crock!!!!!! Never again. Keep your cattle herding Dr. office. I will never return!!!!!!
1.0 Rating
February 14th, 2014
Terrible
Dr, Gilot is terrible with his patients. I had terrible reactions to medication that he prescribed after surgery and didn't get back to me for over 24 hours. While in office, he only gave me 2 minutes of face time before he passed me off to a nurse. I had questions and concerns and he was very dismissive. He had to reschedule with me multiple times and his staff forgot to call me when they needed to reschedule my appointment. I travelled up to west palm and sat in the waiting room for over an hour before the nurse told me the doctor was in weston. They have wasted hours of my life, caused me pain and strife. Do yourself a favor and NEVER go to see Dr. Gilot.
1.0 Rating
December 9th, 2013
rushed out the door
3.7 Rating
October 15th, 2013
Shoulder replacement sugery
After seeing other Dr.s I chose Dr. Gigot for my surgeon. Recommended by orthopedic Dr.s. I felt I was in good hands before surgery and after. I would recommend him to my friends and family.
1.0 Rating
October 13th, 2013
Horrible
I was referred to Dr. Gilot to have him evaluate my hip. Being a veteran in my twenties and having such severe problems with my hips, I had high hopes for Gilot to be capable of helping. This doctor, who would not get off his cell phone the entire time, told me after barely looking at my MRI that I have hip dsyplasia and require that my pelvis be cut apart-periacetabular osteotomy (PAO)-a surgery that no doctor in Florida can perform. He then walked out, leaving me with that, nothing else - me being a poor college student I was quite shocked. I pursued him and asked for a little more direction, considering I have no idea what to do and would like to walk again properly. He eventually printed off some surgeon's names from across the country and left it at that. Needless to say, I wasn't satisfied. I have since seen about 5 other orthopedic surgeons who all have laughed that I've been told I have hip dsyplasia - since its so obvious I don't. Turns out it was a simple torn labrum - obviously indicated by my MRI. I've had my surgeries performed by other doctors at the Cleveland Clinic, and am now just fine. Thank God I didn't listen to this man. He is extremely incompetent, egotistical, and unprofessional. It blows my mind that he is the department chair.
1.0 Rating
March 25th, 2013
Total Disappointment
As an ex-college basketball player, cyclist and athlete in my mid 50's, I was recommended to see an Orthopedic doctor for my recent right knee pain. I went to see Dr. Gilot and I'm disappointed to say, that this doctor did not spend more than five minutes to discuss the diagnosis of my right knee. I had previously and briefly had discussed my knee pain with another Orthopedic doctor and he indicated and without X-ray or MRI, that I probably had a torn meniscus. On Dr. Gilot first visit and after an initial x-ray, Dr. Gilot diagnosed my condition as arthritis. I indicated that the pain was to acute to be just arthritis, so I was recommended for the MRI. On my second visit to Dr. Gilot and having seen the results of the MRI, he then agreed that I only had a Lateral Meniscus tear on my right knee but that he was correct initially, with his first diagnosis that I had arthritis. Dr. Gilot never took the time to go over the full results of my MRI. He immediately suggested arthroscopic surgery and that he did not know the full extent of the surgery until he operated. I was not convinced of his diagnosis and he did not define, explain or discussed the results of my MRI on that visit or the next. The MRI results indicated seven (7) alarming points. 1) Bucket-handle tear of the Medial meniscus of right knee. 2) Complex tear the posterior horn and midbody of medial meniscus, also a rim rent tear of posterior horn of the Lateral meniscus tear. 3) Small Full-thickness tear of the Anterior Cruciate Ligament of the right knee. 4) moderate joint effusion. 5) Popliteal cyst. 6) Tricomparment degenerative changes of the right knee. 7) Subchondral Cyst formation and subchondral edema involving the posterior medial aspect of the lateral femoral condyle and possible osteonecrosis. I reiterate, that Dr. Gilot never went over or discussed any of the seven result from my right knee MRI. His diagnosis was a torn Later meniscus and arthritis. Dr. Gilot never mentioned that I also had Medial meniscus tear and small tear on my ACL. I was not overwhelmed with confidence with this doctor. On my third visit, I requested a Cortisone shot/Steroid injection on the knee to alleviate the pain. Dr. Gilot blatantly denied the shot. His comments to me, "you have nothing else but to get surgery or continue taking anti-inflammatory pills acetaminophen, ibuprofen". I decided to go to another doctor which clearly spent the time and described the diagnosis of my knee and this doctor immediately suggested the Cortisone shot without me asking. I'm aware that my knee, due to all the sport activities till my mid 50's, will need further attention and probably arthroscopic surgery; but a doctor has to demonstrate attention and care to your situation were you can then develop a trust and move to the next procedure. Dr. Gilot never earned that trust. I do not recommend Dr. Gilot for his lack of attention, know it all bedside manner and incorrect diagnosis.
1.0 Rating
January 28th, 2013
The worst doctor ever :(
2.3 Rating
September 27th, 2012
terrible experience
1.0 Rating
May 8th, 2012
A real know it all
I had two doctors tell me what my problem is. This guy takes two seconds looking at one set of x-rays and tells me "He's never heard of it, so I must not have it." My last doctor sat down with me and explained what the x-ray showed. But not this guy. He just "knows it." Then he won't discuss my other orthopedic issue unless I make another appointment. Stay away from this doctor.
Nearby Doctors

Dr. Gregory Gilot is similar to the following 3 Doctors near Weston, FL.