Rate Now
Share Your Experience
Have you seen Dr. Gregory Markarian?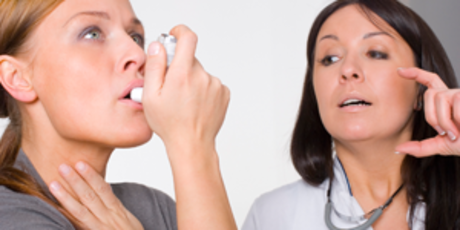 Asthma
More than 22 million Americans of all ages have asthma. Prepare to talk to your doctor about symptoms, diagnosis and treatment options.
55 Ratings with 21 Comments
1.0 Rating
September 12th, 2017
Waiting time
I haven't even seen him yet as I'm going on an hour and a half waiting time. I just heard another woman say she had waited almost 2 hours. No doctor is worth that kind of service. Maybe they need to work on their scheduling.
1.0 Rating
November 8th, 2016
never going there again
I was a new patient and my appt was at 1230. i asked the office the day before if they ran on time and they said yes. I arrived at 1235, gave them my id, credit card and insurance card. At 1:05 the lady tells me that their credit card machine is not working and if i had cash or a check. My copay is $30. Who carries a check book these days? I only had $20 on me and said to her that i could call her tomorrow and pay the reamining $10 by CC tha by phone tomorrow when the machine is fixed. She informed me they are ordering new machines and then asked if i could go get cash to cover the $10. i told her i had already been waiting more than half an hour and if i went to get cash it would take another 20 min. she then told me the doctor was not there and would be back in 20 min. I was astounded. I said do you mean that I will be waiting a total of 1 hour for the doctor and meanwhile you are worried about $10. I was livid. I had taken time off work, and had a million things I could have done instead of waiting at the office. Who knew if the doctor would return in 20 minutes. They knew their machine is not working so why could they have not informed me prior to my visit to bring cash or a check book? Furthermore, why could they not tell me upon arrival that we are running an hour behind. I could have run a few errands meanwhile. Why did the doctor leave when he knew patients were waiting (considering she said he just stepped out and will be back in 20 minutes it could not have been an emergency medical case). Instead of waiting for who knows would have been how long for the doctor to return, i asked for my paperwork back and left the office and will not be ever returning again. No apologies were given by the staff. For them it is just a business and they have no idea how to treat the patient. I took time off work to see this doctor, did not get seen, and now i have to go find another doctor. I would have given no star but this was not an option
5.0 Rating
September 12th, 2016
The knowledgeable & caring Dr.
Dr. Markarian is an extremely knowledgeable and caring doctor. I was very happy with the examination and information I received. I was seen promptly and was in and out of the office fairly quickly, though without being rushed, which was nice. I would recommend Dr. Markarian to anyone having muscle issues.
1.0 Rating
July 20th, 2016
1.0 Rating
October 13th, 2015
This was one of the WORST experiences I've ever had. He treats hes staff like garbage yells at them and expects them to do everything for him. He cant even remember a patient's name from 2 mins ago forgets everything about them. He is an embarrassment of a doctor and shouldn't be practicing medicine.
3.7 Rating
February 15th, 2014
good doctor, lousy staff
5.0 Rating
February 13th, 2014
surgery and therapy
My doctor did phenomenal work on both of my knees. The therapy at OAN has been very good and very effective. Because his practice is very busy, the wait and the brevity of the consultations are to be expected.
5.0 Rating
January 26th, 2014
Repeat client
Due to an accident I ended up with 2 torn rotator cuffs:Dr. Markarian performed my 1st surgery last May: the day after I went to the movies & not quite a month later I went to a Rolling Stones concert. Consequently, the day that my 2nd surgery was scheduled I went to Ticketmaster to see what was coming in around a month after the procedure: surgery= Jan. 20th, Sting/Paul Simon = Feb. 25! I LOVE DR. MARKARIAN! He cares, he listens & he treats me like family. Did I mention that HE IS AN ARTIST who takes great pride in his work! (Tiny scars, almost unnoticeable!) His entire staff including his assistant STEVE, Alida, Denise et al, always address my concerns & make me feel comfortable, relaxed & safe. THANK YOU FROM THE BOTTOM OF MY HEART!
1.0 Rating
January 23rd, 2014
Please get another opinion
1.0 Rating
September 20th, 2013
5.0 Rating
August 27th, 2013