Rate Now
Share Your Experience
Have you seen Dr. Hany Gaafer-Ahmed?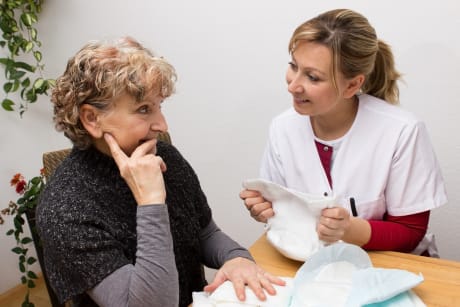 Urinary Incontinence
Learn about the symptoms and causes of urinary incontinence or urge incontinence.
Quality Rating
Highly Satisfied
112 Ratings with 24 Comments
5.0 Rating
May 17th, 2017
Love it nice doctor even when nurse call he come before time.
5.0 Rating
August 23rd, 2016
1.0 Rating
June 6th, 2016
surprise
5.0 Rating
June 2nd, 2016
1.0 Rating
November 11th, 2015
WORST EXPERIENCE EVER
Staff at this doctor's office is HORRIBLE... They don't care about you at all. It took more than for 7 weeks for me to get a result of the test I took for miscarriage. I called and explained to them about the miscarriage and the test 7 times, and they NEVER called me back even though receptionists promised me to call me back everytime I called them. They never apologized to me. The doctor's bedside manner was AWFUL. After he checked up, he left a bloody condom which he used on a machine for ultra sound where me and my husband could look at, and started to talk. It was the most awkward experience that I've had at OBGYN. Moreover, nurse didn't clean up after we left the room, and brought next patient before they discard a paper sheet on the chair and the condom on the machine... Thank you so much for the worst experience! I WILL NEVER GO BACK.
1.0 Rating
October 30th, 2015
DO NOT GO TO HIM
2.0 Rating
October 30th, 2015
Worst Doctor (Read my review to know why)
I chose him since his review was good on vitals and health grade. I am not writing this review after seeing him only once. I went to him for my entire first trimester. I would not recommend him to any friend or family. He doesn't have manner. If patient ask him any question, he doesn't reply to the question but he laughs instead and makes joke out of that. In my first appointment with him, I was expecting baby and I was only 5 weeks pregnant. I already knew I was pregnant(from home test kit) and thats why I went to see him. I already told him that I am expecting. He did the ultrasound and he goes, "Oh you are having baby. You're pregnant. Congratulations. You know how to get pregnant. Now you're expert." I ignored whatever he said and thought that I cannot judge him the way he speaks. But then, I lost 10 pounds weight in 2-3 weeks and I wasn't feeling well. I had very bad nausea and vomiting that I couldn't eat or drink anything. I told my concern to the doctor. He replied, "If you cannot eat anything, who does the eating? Your husband? hahaha" He did not even suggest me anything. He didnt give any advice about what I should do. He calls every 3 weeks for the follow up appointment and he does ultrasound every time. Charges to insurance very high. He prescribed me very expensive pre-natal vitamins. So I asked him to prescribe me a vitamin that can cost less. I gave him the name of the vitamin that I used to take for my first baby, and he was like I never heard about this vitamin. The vitamin name was Citranatal DHA. It is very common that all the doctors would know about it but Dr. Ahmed. The only thing I like about him is his staff. That's all. DO NOT GO TO HIM. SOME OF THESE PEOPLE SAYS THAT HE IS VERY FUNNY BUT HE INSULTS PEOPLE. NOT ONLY THAT, HE DOESN"T HAVE KNOWLEDGE OF HOW TO TREAT PATIENT.
1.0 Rating
October 21st, 2015
THE MOST HORRIBLE DOCTOR
I have to say Dr. Hany Gaafer-Ahmed has been the worst horrible doctor. Shame on me to keep seeing this doctor giving him chances due to many patients he has which who knows who has been misdiagnosed. I have been seeing this doctor for few years and this Doctor still has the audacity in not knowing who are his patients. 4 years ago I had an ectopic of 6 weeks, when he gave me the news he did not explain whatsoever what is an ectopic and just sent me to the ER without an explanation, obviously didn't want to deal with it. Oblivious myself I went back to this doctor months later. This doctor is the type of doctor that if you have an emergency he will see you and take your money. He won't explain to you what is going on and just prescribe anything so you go home. I recently became pregnant and few weeks later I was bleeding had to go to the ER it was late at night. When I went back to the office for follow up "things were ok" he confuse me with another patient, did not read my chart, did not have any ethics matter and said I was going through a miscarriage without any manner with a laugh on his face !!!!! HOW DARE HE ! Then he realized that he "gave me bad news" Really!??? Without checking me (because I didn't let him to touch me after all that, he decided to just say "it will eventually come out itself" I left the room desperately devastated not knowing what to do!!! Not knowing what was wrong with me since I was not bleeding and not cramping. Luckily I found AMAZING doctors thru references the next day, who guided me, had compassion and went through the last step with me! I was going thru a miscarriage but it could have been an Ectopic! Dr. Gaafer was planning to just send me home and who knows what would have been of me ! I am now in good care of EXCELLENT doctors who care. THANK GOD! I DO NOT WANT TO HEAR EVEN SEE THIS DOCTOR AGAIN.
5.0 Rating
July 18th, 2015
Mrs
5.0 Rating
June 16th, 2015
1.0 Rating
December 14th, 2014
Horrible Experience...
I went to his office yesterday for a regular annual visit. Saw his good reviews online and decided to give him a shot since my previous gyno passed away. I have never had such a poor gyno experience. First of all- this office considers it a "consultation" if you talk to him about birth control so it won't be covered under preventable care unlike EVERY OTHER gyno that I am aware of. So he proceeds to do my PAP...I've had them done a few times before and I've never had one that was painful...this hurt so bad!!! The entire time he kept asking me if I was planning on getting pregnant and I insisted multiple times that I wasn't ready to at this point in my life.! Then without warning he proceeds to do a vaginal ultrasound! Which I thought was completely unjustified since I'm not pregnant. He proceeds to show me the screen and goes "see no baby in there...but there could be!" I'm 22 years old and not married. I don't want a baby now. How dare he try to convince me otherwise. I've never met such a chauvinistic or uncaring person let alone doctor. I cried my entire way home after the appointment. Never going back there.
Nearby Doctors

Dr. Hany Gaafer-Ahmed is similar to the following 3 Doctors near Hackensack, NJ.