Rate Now
Share Your Experience
Have you seen Dr. Harold Lewis?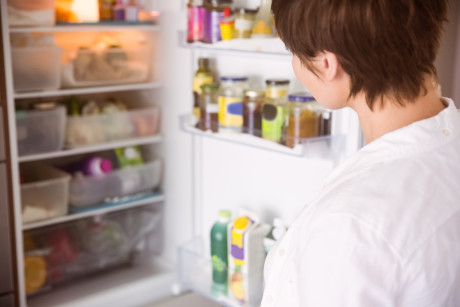 Binge Eating Disorder
Get the facts about binge eating disorder, including symptoms, causes and related conditions.
35 Ratings with 23 Comments
3.0 Rating
June 11th, 2016
In and Out
5.0 Rating
May 4th, 2015
Excellent physician
1.0 Rating
March 7th, 2015
This doctor is a quack!!!
I have been sick for over 2 weeks now and first went to an urgent care since it was the weekend. I was given antibiotics and cough meds for step and a bad respiratory infection. When I went to see my pain doctor Wednesday, she told me I have to go see my primary care physician asap. Dr Lewis has been my doctor for 2 years now. I never really liked him but this last appointment made me hate his guts. I don't even know why he is still in practice if he hates taking care of PPl so much. I told dr Lewis I was sent by my pain doctor and that I needed to be evaluated and had to be put back on the same meds I was prescribed by the urgent care, also needed an X-ray and a test for strep. I told him he needs to call my pm since the cough meds had hydrocodone in them which my pain doc aproved. Dr Lewis threw a big fit about it and said he needed to run some tests first. No problem I thought. I gave blood and urin and got my X-ray. After waiting for 30 minutes he came back to the room to discharge me without any meds. I said I needed at least the antibiotics if he couldn't give me the cough syrup. He gave me steroids and the z-pack. Really?!?! Anyway I said this won't help but he didn't care. I went home and called him up the next day asking if he had gotten in touch with my pm yet and also asked what kind of test he had done since he forgot to tell me while I was there. I then was told I was given a drug test to check if I had taken any narcotics. Hello!!! I told him I was taking pain meds, also what gives him the right to do a UA without my approval? I also aked what the test for my strep said. The assistant then informed me that they didn't do a strep test so I asked why he swapped my throat for. The answer was that the wanted to see if I had post nasal discharge. You do not need to be a doctor to be able to see that I had/have post nasal discharge. I have never been treated whit this much disrespect and looked at like I wanted to get high of some stupid cough syrup. Seriously if I wanted to get high I could just use my pain meds. I will NEVER EVER go back and waste another dime on this incompetent doctor. Please do yourself a favor and find someone else.
5.0 Rating
February 24th, 2015
1.0 Rating
June 13th, 2012
Lo peor
La clnica esta demaciado sucia, mis bebes se ensucian con solo estar en la sala de espera, las preciabas estn llenas de polvo, en los cuartos de los pacientes hay polvo, manchas y suciedad, el equipo de trabajo es de lo peor, y los instrumentos de trabajo son viejos, parecieran de la era de los pica piedra, no quieren dar citas en la tarde para poder irsen temprano, la asistente de Dr. Lewis es una vagabunda, nunca devuelve las llamadas y su apariencia es descuidada, la bata de Dr. de Dr. Lewis en lugar de blanca es casi gris y llena de manchas, si asi esta la ropa del Dr. imaginese la clnica, si uno pude hablar con el Dr. o la asistente lo que hacen es mandarlo a la sala de emergencias o que deje un mensaje el cual nunca contestan, Dr. Lewis todo el tiempo te da la espalda y no contesta ninguna de tus preguntas, la muchacha del laboratorio es la nica que contesta mis preguntas y trata da ayudarme en lo que puede, el cuarto de rayos X da miedo, no recomiendo ese lugar a nadie y ojala el departento de salud de Austin les de una visita pronto y vean lo sucio que esta el lugar.
1.0 Rating
May 4th, 2012
perscription
I am new to the area and needed to find a local doctor to refill prescriptions for my son and myself. I found out Dr Lewis is not able to write prescriptions for any controlled substance. I have to wonder why a medical doctor is not able to write prescriptions.
1.0 Rating
December 17th, 2011
Scary Doctor!
This doctor is strange. They are right. He won't look at you or is uncomfortable when he does. Once upon a time, he seemed like a good doctor. Then he started changing my meds without notifying me and before any kind of bloodwork. These changes were forbidden and others were to cheaper meds. I research so I found out my correct diagnosis. That's when he started telling me things I had that he never told me before and took samples of my blood at his office. He'd never done that before. When I called to get lab results, the nurse said that he wanted me to know everything checked out find. Now I have proof of lab work of the problems already so I know this is not true. She goes on to say on yeah, this is positive and I don't understand the thyroid numbers. Why did they do the test? He cut down on some important meds and then he changed important others before any results of blood work and I had not given him reason to change. Then I found out that his office has been overcharging me. When I called to ask them about it, the lies were flying. I wanted him to be a good doctor. It's so hard to find a decent doctor in Austin, Texas. They don't care about anyone but themselves anymore. I know there must be somebody decent, otherwise I must leave. God help us all!
1.0 Rating
March 2nd, 2011
Do not go here!
This was the worst doctors office I have ever been to. I got there at 1:45 for my appt at 2:00. I DID NOT see the doctor until 2:50!!! And, out of the total hour and 45 mintues there, I spoke to the doctor for a total of 2 minutes! I came to him about a back problem, and precribed me steroids and told me to come back next week! Seriously!!!! If I could take back my time and money I would. DO NOT GO HERE!!!!
1.0 Rating
December 8th, 2010
I had to PAY for that ?..at least buy me dinner first Doc.
5.0 Rating
October 6th, 2010
Great Dr!!
I was rather surprised reading some of the reviews for this dr!! I mean, are you all going to the dr because your sick or are you looking for a friend?! If your looking for a friend, he's the wrong guy! He is direct, straight to the point and can diagnose like no other dr i've ever seen! No, he didn't spend much time with me but SO WHAT? If a dr can come in and listen to my chief complaints and make a determination/diagnosis, that's great! Quick and painless! I think this guy is great!! From what I know he has 30+ years experience so that pretty much explains it. So, if your one of those types that need your hand held and a dr that is a bunch of "fluff", then he's not for you. BUT if you want a dr that knows his stuff and can diagnose you CORRECTLY and QUICKLY, he's for you!! I give him 5 out of 5 stars!!
5.0 Rating
September 3rd, 2010
Dr. Harold Lewis has been our family physician for years. He was our family physician when I was growing up & now that I have a family of my own, he is our familys physician. He continues to give us good care (even though insurance companies really make it difficult). He is a very likable man & he was a pharmacist first, so he really knows about the medicines he prescribes. We would & do recommend him to anyone needing a family physician in Austin.
5.0 Rating
August 25th, 2010
great doctor!