Rate Now
Share Your Experience
Have you seen Dr. Harry Khasigian?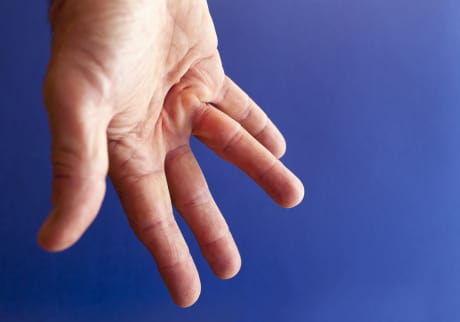 Dupuytren's Contracture
Dupuytren's contracture is a thickening of the tissue beneath the skin of the palm of your hand
30 Ratings with 15 Comments
1.0 Rating
February 28th, 2017
Condescending and doesn't know his body parts.
1.0 Rating
January 10th, 2017
Terrible bed side manner
1.0 Rating
February 12th, 2015
5.0 Rating
January 15th, 2015
I can't believe the above reviews. Dr. Khasigian and his staff have been nothing but wonderful. He and his staff have always been respectful during each and every visit and I have never felt disrespected or uncomfortable in this office. Dr. Khasigian is mindful and caring about the needs of the anthele and their determination to get back into their activities/sports. My child has been seen and operated on multiple times by Dr. K and I can say enough about the service and his beadside manor. He and his staff make us fell like we are a part of the family. Karen, Office Mgr. is wonderful! She is on top of scheduling surgery and understands the sense of urgency a mother fells when her child is injured. Doug is wonderful, as well. Doug always makes us feel welcomed to the office and takes his time to answer any questions we might have during our visits. Plus, he's not too bad on the eyes! Sometimes its all about approach and attitude!
1.0 Rating
February 19th, 2014
Worst doctor ever !!!!!
This so called doctor Is an unsafe person to be around from the first visit he told me there is nothing wrong with me. He misdiagnosed me twice and treated me like garbage. When I asked him to have the same respect for me that I have had for him he became very angry and told me he would ruin my future and not treat me anymore. Then he tried to slam the door on me while I was in the doorway . Watch out he acts nice on the first visit then his true personality comes out. Worst doctor I have ever met!!!!!!
1.0 Rating
February 20th, 2013
Full of himself...
He was very rude and very condescending, I do not know how he behaves if you are paying with private insurance or if you are paying cash, but if you are sent by workmens comp. my advise is to go well informed about your condition so you can prove your case, and if he sends you out for any kind of tests, while at the testing site, ask, ask, ask and document all the questions, so when you see him again to discuss the results, you do not allow him to lie to your face and tell you you have nothing wrong, he could not do that with me, because I went there well informed, but he sure tried!!!!
1.0 Rating
February 6th, 2013
Worst Doctor I've Seen
I felt unsafe in a room with this doctor. I would not recommend him to anyone. He was quite confused about my file. He handled it be speaking to me in a condescending way. When he examined me, he called a female assistant into the room to watch. If he hadn't, I would have refused the examination. My instincts told me that I was unsafe. I hope that others read this before considering Dr. Khasigian, as joint surgery is a painful venture. I've had 3, and strongly recommend working with a surgeon you trust.
5.0 Rating
January 24th, 2013
Had surgery Dec 2012 and I'm very pleased with the results. Despite others negative comment, I for one see him in a total different light and advise you to take they're negative comments with a grain of salt. The hip surgery was a great success and I was able to walk as much as a mile without a cane 2.5 weeks after surgery. The surgical pain still hurt but the hip did not (this is after I was unable to walk for 5 months prior to surgery). Methodist hospital is way below par in my opinion but hey, I was only there for 2 nights.
1.0 Rating
August 15th, 2011
Bad Business
As a patient of this doctor, I was treated very unfairly, disrespected, and treated as low class. I still have the same problem now that I had when I was first treated by Dr. Khasigian. I was told that i'm not in any pain, even after test show otherwise. I would not refer anybody to this doctor, ever!
1.0 Rating
August 2nd, 2011
Is this Doctor for real!!!!
I have been suffering from a work related injury for about a year now. Workmans Comp. sent me to this Doctor so he can take over my case and I was in there for less than five minutes and he said that my injury could not be work related, but degenerative. I was then advised that I would have to learn to live with the pain or undergo surgery. Even though I have had 1 out of two successful (cortisone) injections. I think this guy is a quack and needs to retire!
1.0 Rating
June 17th, 2011
Patients beware of this "doctor"
I can't stress enough the importance of staying as far away from this so-called doctor as you can. First off he despises anyone on Workers Comp and will destroy your claim. Next he will spend a minimal amount of time with you and will then just "wing" the reports that should allow you treatments. He has absolutely no problem lying about patients so they are denied treatments. Just be very careful people. While I don't have first-hand knowledge of his surgical skills (I would not let him operate on me and instead found a good surgeon) the half a dozen or so patients of his that I have talked to all swear that he is not only a horrible surgeon but bases his surgeries on insurance coverage rather then need. Just really people, be very careful. Feel free to contact me if you have questions.
5.0 Rating
January 21st, 2011
Very happy patient
Nearby Doctors

Dr. Harry Khasigian is similar to the following 3 Doctors near Sacramento, CA.