Rate Now
Share Your Experience
Have you seen Dr. Henry Degroot III?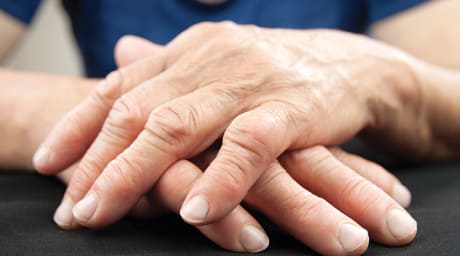 Osteoarthritis
Get the facts about osteoarthritis, including the symptoms and doctors who treat it.
Quality Rating
Highly Satisfied
24 Ratings with 14 Comments
5.0 Rating
June 30th, 2016
5.0 Rating
April 10th, 2015
5.0 Rating
May 8th, 2014
Displaced fracture of right Calcaneal (heel bone) in four places from a fall off of a ladder
You might say, well it's only the heel bone and how bad could that be. As I learned this little bone unlike many in our body that purely provide a structural role also facilitates healthy body balance and mobility. From doing some web research you learn the surgical treatment and recovery outcome even for a less severe fracture case can widely vary based on treatment technique and experience of the orthopedic surgeon selected. Given the number and type fractures of my case the research did not paint an optimistic recovery outcome. The general long term prognoses suggested living with reduced physical mobility and ongoing fluctuating pain. After obtaining several Physician opinions we selected Dr. Henry Degroot, Newton/Wellesley Hospital. I shared my concerns and questions hoping for the best. He was very good at explaining everything in layman's terms describing the injury, the surgical steps to repair it and the recovery time needed to yield a good outcome. Compared to the traditional approach involving a larger L shaped incision to install a metal plate with dozens of screws, Dr. Degroot performed a less invasive procedure, smaller incision involving only 2 pins that eventually are removed and 2 screws that would remain. He stressed a realistic recovery time of a year to return to as close to normal health and activities. It has been 6 months from the accident and I'm pleased to say that I'm walking and doing most of my normal daily activities again. While not yet fully pain or stiffness free the progress to date has been remarkable. In short, I would highly recommend Dr. Degroot. He is a very knowledgeable, experienced and thoughtful orthopedic surgeon who you can trust and feel confident that he will help heal you.
1.0 Rating
July 8th, 2013
Find Another Doctor
5.0 Rating
February 28th, 2013
The way it should be
Dr. DeGroot removed a screw from my foot 3 years after it had been placed there during a previous bunion surgery. I was unhappy with my previous surgeon and so did not return to him to have to screw removed. I interviewed 3 other surgeons before meeting Dr. DeGroot, and was not happy with one until I met Dr. DeGroot. He took the time to answer my questions and was very knowledgeable. He had a very cool x-ray machine in his office which displayed my x-ray immediately after he took it so that we could discuss my surgery, He was able to scroll through other x-rays (patient names omitted) on his touch-screen display and to change the orientation so we could compare other bone structures and surgical results to mine. My surgery was quick and straightforward, and the healing was fast and I had very little pain. I was back to normal walking within a week and was working out 10 days post-surgery. I have submitted questions on his website and called his office with questions. Both times they were answered by his assistant after she asked him for his responses.
5.0 Rating
February 28th, 2013
Very efficient
Reasonable diagnosis. Courteous, efficient. No problems, so far. Seems like competent dr. For foot and ankle, and convenient for western suburbs.
5.0 Rating
May 21st, 2012
foot fracture
i was able to get a same day appt with dr degroot for my foot fracture. he was very thorough and rental in his exam as my foot was very painful. he reviewed my X-ray and had a nice big screen where i could see the films also. he had a boot available so i didn't have to go anywhere else to get supplies. he seems like a very innovative physician. definitely recommend !
5.0 Rating
May 2nd, 2012
Cinderblock on ankle - ouch!
5.0 Rating
December 22nd, 2011
Dr. D is a Rockstar
If you have any ankle problem, or to Dr. D.! I first saw Dr. Degroot as a result of a sprained ankle. When my son broke his ankle, and needed surgery, Doctor Degroot could not have been better. He actively listens, takes time to explain, and was always around, both in hosiptal visits, post surgery, cast examinations. Not a cut 'em and forget 'em guy. He is top notch. Plus, I left my favorite coffee cup in his office, and his receptionist brought it down to me in the surgical waiting room! During office visits, he writes down all of your diagnosis, next steps, and other "things" and gives you the note card for later. Handy! Great guy, great surgeon, great staff.
5.0 Rating
January 28th, 2011
have been treated by Dr. DeGroot and his staff for over a year and have been continually impressed with their competence and professionalism. After suffering total debilitation of my ankle and chronic pain for years (which many doctors refused to treat or couldn't treat), Dr. DeGroot offered me sound advice, pain treatment and then performed a STAR total ankle replacement. He is one of few doctors who can perform this state of the art surgery. Dr. DeGroot and his staff provided excellent before and after surgery care. This has given me a new lease on life since my mobility has been restored, I am pain free, and I will be forever grateful. My physiotherapists are also impressed with the surgery and its results. I consider Dr. DeGroot to be a brilliant orthopedic surgeon
5.0 Rating
December 21st, 2010
5.0 Rating
November 16th, 2010
Accurate and friendly care, good recovery
I had a Lisfranc fracture and dislocation of the joints in the midfoot and a fracture of the talus bone. Several doctors and specialists saw me and referred me to Dr. DeGroot because my injury was complicated and needed someone very good in repairing Lisfranc fracture / dislocations. Other specialists said Dr. DeGroot was one of three surgeons good enough in the greater Boston area to successfully treat my injury. A high recommendation from his peers considering how many teaching hospitals are in the region. He fixed both the foot and ankle injury and oversaw all aspects of my recovery.Dr. DeGroot's assessment of the injury was immediate and he performed minimal intervention (two screws in each injury, foot and ankle) with minimal cutting of soft tissue. His communication and bedside manner was informative, very engaging, and tailored to what I needed to know. Dr. DeGroot was exactly correct predicting the stages of recovery. He explained what I could expect at each stage of my surgery and recovery. He was always right and his accuracy was helpful for me planning my life to minimize disruption of my life.He was really attentive to every detail. From casting options to screw removal to anesthesia options. We discussed my options and what would work best for me. Dr. DeGroot even recommended special scooters for me to use instead of crutches and this improved my mobility and made coping with a long recovery tolerable. My best experience with bone repair and I have broken several bones over the years. Dr DeGroot even recommended I take up Aikido, appropriate for me, to develop strength, flexibility, and keep my weight in check. Very cool.
Nearby Doctors

Dr. Henry Degroot III is similar to the following 3 Doctors near Newton Lower Falls, MA.

Dr. Matthew Leibman

Surgery of the Hand, General Surgery, Orthopedic Surgery

Newton Lower Falls, MA 0 mi