Rate Now
Share Your Experience
Have you seen Dr. Ira Weintraub?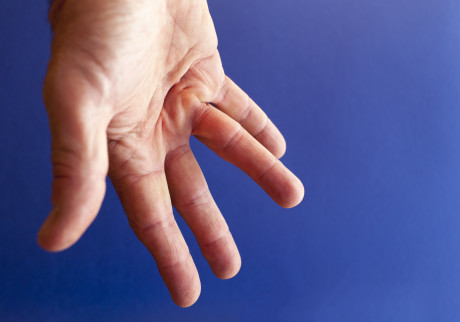 Dupuytren's Contracture
Dupuytren's contracture is a thickening of the tissue beneath the skin of the palm of your hand
27 Ratings with 10 Comments
1.0 Rating
September 12th, 2016
Doesn't care
I was unlucky enough to have surgery performed by Weintraub on my right thumb. Looked and felt horrible afterwards, his response was that "yeah, it's a little sloppy". Had to go get three second opinions - all agreed I had to have reconstructive surgery after Weintraub hack job. He wouldn't even help me with the thousands of dollars I had to spend for the reconstructive surgery. DON'T GO SEE WEINTRAUB!
2.0 Rating
June 12th, 2016
Integrity
Don't expect him to be honest with you or help you manage your pain medications before, during, or after surgery. He is a great mechanic, but he will shine you on and make promises that he will not keep, to the point of giving you his personal phone to call if you need help in hospital, then cussing you out if you call. An excellent surgeon, no help with anything out of the norm, or special needs around medications. Lacking in integrity.
1.0 Rating
June 23rd, 2015
DO NOT TAKE A CHANCE WITH IRA WEINTRAUB
1.0 Rating
April 14th, 2015
5.0 Rating
January 24th, 2015
1.0 Rating
October 23rd, 2012
This is the only review I have ever written about a product or service-but feel it necessary to share this experience. Nobody should pay for a service like this. In fact, nobody should accept payment to be treated like this. Dr. Winetraub was habitually late and was never interested in working with my son. As a former RN in an ER--where it was really busy- I never treated patients like this. NEVER. I will take my son's diagnosis to my MD brother-who can hopefully find a decent physician who will help my son- and share the word about this lousy, expensive experience.
5.0 Rating
September 21st, 2012
A True Physician
I am so happy to recommend most highly the talents, compassion, and skills of Dr. Weintraub. He is a physician for all the right reasons. I have had 3 separate surgeries for different injuries and all of them have been completely successful.His compassion and expert knowledge as a surgeon are so appreciated. I would always recommend Dr. Ira Weintraub.
1.0 Rating
July 15th, 2011
DO NOT RECOMMEND
I was scheduled to have knee surgery in California until my husband was recruited to work in Oregon. I brought my MRI report to Dr. Weintraub's office and explained that I had to have cartilage repair surgery. I only saw his physician's assistant (PA) who said per his reading my MRI only showed a meniscal injury (a much more minor problem and an easier surgery). I was relieved to hear this, and the surgery was scheduled. I still only saw the PA when I returned for my pre-op exam. Not until the day of surgery did I see Dr. Weintraub. During the surgery he found that I actually did have cartilage damage in my knee (his PA was wrong in overriding my California doctor 's diagnosis). Dr. Weintraub was then going to do a procedure that I specifically told his PA that I did not want during my prior evaluation, but I was under anesthesia so I could not stop this. Thankfully my husband was present in the waiting room and stopped Dr. Weintraub from doing that procedure before it was too late! After I awoke from anesthesia I learned of this mishap. I then had to recover from surgery in order to go back to my California doctor and have the correct procedure done, thankfully.
5.0 Rating
March 30th, 2010
exceptional doctor
5.0 Rating
December 16th, 2008
1.0 Rating
August 17th, 2017
3.0 Rating
January 10th, 2017