Rate Now
Share Your Experience
Have you seen Dr. Jackelinne Villalobos?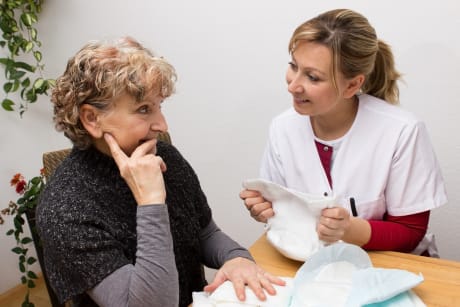 Urinary Incontinence
Learn about the symptoms and causes of urinary incontinence or urge incontinence.
52 Ratings with 13 Comments
1.0 Rating
June 1st, 2017
The rudest doctor I've ever encountered
5.0 Rating
February 8th, 2016
Best OBGYN
1.0 Rating
November 10th, 2015
i do not recomend
5.0 Rating
October 30th, 2013
FABULOUS
Dr. Villalobos was fantastic!! I do not like doctors of any sort, I get very anxious and scared, and I also do not like when a doctor puts you on the most expensive medication out there. I have never actually been examined by a gyno so I was incredibly nervous. She came in and sat down and talked to me about what was going on and also asked about me in general (career and such). It was like having a friend there. She made me feel very comfortable. She explained everything to me and made me feel at ease. She said that if I feel at all uncomfortable that she is doing something wrong and I should let her know. I had been on a medication for years that was $56 per month and when they stopped making it the replacement was $86. Dr. V said that was way too much and she prescribed a generic that was $20. She was very concerned with my well being and wallet for that matter. Love her!!
5.0 Rating
June 19th, 2013
Best Doctor Ever
Dr. Villalobos is hands down the best physician I have ever had. She really cares about her patients and is patient, kind and extremely informative when it comes to diagnosis. She is gentle when it comes to examination and carefully considers options before helping you to choose one. Then if that doesn't work, she perseveres until she finds something that works for you. She is extremely accepting, calming and altogether thorough, filling prescription orders immediately and following up more than sufficiently. Dr. V works around my schedule as I am a student, and is very understanding of all other circumstances unique to me. I could not have asked for a better OB/GYN.
1.0 Rating
May 4th, 2012
What you see is not what you get.
Complete phony and bad underlying temper if you happen to come across it. Leaves her practice in Brooklyn without sufficient, if any, notification . I understand she has a lot of patients, however prioritize and inform the ones that are expecting you to deliver them well in advance (especially first time mothers that have really entrusted you with their care). I did not get delivered by her even though I had asked her to meet with her partner just in case she wasn't able to because things happen. Instead of being realistic and acknowledging the fact that she may not be present she tells me she has no life and she will be there. The day of my delivery what do you think happens? her colleague delivers me. Quite honestly this worked in my favor because this doctor (Dr. Abdelwi) is wonderful and he also just delivered my second child and was really there for me. This other one just talks a good game. She didn't even show up once during delivery only for the follow up and I wish she didn't even bother at that point. As far as I am concerned, good riddance.
1.0 Rating
September 16th, 2011
Frustraited Experience
I got Dr. Villalobos because a friend recommend her. At the first appointment we were a nice communication about my case and that"s the reason that I decided to remmoved a cyst with her. The problem coming right after my lamparoscopy because before that she was very pleasant. At the momment to go out the hospital she promise come back to my husband to give the prescription and she never showed up. When I got home I called her to remmined her. Passing three weeks I went with pain, she cheked me in 5 minutes and sent me to get a sonogram. She called me telling that she is going to send the precription at the farmacy. My appointment was a 9:20am and I needed to call her to remmind her at 4:30 pm. Her staff always that I called was very rude to me. When my recovery time finished I asked for some paper work to my job and I found the worst treatment from her staff and for her. When I talked to her about how important was for my paper work to come back to my job, I let her know how many times I called asking for the same thing and never recived answer from her staff because she was un reachable. She started screeming I had to ask for repect and professional care from her. Nobody can imaging how frustaited I am right now. Getting a surgury with some one who do not care even her ethic. I have only 4 weeks that I got my laparoscopy and she did not care anything at the momment she started talking to me. I was crying and shaking at the momment because I never imagine that could happened. Deffinitely I do not recomment her!!!! NO ETHIC AT ALL!!!
5.0 Rating
August 4th, 2011
Dr. Villalobos-THE BEST DOCTOR EVER
5.0 Rating
May 16th, 2011
Dr. Villalobos has been a wonderful Dr. throughout my entire pregnancy. Her staff is excellent and caring, and she went above and beyond to help me get through my syptoms of pre term labor. This is my first pregnancy and I found it difficult finding a Doctor or staff that took the time to answer my questions. When I talked with Dr. Villalobos' staff they were able to answer all of my questions promptly. I was even more thrilled when I met with Dr. Villalobos, she is very thorough in explaining everything and has been very caring! I would reccommend any one to her!
1.0 Rating
October 29th, 2010
LA VERDAD A MI NO ME GUSTO LA DRA VILLALOBOS, LA ESPERA ES MUY LARGA , NO LLAMA PARA LOS RESULTADOS DEL PACIENTE, EL PACIENTE TIENE QUE ESTAR ATRAS DE ELLA O IR AL MISMO LABORATORIA A RECOGER LOS RESULTADOS PARA LLEVARSELOS DONDE ELLA, RETORNA LAS LLAMADAS DEMASIADO TARDE YA CUANDO UNO ESTA CON LA PREOCUPACION BIEN GRANDE Y LO UNICO QUE QUIERE ES SABER QUE ESTA PASANDO, DE PASO DE LA NOCHE A LA MANANA MANDO UNA CARTA PARA DECIR QUE SE IBA A MUDAR DE ESTADO SIN DARLE CHANCE A LOS PACIENTES DE QUE CON TIEMPO PUEDAN BUSCAR OTRO DOCTOR, EN REALIDAD LO PEOR QUE HICE FUE HABER IDO A ESA OFICINA Y HABERLA HECHO MI GINECOLOGA!
5.0 Rating
February 2nd, 2010
BEST bed side manner.
She is hands down the best doctor I have ever visited. Best bed side manner. She explains and goes over everything. My sister was a labor and delivery nurse who has been around them all and was the one who recommended her to me. She delivered my son and made me feel completely safe throughout my pregnancy and delivery. I've recommended 2 other woman to her and they are both thrilled with her as well!
5.0 Rating
March 30th, 2009
Nearby Doctors

Dr. Jackelinne Villalobos is similar to the following 3 Doctors near Houston, TX.