Rate Now
Share Your Experience
Have you seen Dr. James Hiatt?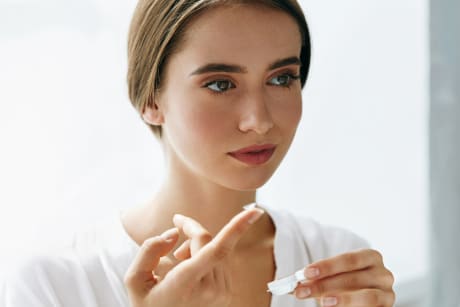 Contact Lens Care
A complete overview of what you need to know about your contact lenses.
Quality Rating
Highly Satisfied
27 Ratings with 13 Comments
5.0 Rating
March 26th, 2017
Cataract Surgery
5.0 Rating
August 13th, 2016
5.0 Rating
March 29th, 2016
Look no further for an expert in his field.
Thankfully, there are people out there like Dr. Hiatt, who knows exactly what needs to be done when one is faced with losing one's eyesight. He is direct and makes sure the patient understands his/her problem, then explains best/worse case scenarios of various procedures. I couldn't ask for more in the way of honesty. Keep in mind, if your appointment ever runs a little late, consider the possibility of another patient needing a little extra care than anticipated. Remember that patient could be you someday and that you will be given the same consideration. The staff is top notch, the surgery center is state of the art. Any nervousness I had was quickly assuaged by the caring staff Dr. Hiatt has surrounded himself with. He is truly the best and a great guy too. Consider your search over, you have found your doctor.
1.0 Rating
March 24th, 2016
Condescending and arrogant
One of the worst doctors I have ever dealt with. He is beyond arrogant. If asked about medical terminology he acts very put off like it was an imposition to explain. During an exam he carelessly put his thumb in my eye. After two visits and multiple testing I asked Dr. Hiatt what was causing my vision problem. His answer was "Who knows, it could be anything". In my opinion anyone being treated by Dr. Hiatt is risking their eyesight.
5.0 Rating
January 1st, 2016
4.0 Rating
June 22nd, 2015
5.0 Rating
February 20th, 2015
This Doc knows what he's doing!!!!!
Dr. Hiatt has performed cataract surgery on both my husband and me, and after 37 years of marriage, we're now looking at each other through nearly perfect eyes! First caliber staff, first rate facilities, and of course, Dr. Hiatt. You can't beat it!
5.0 Rating
January 21st, 2015
5.0 Rating
November 7th, 2014
recommendation
Excellent cataract surgeon. My surgery was done with excellent results and I had RK surgery in 1985 so it made it more difficult. Entire staff very helpful and always with a smile. Felt very comfortable from the time I booked the appointment, through the surgery to my last visit.
5.0 Rating
October 21st, 2014
20/20 Care from an outstanding office and doctor! They are efficient, thorough and I could not be more pleased with the level of service and ease of my eye surgery. I can see colors, read, and drive at night again thanks to Dr. Hiatt! I love that they have early morning appointments at 7am. It allows me to get to work on time!
5.0 Rating
January 11th, 2014
Dr. Hiatt is a miracle worker!
If you could imagine being legally blind (eyesight worse than 20/200) then imagine having eyesight of 20/400. Due to circumstances beyond my control, I had to postpone my eye surgery for quite some time, and because of this, my eyesight deteriorated to 20/400 and I was only able to see things just a few inches away. However, thanks to Dr. Drew Hiatt, my vision has been restored even though my cataracts were very dense! Dr. Hiatt performed my complicated cataract surgery flawlessly and without me suffering any pain. My right eye, being the better of the two, was operated on first. The day after the surgery, my vision had improved to 20/70 and within three weeks, it had improved to 20/30 without a corrective lens being implanted. The surgery on my left eye was performed just a few days ago. Even though it was a more complicated surgery than my right eye, my follow up appointment (the day after the surgery) showed that my eyesight was 20/60, again without a corrective lens implanted. Dr. Hiatt performed a miracle on my eyes! He is truly tops in his field. Dr. Hiatt and his staff are very friendly and caring people. They took the time to make me feel comfortable every step of the way. If you have ANY vision concerns, I whole heartedly recommend that you see Dr. Hiatt for the very best care!
5.0 Rating
August 13th, 2011
GREAT EXPERIENCE
I had laser eye surgery yesterday and my vision has given me a entirely new outlook on life! My contact lenses and glasses were becoming so annoying that I started to researched my options. I decided to have Dr. Hiatt do my surgery due to a referral from a close friend of mine that was his patient about 6 months ago. Dr. Hiatt and his staff were amazing I would recommend them and their office to my closest friends and family members. I have absolutely no regrets and I will spread the word about my experience there!Thanks Again Dr. Hiatt