Rate Now
Share Your Experience
Have you seen Dr. James Kim?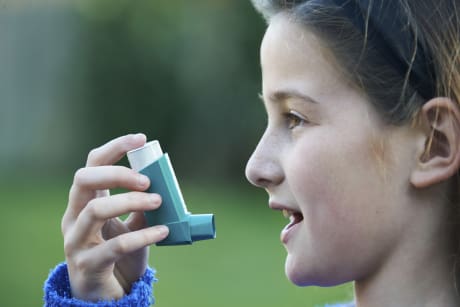 Childhood Asthma
Get the facts about childhood asthma, including the causes, symptoms and complications related to this condition.
24 Ratings with 9 Comments
1.0 Rating
March 17th, 2016
Bewared of This Doctor He is Horrible
DO NOT TAKE YOUR CHILD TO THIS DOCTOR. (My wife took our grandson who has cerebral palsy and seizures to this doctor and he was horrible. He didnt care, rushed us out, he was very very rude, he is just concerned with money. (THIS IS THE TYPE OF DOCTOR THAT DOESNT CARE ABOUT PATIENTS AND CARES ONLY FOR MONEY) HE'S HORRIBLE! He should not be practicing medicine specially when he mistreates a child with a disability in such an uncaring, rude way.
1.0 Rating
October 4th, 2015
concern mom
I too had a bad experience with this doctor . He was rude and hard to understand , when I asked him questions he seem anoyed and in a rush to get my daughter, husband and I out of his office. I took my daughter to him because she had her first seizure at the age of eleven after explaining to him how her first seizure was and him doing the regular test he made it seem like my daughter was faking her seizures when my daughter had never ever seen anyone go thru one. After returning back for the results of the EEG he rushed thru the results gave me the paper with the results and while I was reading it he said rapidly her test came back normal . As I looked at him cause the paper indicated something else that they where abnormal he said oh no there abnormal... I am going to change to a Doctor who actually cares about my child and my concerns. ..
5.0 Rating
May 5th, 2015
2 thumbs up
1.0 Rating
August 10th, 2013
Mother
Do yourself and your child a favor and never go see Dr. James Kim. His office staff is rude and never follows up with phone calls. We had to make several calls to Dr. Kim's office before any one step would be done. It took over 3 months to set up an appointment with Dr. Kim. The staff would say they did not get the proper documents even though the items were faxed over several times. We even had our primary Dr. call the office. When we finally got an appointment to see Dr. James Kim they sure were quick to collect our payment. The visit with the Dr. was short and non-informative. We had a few tests taken that also took over a month to schedule because Dr. Kim's incompetent staff would say they needed to get an authorization from our insurance(dual-coverage PPO). After the tests were done, we had to call the Dr's office to obtain the results. We asked to speak with Dr. Kim and the staff said he does not speak on the phone. We then asked if we needed to make a follow up visit to go over the results of the test and they said no. We are still left with a sick child and no information. Onto CHOC hospital.
5.0 Rating
July 23rd, 2013
Satisfied with office experience
As I walked in, I walked in on time the staff was very nice and helpful. Once being roomed I was told that the doctor was finishing up with a patient and would come in shortly. Once the Doctor came in he was very nice and asked me what was the reason I was there, to see if I had an idea of why I was being referred to see him. I was pleased with my experience in the office. Besides the Doctor having a nice office, he had very nice and helpful staff. I was very please with the experience.
1.0 Rating
April 12th, 2013
Worst experience
I recently was referred to this doctor, and have never been treated in such a rushed/rude manner I was literally out in 15 minutes, my daughters pediatrician takes longer than that! It felt like a rushed regular checkup. He didn't bother to bring up my family genetic disorders and when I brought in some information that might help he turned it down and made it seem as if it was irrelevant! At time I could not understand him and he seemed annoyed when I would ask for him to repeat himself! I'm livid with this doctor and would never recommend him! I'm hoping for a better second opinion from a thorough doctor with compassion!
1.0 Rating
March 12th, 2013
whoa!! and he has 26 years of experience
My experience with this doctor was horrible. The first thing he ask me, what are your here for? Which I thought it was a rude question just they way he asked. (what is the point for asking for the patient history and don't bother reading it.) I felt like he didn't want me there but was obligated to do so. I waited in the lobby for 20 minutes and was out of there in 15 minutes. He didn't have no compassion towards my child but his a child neurologist. I don't recommend this doctor at all.
1.0 Rating
March 12th, 2012
Go somewhere else!
I took my daughter to see Dr. Kim in Shreveport years ago. She has special needs. We learned absolutely nothing from him. He has a horrible bedside manner and made me feel like I had dropped my daughter on her head and that is why she had a brain bleed. That isn't the case at all and it happened during delivery. I have told everyone I know that we have seen a lot of doctors over the years and he is by far the worst one that I have seen to date. I am sure he had to move far away from here because no one wanted to see him.
1.0 Rating
December 4th, 2011
Dr. James J. Kim
Absolutely the most rude and unprofessional doctor I have ever, ever encountered in my life! I arrived early for my appointment (2:45 pm on 11/29/11) ...
2.0 Rating
April 7th, 2017
5.0 Rating
February 16th, 2017
1.0 Rating
September 20th, 2015