Rate Now
Share Your Experience
Have you seen Dr. James Mckiernan?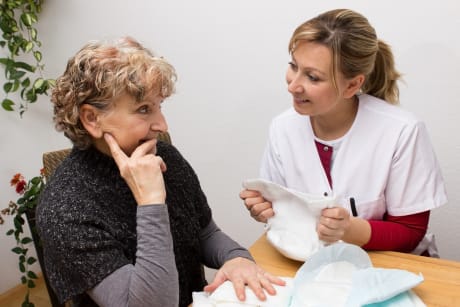 Urinary Incontinence
Learn about the symptoms and causes of urinary incontinence or urge incontinence.
Quality Rating
Highly Satisfied
41 Ratings with 10 Comments
5.0 Rating
November 4th, 2016
The best
Dr Mckiernan drew a picture to show my husband & myself where the cancer was , for the first time I understood. He spent time with us & didn't look at his watch. The second time I got sick he treated me like family. He is caring & wants the best for you, regardless of who you are. There are really no words to describe this special man. My urologist calls him , the man with the golden hands. Humble , caring, great surgeon & wonderful bedside manner
5.0 Rating
April 5th, 2016
One of the best.
1.0 Rating
January 22nd, 2015
5.0 Rating
May 30th, 2013
Partial Nephrectomy
5.0 Rating
April 24th, 2013
Patient
All I have to say is that no other could compare to the profesionalism, kindness and knowledge of this doctor! Absolutely the best!! Makes patients care his top priority for many reasons, but most of all because this man cares!! he even returns phone calls himself. You are definetly more than a patient, you are a human being with a life to live>
5.0 Rating
June 18th, 2012
Fantastic Doctor
Dr. Mckiernan is just great. My husband just went through bladder removal surgery. He spent time with us going over our options,explaining everything to us. He is a very warm, concerned physician. We had so much confidence in him that it made it easier for both of us facing this proceedure. My husband came home earlier than expected but only after Dr. Mckiernan left a message to have them check it out with me. He is not only extremely competent but is also a very caring ,special person.
5.0 Rating
June 2nd, 2012
Such a comfort in a time of distress
Dr. McKiernan initially reviewed my case after disappointing experiences in my local setting. Now three years later, I continue to work with him and the journey continues. Though my own confidence in terms of ultimate health outcome remains an ongoing concern, it seemed when I looked at this listing that an additional review to echo those listed here is in order. Dr. McKiernan is a rare find, particularly in the surgical and urological realms, and one senses it not only directly but from the respect and comments one receives from those who work with him at every level -- receptionists, nursing and technical care, residents, interns, and care coordinators all uniformly nod, laugh, smile, or say something about how well-liked he is, how he is a wonderful doctor, etc. Of course one feels vulnerable when this level of care is needed. He makes me feel like he is personally interested in my well-being, listens to the questions I have about the technical and practical issues of my care, and goes out of the way. My last phone call from him came on a Friday evening at 7pm of a holiday weekend -- because he knew I needed to hear and took the time. Obviously, I recommend him unreservedly.
5.0 Rating
November 22nd, 2011
Dr. McKiernan is my hero
On my first visit, I came to Dr. McKiernan with a bunch of nasty symptoms, MRI, and a sense of urgency. A week later, he performed a 4 hour surgery, navigated through a whole lot of organs in my body, and removed a large cystic mass that was making my life miserable. But it is not simply because of the eventual relief that I feel grateful to this doctor. It is also for all the attention that he gave me, and a most genuine care that I received.One of Dr. McKiernans gifts is that he actually listens! My condition was somewhat rare and confusing, and from my prior medical adventures, I had not come to expect a quick readiness to help. Dr. McKiernan restored my faith in a matter of minutes. To say that Dr. McKiernan knows his stuff would not do him justice. He is a top-notch, talented surgeon, with profound expertise that extends beyond his domain. Somehow, I could tell this the moment he started talking to me about possible scenarios and outcomes of upcoming surgery. Dr. McKiernan is very articulate he tells you exactly what to expect, and does it in very simple and lucid terms.Dr. McKiernans staff are most helpful and professional. His assistant Idia had literally only a couple of days to set up my surgery and clear all the insurance hurdles. My calls were always returned, all questions answered. I could not have wished for better treatment.Dr. McKiernans credo is individualized care. To him - every patient is unique. It takes an awful lot to practice such an approach, and only the very best doctors do. Dr. McKiernan is the best. He will always be my hero.
5.0 Rating
February 13th, 2010
can't get any better Dr.
Dr. McKiernan is the most caring physician I've ever met. He listens and responds to your concerns, spends as much time w/ you as you need, helps you feel confident in the face of tremendous adversity and is compassionate enough to work w/your insurance co. I was being treated for bladder cancer and as I am fairly young I didn't want to wear a continence bag for the rest of my life. After being turned down by numerous urologists I was lucky enough to find this Dr. He worked really hard for me. I got the restoration that I wanted. My surgery went very well.The care I received was excellent and professional. When we are in the exam room together he makes me feel like the most important person in the world.I can't say enough good things about this man. He renewed my faith in Drs. and I would highly recommend him to anyone.
5.0 Rating
September 6th, 2017
5.0 Rating
September 6th, 2017