Rate Now
Share Your Experience
Have you seen Dr. James Tozzi?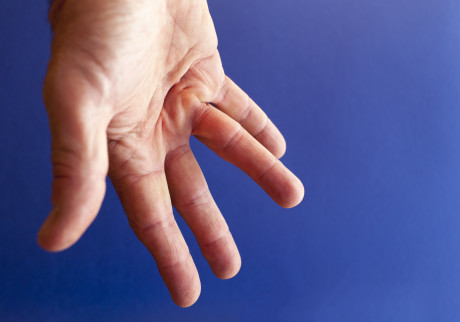 Dupuytren's Contracture
Dupuytren's contracture is a thickening of the tissue beneath the skin of the palm of your hand
31 Ratings with 13 Comments
5.0 Rating
October 28th, 2016
1.0 Rating
June 23rd, 2016
lab Associates
5.0 Rating
April 11th, 2015
1.0 Rating
January 20th, 2015
Rude doesn't look at MRI results or Xrays smells of alcohol.
5.0 Rating
December 1st, 2013
patient
5.0 Rating
September 13th, 2013
A very well and respected physician.
I had arthiritis in my hip when I went in to see Dr. Tozzi,and he removed the arthiritis by giving me a successful hip replacement right away after receiving the correct paper work. DR. Tozzi will not continue giving you pain medication because he said it would only make you addictive to the medication. I now have arthritis in my spine and he will not give me pain medication until after the surgery that he said was very necessary. Overall Dr. Tozzi is a fine Surgeon and I would recommend him to my family and friends.
5.0 Rating
September 29th, 2012
Spinal Fusion
I had a double fusion and Dr. Tozzi was blunt and honest about my MRI even though I had fought surgery for as long as possible. He minimized drug use, encouraged physical therapy and 6 months after surgery I am pain free. No more leg numbness and no more inability to function because of blinding pain.
1.0 Rating
September 17th, 2012
He was nasty, did not want to hear the patient discuss their problems because he knew it all. Bedside manner is non existence. He examined my knees in the wrong area and when I tried to correct him he went balistic about who he is and what his job is job is forgetting about the patient had their body and longer than the time it takes make an appointment and get into his iffice.
1.0 Rating
April 25th, 2012
I HAD MY FIRST VISIT WITH DR. TOZZI, HE WAS NASTY, ASKED ME IF I HAD (HIV), BECAUSE OF MY TATTOO'S. HE ALSO ASKED ME IF I WAS SUICIDAL TODAY, OR MAYBE TOMORROW. DR. TOZZI TOLD ME I NEEDED TO BE AT WORK, I WAS NOTHING BUT A CRY BABY. OH' AND I WAS WASTING HIS TIME. HOWEVER, HE WILL GET PAID FOR EVERY MINUTE HE SPENT WITH ME.THIS DOCTOR WAS VERY CRUEL, SO I OFFERED TO LET HIM TAKE MY APPT. WITH THE PHYCIATRIST. HE COULD SURE USE IT. WHAT DOCTOR TELLS A PATIENT, THEY MAY NOT SURVIVE THE SURGERY. DR. TOZZI YOU ARE A JOKE, NEVER JUDGE A BOOK BY IT COVER. YOUR DAY IS COMING, SO HOLD ON. IT'S COMING!
1.0 Rating
February 3rd, 2012
Poor Bedside Manner and attention to patient needs
Dr. Tozzi, after my surgery became insulting and insensitive to my concerns. Prior to the surgery he was non-committal on my reduction in pain and the success of the procedure. Afterwards, I related some improvement, but still in pain, but he now took position that he had perfomed a miracle and I should be jumping around like gymnast. I no longer have confidence in him or respect his ability to care for his patients needs.
5.0 Rating
March 31st, 2009
4 joint replacements
I was sent to Dr Tozzi when the head of Orthopedics at my health plan refused to do surgery on me. Dr Tozzi took me on and we came through 2 hip replacements followed 4 months later by 2 knee replacements. He followed me during my rehab time. As a healthcare provider myself, I appreciate quality of care as well as the knowledge and skill of others, in Dr Tozzi I found a bright, skilled and caring practitioner.