Rate Now
Share Your Experience
Have you seen Dr. Jane Frederick?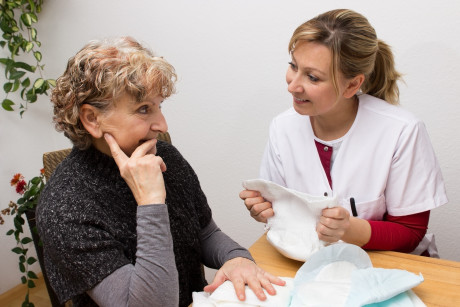 Urinary Incontinence
Learn about the symptoms and causes of urinary incontinence or urge incontinence.
Quality Rating
Highly Satisfied
48 Ratings with 33 Comments
5.0 Rating
July 12th, 2017
Persistent and Honest!
Dr. Frederick was a pleasure to work with for the last 2 years. After several doctors were unable to even start to help me, she persisted. Although we had two failed rounds of IVF, Dr. Frederick gave us options. She is very realistic and honest with expectations and urged us to pursue surrogacy due to my anatomy and I'm glad she did. Our surrogate is currently 10 weeks pregnant with our son! I'm so happy she gave me the chance to try IVF for myself when I was passed up by others. Her staff is incredibly friendly and super responsive. We never waited more than a few hours for an email back from anyone in the office. Dr. Frederick really made us feel like she is on our team the entire way and was a huge source of reassurance and emotional support when I was really low. I can honestly say I will miss seeing everyone in the office on a regular basis. If you're looking for a great doctor that is truly looking out for you and not your money, and won't treat you like a number, pick Dr. Frederickk
2.0 Rating
August 15th, 2016
Okay, but won't be using
Overall a poor experience. My husband and I had to wait over an hour to see Dr. Fredrick and then when we finally got to see her she only visited with us for about 15 minutes. She was nice, professional and knowledgeable but was a little more aggressive on the treatment plan than we were looking for. Her goal is to get you pregnant and I truly believe she can, but just be ready to take aggressive options...that are the most expensive.
1.0 Rating
January 23rd, 2016
5.0 Rating
July 28th, 2015
Dr. Frederick is an ace
We can't recommend Dr. Frederick enough. She made us feel good through the entire process. TTC and infertility is a tough thing for any couple to go through. But she made it all seem painless. Her staff always responded asap and were very courteous. After bad experiences with other REs, we feel so lucky to have found her.
5.0 Rating
June 30th, 2015
Dr. Frederick is exceptionally knowledgeable and kind
Dr. Frederick made our dreams come true. We have two beautiful boys - ages 3 and soon to be 2. They would not be here without Dr. Frederick. She genuinely cared about us and the tragedies we had experienced before coming to see her. A kinder, more thoughtful doctor does not exist. I encourage anyone who is having a difficult fertility journey to seek Dr. Frederick's assistance. She has a top notch facility with impeccable standards for client care.
1.0 Rating
January 10th, 2015
Rude, rushed, heartless
Dr. Frederick is a terrible doctor. Maybe she cared about her patients early on in her career, but it is evident that now she doesn't. First of all, she was never on time for my appointments with her. My average wait time was 45-60 minutes, even when my appointment times were changed to accommodate her schedule. She was a terrible listener. Dr. Frederick did not care to hear my concerns or answer questions. I was told to ask my coordinator, Behnaz. Behnaz, was not only rude and difficult to reach, but she was also incompetent beyond belief. She would not read her emails thoroughly, gave me misinformation, and ordered the wrong amount of meds for me. She is also very disorganized. She must have asked me the same questions via email a dozen times. No matter how many times I responded, she would forget in a week. Shouldn't you write info down in my chart if you're not going to remember? These coordinators are not even RN's. Behnaz is an ultrasound technician. This explains it.
5.0 Rating
October 30th, 2014
Had a very good experience
Thanks to God, our first IVF-FET cycle with Dr. Frederick was successful. Besides being an expert with tons of experience, Dr. Frederick is very courteous and warm. She replied to our urgent email queries even on weekends. Would highly recommend her. It's really convenient that everything is taken care in same facility, including blood withdrawal, ultrasounds, surgery and wait times were fine - much better than wait times at labs.
5.0 Rating
April 29th, 2013
Best Dr
Dr frederick was very compassionate and friendly.Its worth every minute to wait in her office to see her.Even though we conceived naturally after our IVF.She took care of us and saw us through our first trimester.We were closely monitored and given updates.She answered my every silly question i had through email.She would reply back the same day even if its a weekend.Behnaz(ivf coordinator) was fantastic.she would email me right away to keep me calm.I cant say how happy iam was with level of service i got.They are very responsible bunch of people.I would truly recommend Dr frederick and Behnaz for treatments.
5.0 Rating
April 12th, 2013
Thank You!!!
Thank you to Dr. Frederick and staff at HRC Laguna Hills. We are currently 10 weeks pregnant with our first child after our first IVF try and with only 2 embryos surviving to transfer when transfer day came. I can't thank them enough for everything they did for me. They helped me out financially and with some meds. They were always extremely quick to respond to any questions I had. Priscilla even answered my call on a Saturday night when I was freaking out. I never felt pressured to do IVF, Dr. Frederick let me go at my own pace and always gave me all my options and would explain to me why something we would try did not work. Dr. Frederick and her staff were always patient, and kind. I cant say enough good things about them. I will definitely be returning when we are ready to give our baby a sibling. Thank you Dr. Frederick. :)
5.0 Rating
March 2nd, 2013
Highly Recommended!
My wife and I had a wonderful experience at HRC Fertility -- and with excellent results! We are expecting our little one in October!!! We had been referred by our insurance company to another Doctor first, and after paying thousands of dollars, we had no success. We then did some more research and consulted with Dr. Frederick at HRC -- and had positive results! We were also very happy with the staff -- everyone was very friendly and very positive. I would not suggest that anyone goes anywhere else.
5.0 Rating
February 11th, 2013
Very happy with Dr. Frederick & HRC!!
After being unsatisfied with another fertility specialist, we switched to Dr. Frederick after reading her positive online reviews. She is extremely knowledgable, has a warm beside manner, her office/staff are very professional and she makes herself available to her patients via email, cell phone, etc. Given the emotional strain this process involves, it was very comforting to be able to reach her even during evenings and weekends to answer our questions. Felt like we were in very good hands the entire time, and we were successful on our 2nd attempt!
5.0 Rating
September 7th, 2012
Dr. Frederick and her staff were amazingly supportive and very professional. From the very beginning, I was so appreciative of Dr. Frederick's honest and professional opinion. She always explained procedures, data, and the process, in great detail and made sure that we understood what was going on. Because fertility procedures cost so much money, Dr. Frederick and her staff made sure that we were only paying for NECESSARY tests and medication. Every step was delicately handled and all of our questions were answered right away. Dr. Frederick even called me from her cell phone on a Saturday afternoon! We are so grateful to Dr. Frederick for her kindness and expertise.
Nearby Doctors

Dr. Jane Frederick is similar to the following 3 Doctors near Newport Beach, CA.

Dr. Eric Sills

Reproductive Endocrinology and Infertility, Obstetrics and Gynecology, Gynecology

Newport Beach, CA 0 mi