Rate Now
Share Your Experience
Have you seen Dr. Janet Neigel?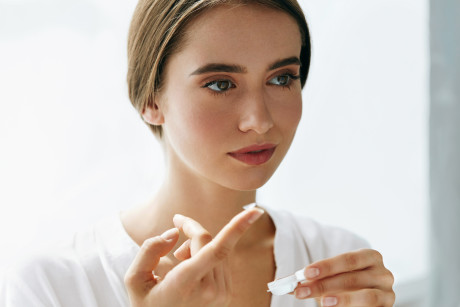 Contact Lens Care
A complete overview of what you need to know about your contact lenses.
37 Ratings with 17 Comments
5.0 Rating
February 6th, 2017
Money hungry grub
2.0 Rating
December 31st, 2016
Consultation
1.0 Rating
November 11th, 2016
MD focus $$
MD spent about 20 minutes to evaluate basal cell cancer of eye lid. Did not explain any side effects, complications surrounding the eye should graft be required. Office provided a generic claim receipt with no MD Identification #. Insurance company took 8 wks to reimburse 80% of the $395.00 fee. Over priced but she can do this as my Insurance was out of network. I felt I wasted $$ & my time with this MD. Had eye surgery in Philadelphia by a fantastic husband & wife team. The consult was over 40 minutes & MD charged $200.00 with 90% In network reimbursement X 2 wks. Plan to use In network physicians in future.
5.0 Rating
August 24th, 2016
Upper eyelid surgery
Dr. Neigel is A- One Surgery on my upper eyelids was made as easy and undramatic as I could possibly have imagined. I was hardly aware of going thru the procedure, and best of all, the outcome is exactly what I hoped it would be. Bonus - the staff, every one, was pleasant,caring,gentle and efficient - a reflection of Dr. Neigel herself. Would I recommend her? YES!!!
1.0 Rating
July 12th, 2016
Had 2 surgeries with Dr. Neigel last year and I was disappointed in how my lids came out. At my yearly opthomologist exam last week, my doctor asked if I planned on doing my eyelids as I discussed with him over a year ago. How embarrasing when I told him they were done. I do not recommend Dr. Neigel, I say run in another direction.
1.0 Rating
July 20th, 2015
Not very professional
I was recommended by my eye doctor because of a growth on my eyelid; made the appointment a month ago, took the day off from work, called the day before to ask if I needed to fill out the insurance forms before my appointment and was told that the doctor would not be in Friday. Did not get a call cancelling my appointment or anything. I will definitely tell my eye doctor about this. they offered me another appointment but that's not the point, I made this appointment a month ago and made plans to go. The patient's time is just as important as the doctor, I guess Dr. Neigel doesn't think so. I will go to another doctor.
1.0 Rating
June 29th, 2015
Scam artist
Those positive reviews must have been written by office staff dependent on her for their paycheck. She has ruined my face with improperly administered injections. I have consulted plastic surgeons, who see no way to fix the damage. I am scarred for the rest of my life. When I made a post -procedure visit, which the office did not want to schedule, she could not seem to locate my pre-procedure photos. She was completely disinterested in the outcome of my procedure and in correcting her mistakes. Stay away!
5.0 Rating
February 13th, 2015
happy happy
Had a great experience with Dr. Neigel at her new Florham Park location. Wow! Office was so nice and her staff were knowledgeable. My upper eyelid surgery was covered through my insurance. I just had to pay out of pocket for my lower eyelids and botox. I'm so happy with my results.
1.0 Rating
May 12th, 2014
Terrible experience Extremely Dissatified
5.0 Rating
April 19th, 2014
I have been seeing Dr. Neigel for a few years and she is extremely talented. She takes the extra time to listen to my needs. The outcomes she recommends are always terrific. I feel great about how I look which is much younger than my age. The office is beautiful and well run. The staff is very welcoming and efficient. I will keep coming as the results are just the best.
5.0 Rating
May 22nd, 2013
G
I have been visiting Dr Neigel for years for my Botox. There is no one else I would trust! She has a keen eye for where to inject and I never look overdone. On my most recent visit I saw the PA, Sarah and had Radiesse injected into my cheeks with excellent results. They focus on the face at this practice. That is the experience I look for in a doctor.
5.0 Rating
April 29th, 2013
Turn Back the clock
I came to Dr Neigel in my mid forties a few years ago for help in holding back the clock in the aging process. Through a combination of Botox, Sculptra and fillers, not only has she helped me achieve this, but her recommendations have actually turned back the clock! On a recent visit, I had the pleasure of seeing her PA Sarah Lazarus who gave me cheek definition with Radiesse. Since that visit I hear over and over, "have you lost weight?" and "your face looks thinner." I am thankful to Dr Neigel and her dedicated and professional staff. I have never had to wait an unreasonable amount of time and have always been able to get an appointment within days. I never get tired of hearing "you can't be 50 years old!" Thank you Dr Neigel & Sarah