Rate Now
Share Your Experience
Have you seen Dr. Janis Fee?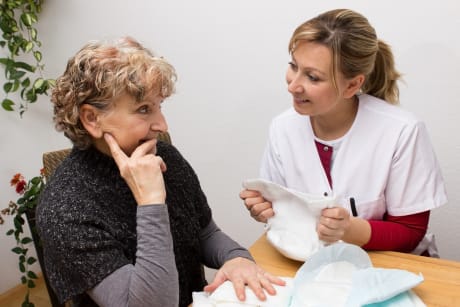 Urinary Incontinence
Learn about the symptoms and causes of urinary incontinence or urge incontinence.
28 Ratings with 14 Comments
5.0 Rating
May 8th, 2015
EXCELLENT PHYSICIAN
I HIGHLY RECOMMEND THIS OFFICE TO ANY IN SEARCH OF A KNOWLEDGEABLE & COMPASSIONATE PHYSICIAN! I HAVE BEEN A PATIENT OF DR. FEE'S FOR ABOUT 20 YEARS AND SHE HAS HELPED ME THROUGH SOME PRECARIOUS TIMES! SHE ALWAYS HAS GIVEN ME HER BEST AND TOOK EXCCELLENT CARE OF ME! IN ADDITION TO THAT, SHE HAS ALWAYS BEEN KIND AND SUPPORTIVE! I HAVE SEEN MANY PHYSICIANS THROUGHOUT THE YEARS, UNFORTUNATELY, AND I CAN ASSURE YOU THAT SHE IS ONE OF THE BEST! SHE DOES BOOK IN ADVANCE BECAUSE SHE IS THAT GOOD! IF SHE RUNS BEHIND, IT IS ONLY BECAUSE SHE IS NOT RUSHING THE WOMAN BEFORE YOU OUT OF THE ROOM! KEEP IN MIND, ALSO, THAT SHE STILL DELIVERS BABIES-SOMETIMES SHE HAS TO STEP OUT-BUT SHE ALWAYS RETURNS TO FINISH UP HER SCHEDULED APPOINTMENTS! THE STAFF IS AWESOME. I LOVE MYRNA-SHE IS THE BEST-FRIENDLY, CARING, AND INTELLIGENT. ALSO, TERRY, THE P.A. IS KIND AND INTELLIGENT! THESE WOMEN RUN AN EXCELLENT PRACTICE! ALTHOUGH I WAS NEVER BLESSED TO HAVE A CHILD AND HAVE THESE LADIES CARE FOR ME-I CAN TELL THAT DR. FEE IS PASSIONATE ABOUT WHAT SHE DOES! I HAVE NO PROBLEM REFERRING FRIENDS AND FAMILY TO HER! I FIND IT HARD TO BELIEVE SOME OF THE LOW STAR RATINGS-IT IS ONLY BECAUSE PEOPLE ARE TOO INPATIENT THESE DAYS, I BELIEVE. THIS IS A 5 STAR PRACTICE! TAKE IT FROM SOMEONE WHO HAS RECEIVED INFERIOR CARE ELSE WHERE- DR. FEE RUNS A QUALITY PRACTICE!
1.0 Rating
January 8th, 2015
Having a baby is such a special time in a person's life that I just can't recommend going to this doctor to do it with. I had a great doctor for my first two babies, and he retired so for my third I went to Dr. Fee. First of all it was always packed in the waiting room and you were usually seen about an hour after your appointment time. The front staff was ok, but not overly friendly like my previous doctor, but I think it was just because it was way too busy and they couldn't be very personal with you. Then I would never really see Doctor Fee I would see a PA. They would ask me if I had any concerns while a nurse was taking my Blood pressure and weight, but then they never seemed to have the time or concern to address these concerns during my appointment. At my 13 week ultra sound they told me they were pretty sure my baby was a boy, which was shocking because I never had them tell me so early the gender (and I knew it was too soon to really be sure), but the thing is the lady told me if it was a girl she was gonna be pretty "well endowed" (?) down there. Well I ended up having a girl and her parts are just fine. At one point I was having crazy hormones, my mom was being diagnosed with lung cancer and the PA was pretty rude, she told me if I couldn't handle my emotions that I need to get therapy. She wasn't very caring about it. With the combination or everything and only seeing Dr. Fee for about a total of 10 mins by the time I was 7 months pregnant I decided t change doctors. And to top it off once I change doctors, my knew doctor had done new ultra sounds for me which caught a birth defect called Craniosynistosis. I am very thankful that I switched doctors for this reason alone, because my daughter was able to get the best care possible right after birth because of it.
3.7 Rating
October 30th, 2012
Experience counts
Yes, if you want to see Dr. Fee, the wait time can be long. Maybe once or twice I didn't have to wait at least 30+ minutes for her. But Dr. Fee was able to deliver my baby without epesiotomy, which her associate had said would be mandatory when she couldn't get my baby out. "He has a huge head. Unless you want a tear up to your clitoris, we need to cut!" But Dr. Fee calmly manipulated some things down there, and my son came out with just 2 more pushes. With my prenatal care, Dr. Fee was always helpful and positive. Schedule your routine things with the nurse practitioners. Tari is excellent and has helped me with some of the prenatal visits and a problem with breast discharge.
2.3 Rating
September 25th, 2012
Not worth it
Dr. Fee is way too busy to spend individual time with her Patients. I saw her for Pregnancy. She would come into the room, talk really fast and NEVER stopped to ask me if i had any questions or even simply ask how i was feeling.I was a high risk pregnancy so i was sent often for blood tests. The times i saw her she didn't even review results with me. When i would stop her before flying out of the room to ask her about the tests, she seemed as if she didn't even know what i was talking about. She just said "oh...they are all fine". Not very reassuring.My advice, see her Nurse Practioners. Those ladies SHOULD be the Doctors there. Tari and Michelle proved to be caring, concerned and invested in my treatment. I got to the point where i would only want to see them and dreaded the times i had to see the actual Dr.
5.0 Rating
September 15th, 2011
Greatful
i came to Dr. Fee in my last trimester due to difficulties with my previous OB. I saw Dr Fee in the hospital while she was on call and I felt as if she was an angel sent to me. I am 38 year old high risk patient. It is impossible to get an OB to assume care in the third trimester due to liability and other issues. She not only went way above and beyond but was excellent in every way. I love the office staff. And a little wait is a sign that she is a good doc. I know I had so many questions and I may have kept her from sticking to her schedule but I will keep that in mind when I'm waiting.
5.0 Rating
August 24th, 2011
I LOVE Dr Fee and the entire office staff!
I have been thruugh one pregnancy with Dr Fee. I absolutely love the entire office staff. Terry, Merna, Michelle, and even the girls up front. They are all very nice, caring, helpful and patienet. I would not have made it through my difficult prenancy without them. I also definately would not have been able to push my almost 10 lb daughter out without Dr Fee. She was amazing. She also was there for me when they took my daughter to the NICU. She explained why and reassured me that everything would be ok. She also met with me and my family during my pregnancy to talk about some upsetting test results. She was patienet, answered all our questions, and reassured us.I also got special care after the pregnancy when having difficulty with my hormones from Terry, the nurse practitioner. She was amazing. I absolutely love this office and all the staff and I will never ever change!
5.0 Rating
July 21st, 2011
5.0 Rating
July 7th, 2011
Very good, very thorough
5.0 Rating
April 24th, 2011
Excellent Professional
Dr. Fee has always maintained a very warm and caring professional demeanor.She listens well to your concerns and is accurate in her diagnosis with appropriate treatment plans. Issues are attended to in a timely manner. The office staff is also very courteous and efficent in processing you through the office and rescheduling. Pleasant atmosphere.
2.3 Rating
October 8th, 2010
Would Not Recommend
I went to Dr Fee for my 7th pregnancy. I usually use midwives, but there were none in my area, so I decided to try Dr Fee after reading reviews. The office staff was ok, not the friendliest, but are they ever? The wait time was HORRIBLE!!!! Usually had to wait 45 minutes to an hour. The actual visit only lasted about ten minutes. Very annoying. I only met with Dr Fee when an exam was needed. My delivery was a bit hairy. She decided to break my water and told the nurse to go ahead and induce me as well. She went back to the office. Within less than 20 minutes, I was fully diolated and needed to push. Where was Dr Fee....OUT TO LUNCH!!! When they finally got hold of her, she came running into the delivery room in 3 inch heels and a black mini skirt. The nurse actually had to tell her to hurry and change. My daughter was delivered within ten minutes after she came back. That was the last time I ever saw her. She didn't even bother to come see me before the hospital discharged me. In my opinion, I think I'll stick with midwives. At least they care about you!!!!
1.0 Rating
July 23rd, 2010
Do not go here!!!
This staff is cold and incosiderate of your feelings and your time. As far as the Dr. I really can't say. After going to this doctors office 5 times I only met her once. They will give you a hard time transferring your records and and they will treat you like less than just another # while you're there. If you like waiting an hour and a half past your appointment and then being told that you might not get seen because they may not have time then this is the office for you.
5.0 Rating
May 7th, 2010
Dr. Fee is Awesome