Rate Now
Share Your Experience
Have you seen Dr. Jason Brokaw?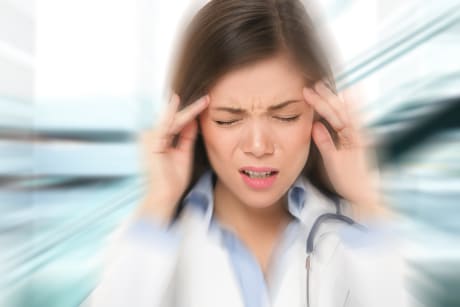 Migraine
Get the facts about migraine headaches, including the different types of migraine and migraine triggers.
13 Ratings with 5 Comments
1.0 Rating
January 16th, 2017
Insurance companies padding his money belt
It's sad to see a dr allow himself to lie in order to pad his pocket. He maybe totally different with his regular patent but seeing someone for 5 or 10 mins to make some bucks from some insurance company to write lies is horrible.love how he picks and chooses bits out of your medical file and twist them to make you look bad as he calls them flags.claims your not compliant on meds that aren't even paid by the insurance company but funny that I take them every night hmm .he must be on a power trip he controls people's future cause he sure does think he's got a crystal ball to see into it.But I'm sure he just giggles and it boosts his ego when he see bad reviews
2.0 Rating
January 15th, 2017
I felt this doctor was rude and didn't even do a hands on for my chronic back and neck pain. I was in a car accident and had 3 blown discs in my neck for which I had already had a bone graft and fusion at 3 levels with continued extreme pain. Called me an addict, obese (tho I' still within Navy standards), and left me to live with chronic pain with no help.
1.0 Rating
December 28th, 2016
It's all about the money!
Whatever happened to the Hippocratic oath? Dr Brokaw is bought and paid for by the insurance companies. When he examined me Dr Brokaw grimaced when he asked me what I did for a living. Dr Brokaw smiled at me like he understood the pain I was in. Dr Brokaw then proceeded to write a glowing report and release me back to work. I have 3 Doctors that disagree. Dr Brokaw is not on your side! no matter how much he acts like he understands the pain you're in. Do not trust Dr Brokaw. He is a sell out for a few bucks.
1.0 Rating
March 24th, 2015
another insurance doctor
This guy is 2 face like the rest of the insurance doctor's. I told this guy i wanted to work i could work im only 30 the first time i went to him i was 28. Im not one to sit around and collect workers comp i hate to sit around i fell 3 stories and hurt my left arm, left leg, left knee, and lower back. I been to about 5 doctor's 3 of them saying I'm to young for back surgery and need to try therapy and injections which i already done and it didn't help. 2 doctor's said a fusion and or they can scrap the disc. This doctor says my pain should go away with therapy i been in therapy for 3 years and it is just getting worse by the day. Workers comp hasn't paid me for 3 months so i started doing little jobs to get by [my bills don't stop coming when workers comp don't pay me] the insurance company had a PI follow me they supposedly caught me working. They show Dr Brokaw which i told him i had to work and he winded up saying there was still a couple things wrong with me to seeing the video saying there is nothing wrong with me. THIS GUY IS 2 FACE AND JUST WORRIED ABOUT A EASY PAY FROM THE INSURANCE COMPANY. I DON'T WANT MONEY I JUST WANT TO BE FIXED. WORKERS COMP AND DOCTORS LIKE THIS MAKE YOU FEEL LIKE A CROOK BY THE TIME YOUR DONE.
5.0 Rating
December 10th, 2009
Has all the latest technology/research but is conservative too
Sometimes a doc tries out all the latest tech just because it is the latest (pills, procedures, tests, etc.) Not Dr. Brokaw. He is thoughtful in his diagnosis, conservative in his approach, always doing what is necessary, but not involved in over kill like some docs. Also, you get a diagnosis quickly. He does tests, runs x-rays, and by the time you leave you have a handle on what is wrong and what can be done. His bedside manner is the best. He explains everything. You never feel rushed, yet he is efficient with his time. He gave me a serious of spinal shots which were really rather scarey. Yet throughout, I had ultimate trust in his abilities and precision. That is what one wants in a doctor who is treating one's spine!
5.0 Rating
March 22nd, 2017
5.0 Rating
January 30th, 2017
1.0 Rating
November 1st, 2016
4.0 Rating
July 8th, 2016
1.0 Rating
March 24th, 2016
5.0 Rating
February 18th, 2015
Nearby Doctors

Dr. Jason Brokaw is similar to the following 3 Doctors near Baltimore, MD.