Rate Now
Share Your Experience
Have you seen Dr. Jason Weisstein?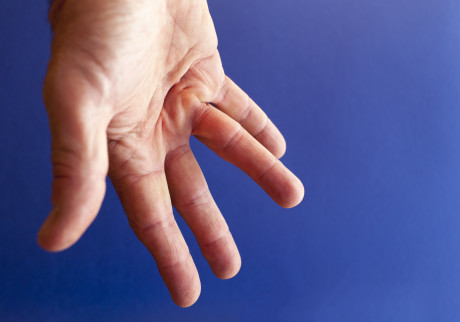 Dupuytren's Contracture
Dupuytren's contracture is a thickening of the tissue beneath the skin of the palm of your hand
Quality Rating
Highly Satisfied
35 Ratings with 19 Comments
5.0 Rating
December 2nd, 2015
I would rate Dr. Jason Weisstein as an excellent hip replacement surgeon. He DOES NOT use staples as a lot of "lazy" surgeons do upon closure of the initial surgical opening. I have virtually no visible scar. This IS the surgeon you want for hip replacement, and I have had absolutely no post-surgical complications these past three years. Dr. Weisstein is a WINNER by all standards.
5.0 Rating
July 4th, 2015
I am very delighted with the results
I went into my knee surgery with a certain amount of trepidation. I've already had two knee operations but nothing as invasive as a total knee replacement. I was, and still am, highly motivated to make this a success. I did quite a bit of research into surgeons in the area. Dr. Weisstein 's name kept popping up - from my primary care physician, people who had similar operations in the area, to reviews online. Everyone said the same thing, "he's the guy you want to have doing your surgery." I am delighted with the results. He did a phenomenal job. I am walking better than I have for 15 years (my knee problem started over 40 years ago). His staff was outstanding! His physician's assistant, Mrs. Cascio was extremely thorough and very dedicated.
5.0 Rating
May 26th, 2015
One of the best!
5.0 Rating
August 4th, 2013
Unsurpassed Expert in the Desert
There are times when you want more than an expert technician to perform your surgery. I wanted someone who could ALSO make me feel as if I was well cared for, and someone who demonstrated great bedside manner. I got all of this with Dr. W. He's a very busy guy, but the time, albeit, brief at times, he spent with me before and after surgery truly showed me that he cared.
5.0 Rating
May 14th, 2013
He Is a "Get Your Life Back" Specialist!
This experience gave me my life back. I had suffered with cancer and "died" from a resulting staff infection. Dr. Weisstein diagnosed my hip condition as dire and full of arthritis. I thought I could "push through" by willing myself well. Didn't want another surgery 'bout'. Finally, he gave me the confidence to go through with the surgery. What a positive experience! He and his staff made me feel like I was their most important patient. The resulting success and caring of this experience energized me to regain my life... and literally dance again!!
5.0 Rating
April 29th, 2013
One of a kind
5.0 Rating
April 2nd, 2013
Great Surgeon
2.3 Rating
March 8th, 2013
Only a hip/knee interest anything else doesn't care!
I found him not on time, aloof, keeps forgetting what you came in for, expensive. Better have good insurance coverage! I didn't need hip/knee replacement so it appeared he just brushed me off w quick appointments. I have never been to a ortho doctor that never physically examined my hip on his exam table! He relied on someone else's information X-ray, MRI and never gave any thought to my situation. I get the impression he was scrambling to read the MRI while I was there and when I asked him a specific question, he pointed at the MRI on the screen and said, it's sort of here in this spot! Not the answer I was looking for, he gave me script, told me to go to PT and that was it. No help with trying to assist me w/a referral. He did not satisfy my health needs. At one point he said "you look like a take charge", yes I am Dr Weisstein and I won't be seeing you again! In fact I found another doctor to read the MRI which you obviously couldn't do! Then he said you are active right? I'm a runner and Pilates instructor - is he blind, I am totally fit and dressed in Nike head to foot. My experience was not good. If you use him for hip/joint replacements he may be good at his skill but anything else you are wasting your time and he is not a sports doctor. He clearly wasn't interested in my health needs. You get two bills one from him and desert orthopedic center, very expensive! Good luck and please be resourceful and education about your type of needs.
5.0 Rating
March 23rd, 2012
Awesome Guy
5.0 Rating
May 11th, 2011
My Hip is Perfect
5.0 Rating
May 1st, 2011
Top Notch!!!
I waited a bit for this busy surgeon. My wait was worth it. He talks to you. He listens to you. He explains to you what is going on. He went way above and beyond what I have experienced with other orthopaedic surgeons. The wait is understandable as he did not leave the room until I was completely comfortable with the explanation and plan. I am grateful for his help.
5.0 Rating
December 3rd, 2010
He Saved my Life
Nearby Doctors

Dr. Jason Weisstein is similar to the following 3 Doctors near West Palm Beach, FL.