Rate Now
Share Your Experience
Have you seen Dr. Jeffrey Campbell?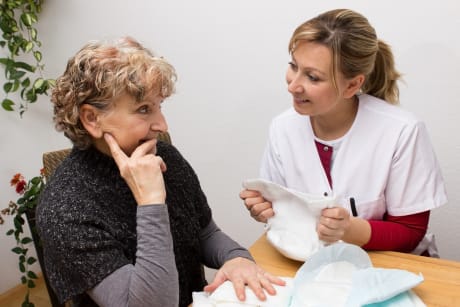 Urinary Incontinence
Learn about the symptoms and causes of urinary incontinence or urge incontinence.
11 Ratings with 6 Comments
1.0 Rating
September 21st, 2015
1.0 Rating
August 26th, 2015
Poor results
I believe Dr. Jeffrey B. Campbell, MD poorly managed our daughter's condition of Urine Backflow (Reflux) from Bladder to Ureter. Under his care she had repeated and numerous UTIs (some resulting in seizures). She also developed a small kidney associated with her repeated and numerous UTI's. Dr Campbell also did surgery on our daughter that was not successful in stopping the Urine Backflow our daughter was suffering from. I don't feel like he did a very job. As I recall there was some discussion about trying the surgery again. I think it was the kind of thing that usually gets done successfully the first time. I found Dr. Campbell difficult to talk to. He didn't seem to listen and seemed peeved. When I expressed concerns about repeated UTIs, seizures and further harm to our daughter's kidney, Dr. Campbell was dismissive. He indicated these things are normal for someone with our daughter's condition. I saw very little substance in being proactive to improve our daughter's condition. I felt like he was actuality impeding progress. I asked him what are you going to do to help her? I never seemed to get a reasonable answer. Ultimately, Dr. Campbell appeared angry and proclaimed he would no longer be our daughter's doctor. Unknown to him, we were going to a new doctor if he didn't develop a treatment plan for reduction of UTIs, seizures and kidney damage. This was already decided prior to observing his intemperate proclamation. Then to make things worse, Dr. Campbell found it necessary to state disparaging remarks about me in his last medical report (supposedly about my daughter's health condition) to my daughter's primary physician. Other than his insults about me, Dr. Campbell's report seemed significantly boiler plate. It was absent an effective treatment plan to reduce the UTIs, seizures and damage to her kidney. Dr. Campbell also made comments in the medical records about our family being estranged. He never talked to me about any issue relating to estrangement. With great amazement and thanksgiving to God, our daughter's new doctor quickly and efficiently took effective steps to improve our daughters condition. Our daughter's condition is apparently not a big mystery to a doctor who manages these things effectively. Under the new doctors care, our daughter hasn't had anymore UTIs or seizures. Her kidney condition has stabilized. She really is much healthier now. I feel, standing up to Dr. Campbell's insular approach to our daughter's condition was one of the best things I ever did! I'm so glad the new doctor stopped our daughter from getting sick! It scares me every time I think about our daughter being under Dr. Campbell's care and I regret with trepidation not moving faster to dismiss Dr. Campbell from our daughter's care.
5.0 Rating
May 8th, 2015
Fantastic
5.0 Rating
January 31st, 2015
Wonderful doctor
1.0 Rating
March 5th, 2013
5.0 Rating
April 10th, 2008
UPJ obstruction
Dr. Campbell is the BEST! He was my sons pediatric urologist. He preformed a pyleoplasty when my son was 3 months old to remove a large UPJ obstruction. I would strongly recommend Dr. Campbell, he was very informative and took great care of my son. Everything went very smoothly considering I was a wreck!! Would HIGHLY recommend!!
5.0 Rating
February 13th, 2017
5.0 Rating
December 15th, 2016
5.0 Rating
June 19th, 2015