Rate Now
Share Your Experience
Have you seen Dr. Jeffrey Cochran?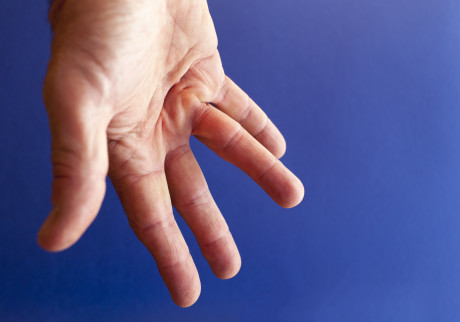 Dupuytren's Contracture
Dupuytren's contracture is a thickening of the tissue beneath the skin of the palm of your hand
Quality Rating
Highly Satisfied
35 Ratings with 8 Comments
5.0 Rating
May 4th, 2016
Dr Cochran was very thorough and professional. He took his time with me and I was very pleased with him and the office staff
1.0 Rating
December 12th, 2015
2.0 Rating
July 16th, 2015
Can no longer make appointments because my account (small) went to collections??!! What's with that? I understand the principal behind it, but people have hard times too. If we had the money, we would have paid it. People lose jobs etc. etc. Things we can't control!! Plus the wait time was over 2 hrs!!!
4.0 Rating
June 25th, 2015
1.0 Rating
October 30th, 2012
This is NOT a recommendation, rather a notice of complaint. It makes no sense to me that an ORTHOPEDIC practice would make a 90 year old patient( with complaints of back pain and who they referred for a CAT scan) sit on an 2" padded exam table for 1hr 20 min waiting to be seen by Dr. Cochran. When the daughter brought this to Dr. Cochran's attention, his response was that the patient could have sat on the seat provided (which had NO padding!) and raises the question of where the 87y/o wife would have sat. A simple "I'm sorry for your discomfort" would have been appreciated. Character, courtesy and common sense can go along way in easing a patient's negative experience. Unfortunately, all was absent at this practice today. As far as I'm concerned, my father will NEVER return to this practice nor will I ever consider going there.
5.0 Rating
October 5th, 2012
2.3 Rating
May 18th, 2012
debra
I was very diasppointed in my recent visit with Dr Cochran. Our appointment was at 9:20AM. We arrived at 9:10AM. We were called into the room approx 9:25. The nurse took some information and ask some questions and left the room stating that the Dr would be with us shortly. At 10:45, I opened the door and looked down the hall (thinking that somehow we were overlooked in the room.) When I opened the door there were 4 nurses standing in an area chatting. I ask if we were forgotten and they told me that we were next. At 10:55 Dr Cochran came in and talked with us for less than 10 minutes. After talking about what our options were for treatment, he told us we needed to schedule the procedure with another facility. We went to another receptionist to schedule the appointment and waited another 20 minutes to arrange the appointment. We left the facilty 2 hours and 15 minutes later. The doctor never offered an apology for the amount of time we waited and the nurse never came in during our 1 1/@ hour wait in the room to state that the Dr was running behind schedule. Such unprofessionalism does not merit my business.
5.0 Rating
June 30th, 2010
4.0 Rating
September 5th, 2017
5.0 Rating
March 7th, 2017
5.0 Rating
March 6th, 2017