Rate Now
Share Your Experience
Have you seen Dr. Jeffrey Heitmann?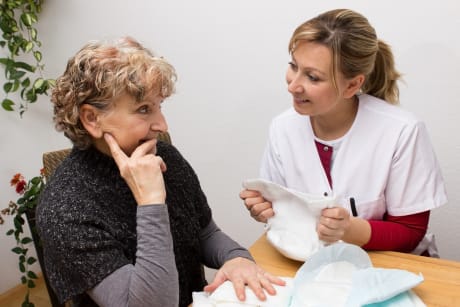 Urinary Incontinence
Learn about the symptoms and causes of urinary incontinence or urge incontinence.
27 Ratings with 11 Comments
5.0 Rating
April 29th, 2015
Professional
2.0 Rating
February 26th, 2015
I would never recommend Dr. Heitmann to a woman having a baby. I became single during my pregnancy and was in distress. To me, there was one thing this office was treating....my body and the life of my child (Im thankful for that). As for any of the other parts of myself and my pregnancy, emotional or mental wellness, I would call it neglect and judgment. Sadly, a common occurrence in our current health care system. This man caught my baby, after my wonderful nurse and doula helped me through the birthing process. Afterwards, I was stitched horribly (granted, not an easy thing to do I imagine), but also scoffed off when I inquired about the extent of my damage and the healing process. 6 years later, I have pelvic floor dysfunction (any woman with post labor pain should educate themselves about this after birth trauma), a 4 inch scar and terrible chronic pain. I seek healing recovery from a pt in Bonita and have lost most hope of having another child. This experience actually caused some fear of the system and men for me. I will never again have a male doctor when it comes to the science and nature of being a woman. I mean no ill will towards Dr. Heitmann as a person, but I was shocked and hurt by his ignorance, lack of empathy, disconnect and there is no excuse to me...Doctors should be sensitized not desensitized to the whole part of the body, the whole person.
1.0 Rating
December 12th, 2014
Poor
2.3 Rating
October 10th, 2013
Do not care about patient
1.0 Rating
September 4th, 2013
Pick someone else - do not go to this office!
I urge anyone considering Dr Heitmann to - reconsider. This office should not be taking new patients. Years ago, I had several abnormal paps and procedures. I would call and wait days and days and days and not hear back from Dr. At my appt his nurse said she gave him all the messages but he has too many patients to return calls. When waiting to find out of you have cervical cancer - you would like a Dr who will make a phone call.After a month of back and forth I was referred to a specialist-why wait a month? Then when my records were not transferred to the specialist... I called. The recpetionist asked me what my problem was - and told me having an abnormal pap was normal... When I explained this was not my first go around... and my new dr needed file - she said " relax, I have had cancer worse than you" That was the final draw. I was not having a contest about who had it worse... what an odd thing for a medical person to say! Everyone in this office needs to learn about patient care.
1.0 Rating
April 17th, 2013
Way over their head!
I do not recommend this doctors office to my worst enemy. Lets start from the big inning of my appointment. I was lost, I tried calling the office at 12:30 for my 1:15 appointment and no one answered the phone, because they were CLOSED for lunch. I've worked in the hospital in a women's health facility.. The smart thing to do is takes turns with lunch, so someone is always available to answer the phone. But no that would make to much sense. When I got to my appointment I waited in the waiting area for an HOUR to get into my appointment. Apparently they are way over their head and have to many patients (a little greedy) they should not be accepting new patients if they can't handle it. The receptionist are soooooooo beyond rude!!!! The doctors should be im embarrassed. Very rude at check-in and check-out, they don't smile, they are rude in the phone, and are all around miserable!
2.3 Rating
October 22nd, 2012
Delay of attention
I sat in the examination room for over one hour waiting for a scheduled pap smear. No one came in the room to explain the delay. I was getting redressed when he entered and still he did not explain why the delay.I am over 60 yrs old and never did I bleed after a pap smear. The PA in the office scrapped me so bad I cried out in pain and then bled for three days afterwords.
5.0 Rating
September 17th, 2011
Great Doctor
Dr. Heitman did more than encourage me to have my first mamogram at my first new patient visit with him. I was 48 years old at the time. He insisted I go immediately to NDIC and they would send the result to him. I had an abnormal mamogram and had to go back for an ultrasound, then biopsy. Dr. Heitman and staff were instrumental in helping me through this process. I would receommend him to ANYONE who needs a great gyne.
5.0 Rating
September 15th, 2009
5.0 Rating
July 16th, 2008
Great caring person and doctor.
Dr. Heitmann will take as much time as needed to talk with you about any questions or concerns. He will answer any question you have no matter how crazy you might think it might be. Has a great bed side manner not only with the patient but the family as well. Trust him very much and always is easy and willing to get appointments or questions answered with a phone call if you can not get in that day.
5.0 Rating
March 3rd, 2017